Whirlpool Floats Above EPS Estimates, Sinks on Revenue and Guidance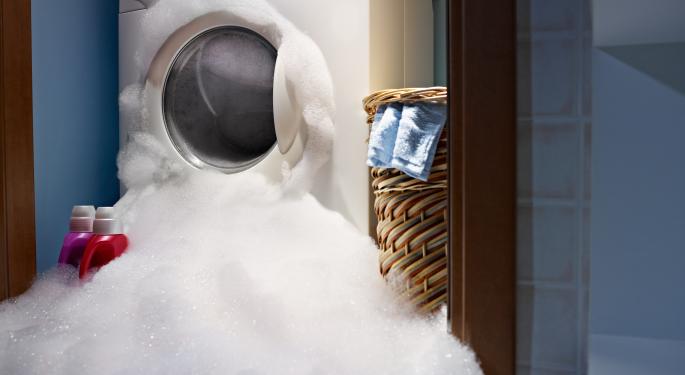 Whirlpool (NYSE: WHR) is down considerably on Wednesday after topping first-quarter EPS estimates, but falling short on revenue and guidance.
The Benton Harbor, Michigan-based firm's EPS rose 40 percent to $1.97 and edged the Wall Street consensus of $1.93.
Revenue declined over two percent year-over-year to $4.2 billion and missed the $4.39 billion analysts expected.
Spiraling Downward in Asia, EMEA and Latin America
Sales in Asia dropped 7.4 percent to $187 million due to higher material costs, lower volumes and unfavorable currency conversions.
Also, in Europe, the Middle East and Africa, sales declined 2.8 percent to $668 million, driven by the "continued weak environment across the euro zone."
And, in Latin America, revenue dropped 7.7 percent to $1.2 billion on poor currency conversions and Brazilian tax credits.
Meanwhile, North American sales remained flat and finished at $2.2 billion.
New Director in the Mix
On February 19, Whirlpool announced the appointment of supermarket giant Safeway's (NYSE: SWY) EVP and Chief Marketing Officer Diane Dietz to its board of directors.
Fresh Start in EMEA
On March 15, the appliance manufacturer announced the appointment of current VP of European Markets Esther Berrozpe as president of its Europe, Middle East and Africa (EMEA) region and to the company's executive committee. She will replace current President Jose Drummond, who will return to Brazil for personal reasons and remain as president of Whirlpool S.A. Brazil's board of directors until the end of 2013.
The leadership shakeup will be effective on May 1.
Dividend Heats Up
On April 16, Whirlpool raised the quarterly dividend on its common stock from $0.50 to $0.625 per share. It will be paid on June 15 to shareholders of record as of the close of business on May 17.
Frigid Guidance
Whirlpool expects fiscal 2013 EPS to finish in the $9.25 to $9.75 range. At the middle-ground of $9.50, the world's second-largest appliance manufacturer would fall significantly short of the $9.64 analysts want to see.
Stock Cools Down
After dipping to a bit above $112 on April 18, Whirlpool jumped 8.6 percent over the next few days and closed at $122 on Tuesday. However, word of its lackluster revenue and guidance has sent it on a tailspin on Wednesday, leaving the stock at approximately $17.50 as of this writing.
Whirlpool is down around 3.5 percent on Wednesday.
Posted-In: Diane Dietz Esther BerrozpeEarnings News Guidance Best of Benzinga
View Comments and Join the Discussion!