Whatever Apple Reports, This Fund Manager Will Stand Behind It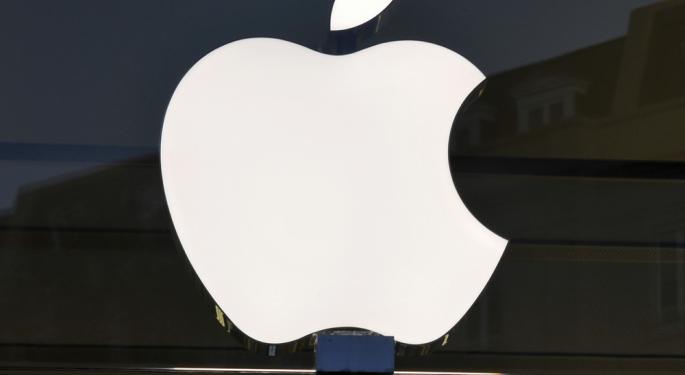 Analysts are not expecting much from Apple's (NASDAQ: AAPL) fiscal 2013 second quarter results.
Jim Tassoni, the Managing Director and Chief Investment Officer of Durand Capital Partners, does not care. Whatever happens, he plans to stand by Apple.
"Based on our metrics and what we look at, we don't believe that Apple is any different from a company now than it was four, five or six months ago," Tassoni told Benzinga.
"But, four, five or six months ago -- when it was at $700 -- we weren't adding to the stock just because of that piece. The valuation had it slip down in our rankings. We didn't feel it was a prudent time to be adding to that position.
"At the same time, now that it's down at $400, it is becoming much more attractive on a valuation piece, at the very least."
Long-Term Gains
Tassoni said that his cost basis in Apple is $280.
"So, from a cost basis standpoint, we're still up," he said. "Have we been losing money? Yes, we owned it all the way up to $700. We didn't sell it at $700.
"It's painful but this strategy is not short-term -- it's a long-term investment thesis. We're looking to outperform the market over three, five, seven, 10-year periods. We're not gonna outperform every quarter."
Tassoni said that his strategy allows for stocks to do well in the long run.
"At this point, as much as Apple has pulled back, and as painful as it has been as a piece of the portfolio, that's why we have 25 to 35 names in the portfolio. Apple, right now, represents a 2.5 percent weighting in the portfolio."
A Contrarian Indicator
If Wall Street wants to continue selling Apple, that's fine -- Tassoni will sit back and enjoy the windfall.
"It's no disrespect to Wall Street analysts, [but] we almost believe that analyst estimates and recommendations are a contrarian indicator," said Tassoni. "We like when there's negative news."
Tassoni believes that Apple could announce an app that allows users to travel through time and analysts would still come out and say, "Yeah, but it doesn't go fast enough."
"Apple…it's such a switch in psychology, and psychology is a dangerous short-term game in the market," Tassoni warned. "For several years, Apple could say anything and it was the most positive news you could ever imagine. It was all spun positively. In the last six months, that has totally flipped. Now no matter what they do, no matter what they say, it's a negative connotation."
A Contrarian Indicator
"We still have a fundamental belief that Apple is a quality, long-term company," Tassoni continued. "We're not necessarily saying that this is the very bottom. But we're confident that in three, five, 10 years from now, Apple is going to be significantly higher than where it is right now, and we want to be able to participate in that significant outperformance."
Tassoni suggested that Apple is "disconnecting" from the market.
"If you look at day-by-day trading, when the market is going up, Apple seems to underperform," he explained. "When the market is going down, Apple seems to outperform. It's becoming almost a safe haven for cash when the market is going down. It's disconnecting -- it's no longer that pure beta play, where if the market is up, Apple is going to be up more, and vice versa.
"We kind of like that. It fits with our philosophy. We look at it and say, 'If we're gonna get a pullback here, if this trend continues, Apple should be an outperformer in a down or sideways market.' We like that as well."
Bigger Than The Apple Brand
Finally, Tassoni said that if analysts took the Apple name off the stock and looked only at the fundamentals, "99 out of 100 analysts would rate this stock a Buy right now."
"But because it's got the name Apple on there, there's that psychological issue," said Tassoni. "We feel that psychology is where we make money."
Louis Bedigian is the Senior Tech Analyst and Features Writer of Benzinga. You can reach him at 248-636-1322 or louis(at)benzingapro(dot)com. Follow him @LouisBedigianBZ
Posted-In: Apple Durand Capital PartnersEarnings Long Ideas News Success Stories Tech Trading Ideas Best of Benzinga
View Comments and Join the Discussion!