Tiger Woods and Lindsey Vonn May Force Rival Apparel Companies to Team Up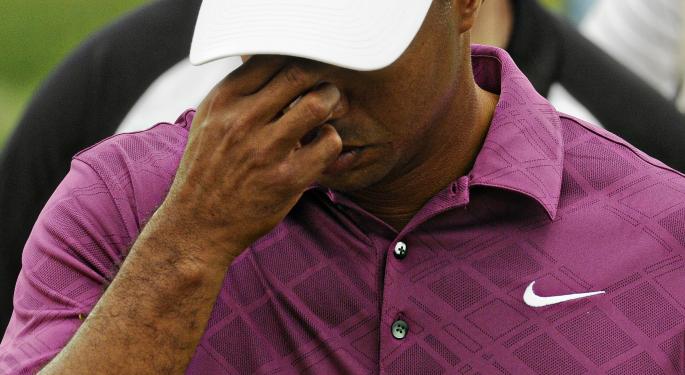 It's official. Nike (NYSE: NKE) and Under Armour (NYSE: UA) are dating. Well, to be precise, Nike representative, Tiger Woods and the face of Under Armour Lindsey Vonn are dating.
For advertising departments at both corporations, it's a distinction without a difference. And, if corporate ad honchos don't plan to take advantage, well that's not American.
Back to the couple in question. Tiger and Lindsey announced their relationship Tuesday via their Facebook (NASDAQ: FB) pages, according to ABC News.
In her post, Vonn said, "I guess it wasn't a well-kept secret but yes, I am dating Tiger Woods. Our relationship evolved from a friendship into something more over these past few months and it has made me very happy."
Tiger took a little longer to make his point, saying, "This season has been great so far and I'm happy with my wins at Torrey and Doral. Something nice that's happened off the course was meeting Lindsey Vonn. Lindsey and I have been friends for some time, but over the last few months we have become very close and are now dating.
We thank you for your support and for respecting our privacy. We want to continue our relationship, privately, as an ordinary couple and continue to compete as athletes."
So there you have it. An advertising campaign made in heaven, reminiscent of those Disney (NYSE: DIS) owned, ESPN TV commercials from a few years ago, featuring romantic couples from rival schools. Only this time it will be a romantic couple with multi-million dollar sponsorship contracts from rival sports apparel companies. Practically the same thing.
Woods continues to be the name and the face most identified with Nike, according to thestar.com. The website quoted one study which said the $200 million cost of Tiger's 10-year deal with Nike was recouped in the sale of golf balls alone.
Vonn, a 2010 Olympic gold medal winner has been the face of Under Armour with other female athletes for some time.
With Vonn recovering from a serious injury, as she prepares for what will likely be her final Olympics in Sochi, the romantic involvement with Woods, and resulting publicity, desired or not, will help keep her name in the limelight.
Following several years of struggle, Woods has put his game back together and won two of four tournaments in 2013. The Masters begins in three weeks. He, too, will benefit from the positive attention his relationship with Vonn will garner.
But, what about the "other couple" – you know – Nike and Under Armour? Don't worry. They'll figure it out. They always do. Meanwhile, share of both companies are down at mid-day – Nike, less than 1 percent, Under Armour, about 3.5 percent.
Posted-In: disney Facebook Lindsey VonnEarnings News M&A Events General Best of Benzinga
View Comments and Join the Discussion!