Yum! Posts Solid Fourth Quarter, Stock Drops on Poultry and Lawsuit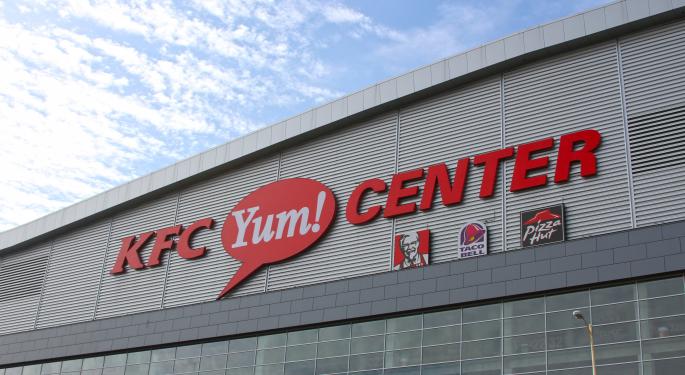 Yum! (NYSE: YUM) has reported its fourth quarter earnings, meeting analysts' consensus on the EPS front.
EPS came it at $0.72 for the quarter - dead on target with expectations. The figure was, however, below the $0.75 reported during the same period in 2011.
For the year, EPS rose considerably, reaching $3.38 as compared to $2.74 in 2011.
Revenues were up slightly in the quarter, topping the fourth quarter of 2011 by 1 percent. For the year, the company boosted revenues by 8 percent, taking it over $13.6 billion.
Mixed Menu in China
Yum! had a mostly positive year in China.
Pizza Hut Casual Dining same-store sales grew seven percent in the quarter and 10 percent during the year.
Also, Yum! opened 369 new stores during the quarter and 889 during the year.
However, the company notes that its same-store KFC sales declined sharply in the final weeks of 2012 as a result of the poultry scare in the world's second largest economy.
Massive Growth Overseas
Yum! experienced massive growth in Africa, India and Russia.
During the fourth quarter, the Louisville, Kentucky firm saw a 21 percent gain in system sales in Africa. For the year, it finished with a 17 percent gain.
Yum! also grew by leaps and bounds in India, finishing the fourth quarter with a 24 percent increase in system sales. For the year, the company increased system sales by 29 percent in the world's ninth largest economy.
Meanwhile, Russia proved to be the company's largest growth spot during both the quarter and the year, with system sales growing at 47 and 46 percent, respectively.
Other notable growth hotpots include:
Thailand: 20 percent (Q4), 14 percent (2012)
Korea: 16 percent (Q4), 11 percent (2012)
Germany/Netherlands: 12 percent (Q4), 11 percent (2012)
Middle East: 10 percent (Q4), 11 percent (2012)
Playing Chicken in Court
TMC Net reported on Monday that a class action lawsuit has been filed against the firm.
The suit is on behalf of all purchasers of Yum! securities between October 9, 2012 and January 7, 2013. According to TMC Net, the allegations are as follows:
1. Slowing economic trends in China were stronger than reported and could not support forecasted sales results or the company's increased earnings-per-share growth;
2. Yum! knew but concealed that the company's own food safety inspections had already discovered high levels of antibiotics and other illegal drugs and/or chemicals in chickens purchased from a Chinese supplier;
3. Yum! continued to buy products from the said supplier until as late as August of 2012.
Advertising Out of a PR Nightmare?
According to Bloomberg, Yum! will introduce a new ad campaign in China to lure consumers in the aftermath of the poultry fiasco. This comes as CFO Patrick Gismer announced his expectation of a 25 percent decline in same-store sales over the first quarter in the Asian nation, as notes Bloomberg.
Yum! is down around three percent on Tuesday.
Posted-In: Africa ChinaEarnings News Restaurants Legal Economics General Best of Benzinga
View Comments and Join the Discussion!