Earnings Expectations for the Week of January 14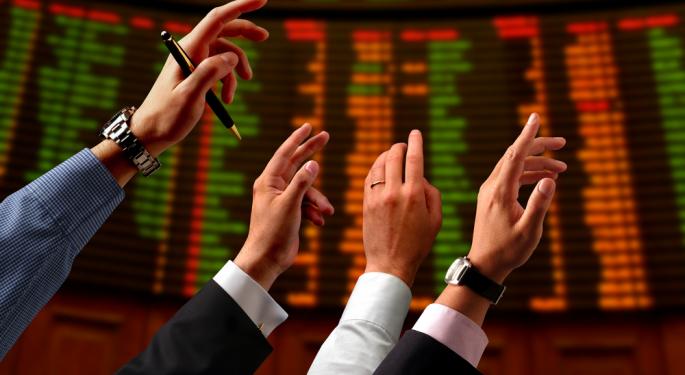 Last Friday, Wells Fargo (NYSE: WFC) started off the most recent round of quarterly reports from the big U.S. banks by posting a record profit for the quarter. The company also reported that the number of mortgage loans and lending margins declined from the previous quarter. Results from many more big banks and other financials will be the focus this week. By and large, analysts anticipate year-over-year earnings growth from them.
Bank of America (NYSE: BAC) will be the odd man out. In its report Thursday morning, it is expected to say that fourth-quarter earnings per share (EPS) plunged about 87 percent from a year ago to $0.02. Revenue for both the quarter and the full year are forecast to have declined. But the silver lining is that full-year EPS is expected to come to $0.24, compared with $0.01 per share in the previous year. Note though that the consensus EPS estimate was $0.42 just 30 days ago.
Mixed results are expected from Morgan Stanley (NYSE: MS) as well in its report Friday morning. While a net loss of $0.04 per share is predicted for the full year, for the fourth quarter the forecast calls for $0.28 per share, compared with a net loss of $0.14 per share in the year ago period. But Morgan Stanley fell short of consensus EPS estimates by more than 30 percent in the past three quarters. Analysts see revenue up about 23 percent for the quarter to $7.02 billion, but down more than 16 percent for the full year to $27.03 billion.
The street view has Citigroup (NYSE: MS) and Goldman Sachs (NYSE: GS) as the week's winners in terms of fourth-quarter earnings. EPS for the former is expected to have tripled year-over-year to $0.96, while the latter nearly doubled to $3.65. But Goldman's full-year earnings are estimated to have risen almost 63 percent to $12.14 per share, while those from Citigroup grew less than nine percent to $3.97 per share. Analysts underestimated EPS for both of these companies in the previous three quarters. Quarterly revenue for each of them is expected to be up more than nine percent. Citigroup offers up its results Thursday morning, Goldman Wednesday morning.
Fourth-quarter results for Capital One Financial (NYSE: COF), M&T Bank (NYSE: MTB) and SunTrust Banks (NYSE: STI) are also expected to be strong, with revenue up at least 10 percent and EPS up at least 45 percent.
Other financial companies expected to post strong quarterly earnings results this week include Bank of New York Mellon (NYSE: BK), BB&T (NYSE: BBT), BlackRock (NYSE: BLK), Comerica (NYSE: CMA), Fifth Third Bancorp (NYSE: FITB), J.P. Morgan Chase (NYSE: JPM), PNC Financial Services (NYSE: PNC) and U.S. Bancorp (NYSE: USB).
Analysts expect more modest earnings growth from American Express (NYSE: AXP), First Horizon National (NYSE: FHN), Huntington Bancshares (NASDAQ: HBAN), People's United Financial (NASDAQ: PBCT), SLM (NASDAQ: SLM) and State Street (NYSE: STT).
But it will not be only financial companies on the earnings stage this week.
The consensus forecast calls for General Electric's (NYSE: GE) fourth-quarter EPS to be up more than nine percent year-over-year to $0.43. But fourth-quarter revenue is predicted to be up only marginally to $38.71 billion while full-year revenue is essentially flat at $147.04 billion. The conglomerate reports Friday before the markets open.
Analysts on average expect Intel (NASDAQ: INTC) to report Thursday that its per-share earnings declined more than 10 percent in both the fourth quarter and the full year. However, Intel has topped consensus EPS estimates in recent quarters. Revenue is expected have slipped a bit to $13.76 billion in the quarter and to $53.43 billion for the year.
For the quarter, eBay (NASDAQ: EBAY) is expected to report $0.69 per share earnings and sales of $3.97 billion. That would be up from $0.60 per share and $3.38 billion in revenue in the same period of last year. The full-year forecast calls for EPS up more than 13 percent to $2.35 and sales more than 20 percent higher to $14.06 billion. eBay steps into the earnings spotlight on Wednesday.
Schlumberger (NYSE: SLB) is expected to post a profit of $1.08 per share for the fourth quarter and $4.19 per share for the year. Quarterly revenues are anticipated to be marginally lower, relative to the year-ago period, to $10.85 billion. But full-year revenue is expected to be more than seven percent higher to $42.37 billion. This oilfield services provider is scheduled to share its results Friday before the opening bell.
The consensus EPS estimate for UnitedHealth Group's (NYSE: GE) fourth quarter is $1.19, which would be up marginally year-over-year. Quarterly revenue is predicted to be up almost nine percent to $28.20 billion. For the full year, analysts are looking for EPS up about 10 percent to $5.27 and revenue up almost eight percent to $109.9 billion. The company reports Thursday before the opening bell.
View Comments and Join the Discussion!
Posted-In: Earnings Long Ideas News Guidance Short Ideas Previews Analyst Ratings Trading Ideas Best of Benzinga