Toyota Motor Boosts Outlook on Strong U.S., Japan Sales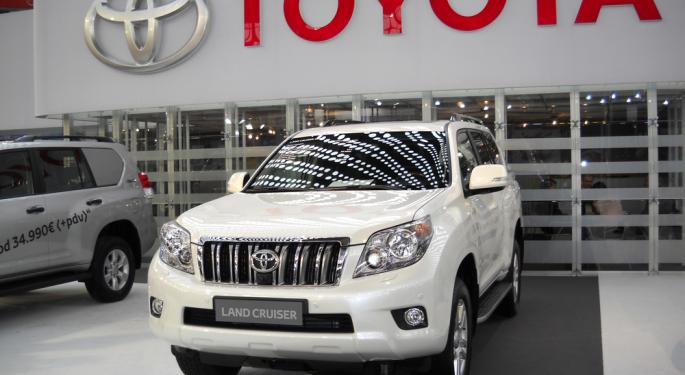 Japan's biggest car maker, Toyota Motor (NYSE: TM), released its second quarter results in Tokyo overnight showing operating profit more than tripled compared to the same period in 2011. The company raised its outlook for the rest of the year ending March 31, 2013, with earnings guided at $3.09 per share.
Toyota's upward revision to guidance was unexpected following the recent downgrade by Honda Motor (NYSE: HMC) last week. CLSA Asia-Pacific Markets analyst, Christopher Richter, explains, "However, unlike Honda, [Toyota] did not encounter start-up costs from reintroducing its biggest product. In addition, Toyota received a huge boost from its luxury Lexus divisions where sales volume is up 40% FYTD, while Acura [Honda's luxury brand] is down 11%."
The territorial dispute between Japan and China has hurt Japanese brand car sales in China, the world's largest automobile market. "Toyota expects sales in China during the fiscal second half ending March to be 200,000 vehicles fewer than the company had expected and drain profit by 30 billion yen," Executive Vice President Satoshi Ozawa told Bloomberg today.
While the slump in China hurts, China is a smaller market for Toyota than it is for other Japanese companies. Richter explains, "In addition, in Southeast Asia, a region where Toyota dominates and that represents bigger sales volume for Toyota than China or Europe, sales are booming, with Thailand up 74% FYTD and Indonesia up 31%. Finally, while its China business is about the same size as Honda's or Nissan's business, Toyota is double their size, so China is proportionately much smaller."
In Japan, Toyota was the major beneficiary of Japanese government subsidies to consumers for the purchase of environmentally friendly cars, "eco-cars" as they are called in Japan. With its expanded line-up of Prius hybrid models, Toyota gained the lion's share of the subsidized car purchases. Operating income in Japan during the second quarter was $1.79 billion compared to an operating loss of $863 million during the second quarter of 2011, in the immediate aftermath of last year's devastating earthquake.
For the full year ending March 31, 2013, Toyota is lowering production guidance by 50,000 units to 8.75 million units due to uncertainty in Europe and continued sluggish sales in China. But the company is guiding net profit higher by $249 million to $9.7 billion.
Toyota raised its cash dividend for the six months ended September 30, 2012 by 50 percent to $0.37. CLSA's Richter, who has a Buy rating on Toyota, said, "Despite being in a comeback, we still see Toyota as among the cheapest in the Japanese auto space and among its major global competitors…It remains our top automotive pick…"
Posted-In: Earnings News Guidance Dividends Reiteration Management Global Analyst Ratings Best of Benzinga
View Comments and Join the Discussion!