Is Jack in the Box the Next Big Restaurant Stock?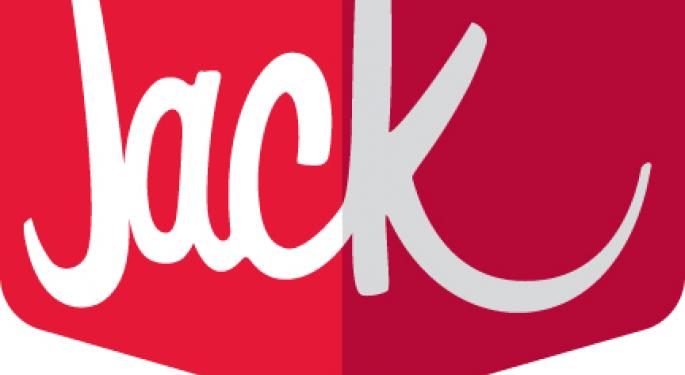 Shares of Jack in the Box (NASDAQ: JACK) have enjoyed a fairly strong rally in 2012, trading up from near $21 at the start of the year to just over $26.30 on Friday. Shares saw their peak (thus far) for the year at the start of October, when they traded over $28 per share.
Jack in the Box is an interesting restaurant stock because it receives arguably little fanfare when compared to some of the other companies in the sector. McDonald's (NYSE: MCD) is considered a staple American company; Yum! Brands (NYSE: YUM) is seen as an innovative company with a lot of international exposure; Chipotle Mexican Grill (NASDAQ: CMG) has traded as somewhat of a momentum stock, and has rallied significantly in recent years.
Jack in the Box was positively mentioned at the Value Investing Congress early in October, which coincided with the topping out of the stock.
Analyst Ryan Fusaro won a contest for the right to present his idea: long Jack in the Box. He argued that the stock was undervalued based on three reasons: its real estate holdings, its ownership of Qdoba and its shift towards being a franchisee rather than having corporate-owned stores.
According to Fusaro, selling franchise rights is a fundamentally better business model than corporate ownership, but the share price of Jack in the Box has not yet fully reflected this fundamental transformation. As this transformation happens, the company will be able to sell off its real estate holdings and bring in more capital.
Qdoba is a direct competitor to Chipotle and has a comparable menu. Chipotle, as the sector leader, has popularized the concept and Qdoba could benefit from increasing demand for premium burritos.
Of course, that could also prove to be an Achilles heel for Jack in the Box. Hedge fund manager David Einhorn argued that investors should short Chipotle, as the company had become overvalued. Einhorn noted that Taco Bell had recently entered the premium space, and that Taco Bell's efforts would put pressure Chipotle.
Einhorn was proven right to some extent when, late in October, Chipotle released an earnings report that disappointed investors and caused shares to sell off. Should Einhorn's thesis continue to play out, it could likewise mean a tougher environment for Qdoba, and therefore Jack in the Box.
Shares of Jack in the Box traded almost flat on the day Friday, around $26.30.
Posted-In: Earnings Long Ideas News Short Ideas Hedge Funds Asset Sales Events Trading Ideas Best of Benzinga
View Comments and Join the Discussion!