'Taken 2' Holds #1 Box Office Spot Hostage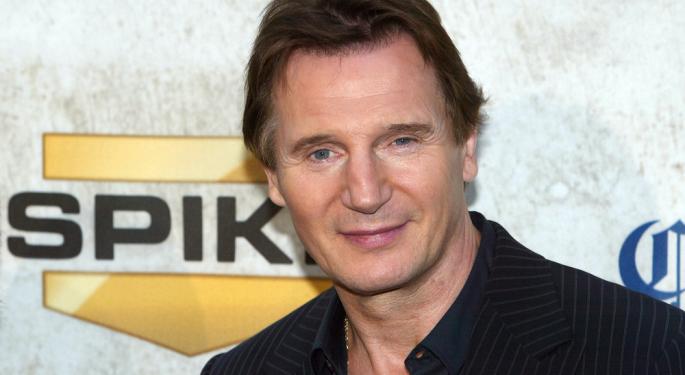 Amounting thus far to a total of $86.8 million in box office revenues, News Corporation's (NASDAQ: NWSA) Taken 2 has dominated ticket sales for the second weekend in a row, bringing in $22.5 million over this past weekend.
The Wall Street Journal reported that while Argo and Sinister duke it out to compete for the number two spot, Taken 2 has taken the cake during their rival. Time Warner's (NYSE: TWX) Argo ticket sales amounted to $20.1 million while Lions Gate Entertainment's (NYSE: LGF) Sinister brought in $18.3 million.
Ahead of the weekend, Morgan Stanley raised the price target on News Corporation from $25 to $28 per share, basing the raise on refined valuation while remaining conservative on film guidance. Morgan Stanley believed that Taken 2 among some other titles such as A Good Day, Die Hard, Life of Pi and The Croods could help drive the upside of revenues.
Shares of News Corporation closed down 0.41 percent on Friday and year to date are up 35.15 percent. Analysts at Bank of America believe there are clear growth drivers on the horizon, including the sale of syndication for The Simpsons and improved advertising trends with additional increases in subscription-based revenues.
Worldwide, the box office revenues for Taken 2 have totaled nearly $220 million, inching closer and closer to the prequel Taken film's $226.8 million totals globally. Within a few weeks, the film will be available in more theatres and may quickly surpass the first Taken's revenues, a claim which analysts and film executives at 20th Century Fox are confident in making.
The original Taken was released in 2008 and cast Liam Neeson in the lead role and made him an action-hero favorite, earning $49.5 million its first weekend of release. Taken 2, although meeting the same numbers quickly, opened at about half of that revenue its first weekend of release.
Ironically, Argo, Sinister and Taken 2 are all movies with hostages being a main part of the plot and create an interesting competition among filmmakers. Though likely not a coincidence, take note that one title has "taken" the first spot while the others compete for which comes in second.
The respective budgets for each film were $44 million, $3 million and $45 million.
Posted-In: Earnings News Events Economics Pre-Market Outlook Media Reviews General Best of Benzinga
View Comments and Join the Discussion!