Earnings Expectations for the Week of October 15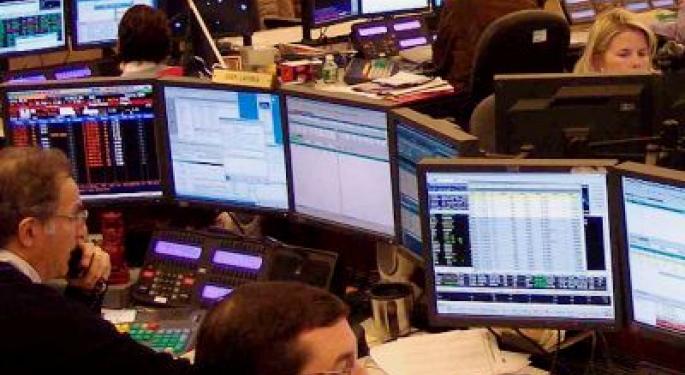 The earnings crunch gets underway this week, with big names in the financial, technology, consumer goods and other sectors on tap to share their most recent quarterly results. Among those expected to post the biggest year-over-year gains in earnings are Abbott Labs (NYSE: ABT), BlackRock (NYSE: BLK), Chipotle Mexican Grill (NYSE: CMG), Goldman Sachs (NYSE: GS), Mattel (NYSE: MAT), Travelers (NYSE: TRV), Union Pacific (NYSE: UNP) and U.S. Bancorp (NYSE: USB). Analysts do not expect to see many net losses posted this week, but Bank of America (NYSE: BAC) and Knight Capital (NYSE: KCG) are on the list.
Here is a quick rundown analysts' expectations for the most prominent quarterly reports due this week.
Monday
Citigroup (NYSE: C) gets the week started off. Analysts are looking for earnings per share (EPS) that are about 22 percent lower than a year ago to $0.96. Revenue is expected to have fallen about 10 percent to $18.7 billion.
Newspaper publisher Gannett (NYSE: GCI) also reports Monday and is forecast to post earnings and revenue growth.
Tuesday
The consensus forecast has Goldman Sachs (NYSE: GS) swinging from a year-ago net loss of $0.84 per share to a profit of $2.13 per share. That EPS estimate is up from $1.97 just 60 days ago. And third quarter revenue is expected to have more than doubled year-over-year.
IBM's (NYSE: IBM) EPS are forecast to have risen about nine percent to $3.61 on revenue of $25.4 billion, which would be three percent lower than last year. Analysts regularly underestimate IBM's quarterly EPS.
Per-share earnings from Coca-Cola (NYSE: KO), Intel (NASDAQ: INTC) and Johnson & Johnson (NYSE: JNJ) are expected to be lower than a year ago to $0.50, $0.50 and $1.21, respectively. All three have topped consensus estimates in recent quarters. Analysts predict Intel will report a decline in revenue, while modest growth in sales is expected from the other two.
Domino's Pizza (NYSE: DPZ), Intuitive Surgical (NASDAQ: ISRG), Mattel (NASDAQ: MAT), PNC Financial Services (NYSE: PNC) and UnitedHealth Group (NYSE: UNH) are expected to show earnings growth. But EPS from railroad company CSX (NYSE: CSX) and regional bank State Street (NYSE: STT) are anticipated to be the same as a year ago. A decline in earnings is predicted for education provider Apollo Group (NASDAQ: APOL) and drug maker Forest Laboratories (NYSE: FRX).
Wednesday
American Express (NYSE: AXP) is expected to report $1.08 EPS and $7.9 billion in revenue, which would be up marginally from the third quarter of 2011. But analysts anticipate that Bank of America (NYSE: BAC) will have swung to a net loss of $0.07 per share, compared to a profit of $0.56 in the year-ago quarter. The consensus estimate only swung into the red this past week. The bank's revenue is expected to have declined about 23 percent year-over-year.
The consensus forecast for PepsiCo (NYSE: PEP) calls for EPS of $1.16 on $16.9 billion in sales. But that would be down from $1.31 per share and $17.5 billion in the third quarter of last year. PepsiCo has not fallen short of analysts' expectations in more than 10 quarters.
Thursday's other anticipated earnings gainers include Abbott Laboratories (NYSE: ABT), Bank of New York Mellon (NYSE: BK), BlackRock (NYSE: BLK), Northern Trust (NASDAQ: NTRS), St. Jude Medical (NYSE: STJ), Stanley Black & Decker (NYSE: SWK) and U.S. Bancorp (NYSE: USB). But Halliburton (NYSE: HAL) is expected to report EPS lower than year ago despite a rise in revenue.
Thursday
Google's (NASDAQ: GOOG) third-quarter report will be the highlight on Thursday. Analysts are looking for $10.58 EPS on $11.8 billion in revenue. That compares with $9.72 per share and revenue of $7.5 billion in the year-ago period. If it meets or tops this EPS estimate, this will be Google's highest per-share earnings since the company went public in 2004.
Microsoft (NASDAQ: MSFT) is expected to say that its EPS fell more than 17 percent year-over-year to $0.56. The consensus EPS estimate has slipped in the past 60 days from $0.59. Revenue is predicted to have declined about five percent year-over-year. The general release of Windows 8 will not be reflected in this report.
Third-quarter earnings from Morgan Stanley (NYSE: MS) are forecast to have plunged about 79 percent from a year ago to $0.24 per share. EPS in the previous two quarters fell well short of consensus estimates. In addition, revenue is expected to have dropped more than 35 percent to $6.4 billion.
Analysts expect to see strong earnings growth from Verizon Communications (NYSE: VZ) -- up almost 14 percent from a year ago to $0.65 per share. Note though that the consensus EPS forecast has slipped from $0.68 per share just 60 days ago. And the anticipated revenue of $28.9 billion would be less than four percent higher than a year ago.
Also expected to report higher earnings Thursday: Boston Scientific (NYSE: BSX), Chipotle Mexican Grill (NYSE: CMG), Genuine Parts (NYSE: GPC), Huntington Bancshares (NASDAQ: HBAN), Philip Morris International (NYSE: PM), Travelers Companies (NYSE: TRV) and Union Pacific (NYSE: UNP).
EPS from Advanced Micro Devices (NYSE: AMD), Capital One Financial (NYSE: COF), Diamond Offshore Drilling (NYSE: DO), E*Trade Financial (NASDAQ: ETFC), SanDisk (NASDAQ: SNDK) and Southwest Airlines (NYSE: LUV) are expected to be lower than a year ago.
Friday
General Electric (NYSE: GE) and McDonald's (NYSE: MCD) are scheduled to report before the opening bell, and analysts anticipate modest year-over-year EPS growth from both of them. The consensus forecasts call for $0.36 per share for the former and $1.48 per share for the latter. GE is expected to post modest revenue growth as well, but sales at the fast-food giant are predicted to be the same as a year ago, or a bit less than $7.2 billion.
Honeywell International (NYSE: HON), Ingersoll-Rand (NYSE: IR), Parker-Hannifin (NYSE: PH) and Schlumberger (NYSE: SLB) are expected to report earnings growth at the end of the week as well.
Posted-In: abbott laboratoriesEarnings Long Ideas News Short Ideas Previews Pre-Market Outlook Trading Ideas Best of Benzinga
View Comments and Join the Discussion!