Hewlett-Packard Plunges on Lower Outlook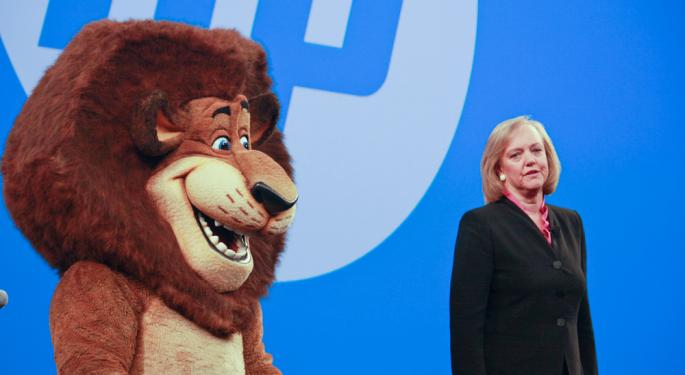 Shares of struggling tech giant Hewlett-Packard (NYSE: HPQ) have fallen precipitously on Wednesday after the company slashed its outlook for the fiscal year. At the company's annual Securities Analyst Meeting, Hewlett-Packard president and CEO Meg Whitman said that she expects the company's revenues to be growing in line with GDP by 2016, with operating profit growing faster than revenues.
For fiscal 2013, Hewlett-Packard sees EPS between $3.40 and $3.60. This is well below current Wall Street consensus estimates of $4.18.
The stock began falling sharply immediately after this updated guidance and at last check, HPQ was down more than 9 percent to $15.48. Volume has been extremely heavy with more than 81 million shares trading hands compared to a 3-month daily average of 21.5 million.
The stock has been under significant pressure for a number of years now and over the last 5 years, shares are down 69 percent. Most of those losses have come since the beginning of 2011. Year-to-date, HPQ has shed 40 percent.
Many value-oriented managers have been burned in this name as HPQ is a leading technology brand which is trading at a cheap valuation. The company's fundamentals, particularly in its PC business, however, have been deteriorating on a consistent basis. In sum, HPQ has become the prototypical value trap.
Many high profile hedge fund managers have attempted to make money on this battleground stock on both the long and short side. For example, noted value investor Seth Klarman's Baupost Group showed a $540 million position in the stock at the end of the second quarter. Clearly, the sharp decline in the shares on Wednesday is going to be painful for Baupost and other value investors involved in this name.
On the other end of the spectrum are short-sellers such as Jim Chanos' Kynikos Associates which has a high profile bet against the company. On the surface, shorting HPQ is a difficult trade. For one, this is a diversified technology company with a preeminent brand and a deeply established business. It is also seemingly very cheap. The stock trades at a forward P/E of under 4.
In the tech industry, however, when things go bad and revenues start plunging, usually as a result of an inability to compete and innovate at the forefront of the pack, share prices can collapse in a hurry. Investors have numerous examples to draw from in order to analyze this phenomenon. Two companies that immediately come to mind are Research in Motion (NASDAQ: RIMM) and Palm, which was actually acquired by Hewlett-Packard.
Today's news does little to discourage the perception on Wall Street that HPQ has become, unfortunately, another tech dinosaur in need of a radical overhaul. Without a fundamental restructuring of the business and the brand, this company may be destined for extinction, succumbing to the same fate as so many once innovative Silicon Valley leaders that couldn't keep pace with the rapid changes taking place in the tech marketplace.
While that may seem like an extreme statement, it is not. Hewlett-Packard isn't cool. It isn't innovative on a sufficient scale. Its core businesses are deteriorating and its stock price is in free-fall. The price of the shares has now basically been halved since hitting $30 in February. The writing is on the wall for this company, and today's bloodbath, yet again, should be a warning to investors. Find value somewhere else - like in a company that is actually succeeding in the current environment.
Posted-In: Earnings Long Ideas News Short Sellers Guidance Short Ideas Hedge Funds Management Best of Benzinga
View Comments and Join the Discussion!