4 Beaten Down Stocks and How They Might Bounce Back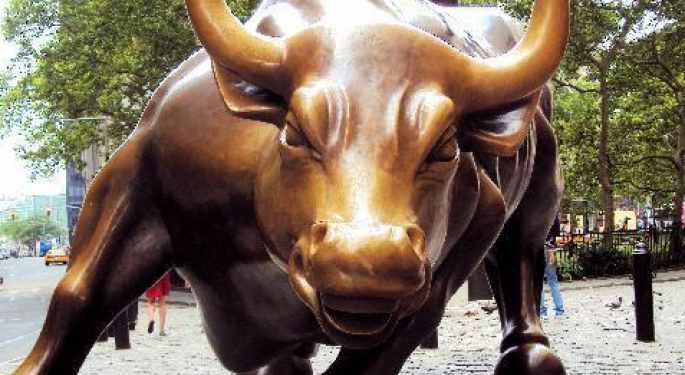 While the broad market indices are currently trading near four-year highs, some notable stocks have had terrible performances in recent months. Most of these companies face fundamental problems as technological changes have made their business models largely unworkable.
Still, these distressed stocks might offer an opportunity for aggressive investors to bottom fish. Even if their business models in their present forms are flawed, investors might be able to profit by going long.
Best Buy (NYSE: BBY) has been battered in recent months. The company lost its CEO in a sex scandal earlier in the year, and then shares declined further on a series of disappointing earnings reports. Since January, shares of the electronics retailer have traded down over 20 percent.
Best Buy faces the fundamental problem of competing with online retailers, namely Amazon (NASDAQ: AMZN). The majority of Best Buy's items are commoditized electronics, so consumers derive no additional utility from buying them in person. Amazon also has another advantage in that it doesn't collect sales tax in most states.
In theory, Best Buy might be able to turn it around. The company could leverage its staff to provide education and guidance to ignorant consumers.
Best Buy bulls could also profit if founder Richard Schulze is able to successfully take the company private. Schulze lacks financing presently, but has stated that he wants to buy the company at a significant premium. A firm buyout offer would send shares spiking sharply higher.
Schulze entered a pact with Best Buy on Monday that would allow him to conduct the due diligence required for a takeover. Still, shares traded at a significant discount from Schulze's original offer and there could be significant upside left if the takeover ever finalizes.
J.C. Penney (NYSE: JCP) like Best Buy, J.C. Penney is a retailer that has struggled throughout 2012. The company was thought to be a turnaround story as new CEO Ron Johnson was brought in specifically for the task. Yet, investors have been disappointed by how long the turnaround has taken. Since January 1, the company has lost nearly one third of its market cap.
Given the nature of the business, a buyout scenario like Best Buy seems unthinkable. Still, hedge fund manager Bill Ackman -- one of company's staunchest supporters -- revealed in an investment letter that he had been approached by a private equity firm over his stake.
Ackman's made mistakes, but his investment track record is well established. Although there may be further downside from current prices, J.C. Penney remains intriguing.
Research in Motion (NASDAQ: RIMM) shares have been halted before recent earnings reports as the company's performance has been so poor.
RIM's new CEO Thorsten Heins has made it abundantly clear that he is open to a variety of strategic decisions. Year-to-date, it's one of the worst performers, having shaved off half of its value.
But shares rallied on Monday in the wake of Apple's (NASDAQ: AAPL) victory over Samsung. A jury ruled that Samsung had copied off Apple's iPhone with its lineup of Galaxy smartphones. As the Galaxy line runs Google's (NASDAQ: GOOG) Android mobile operating system, device manufacturers could be looking for an alternative operating system.
That operating system might be BlackBerry 10, which Heins has said the company is very open to licensing out.
Yet, with Microsoft (NASDAQ: MSFT) looking to make a more aggressive entrance in the space with Windows Phone 8, RIM will have its work cut out for it.
Dell (NASDAQ: DELL) is down well over 20 percent in 2012. The PC manufacturer has seen sluggish sales, but management has argued that the company is in turnaround mode -- shifting its focus from consumer PCs to business solutions.
The broad trend in computing appears to be more focus on tablets and cloud computing. This has put pressure on both Dell and Hewlett-Packard (NYSE: HPQ).
Despite the challenge, Dell appears to be well aware of the trend and seems to be moving in a different direction. Secular trends may be too strong for the company, but if its successful in its new focus, Dell might be an interesting play at these depressed levels.
Posted-In: Earnings Long Ideas News Short Ideas Legal Movers Tech Trading Ideas Best of Benzinga
View Comments and Join the Discussion!