Barclays Under Investigation Again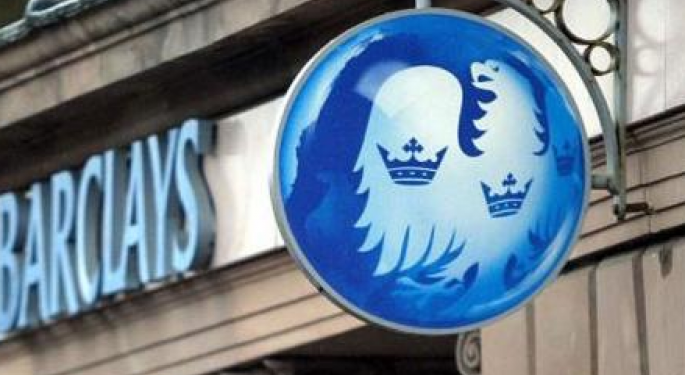 British bank Barclays (NYSE: BCS) is under the microscope yet again after it set aside millions of pounds to cover bad decisions made selling financial products.
Barclays must surely be sick of the sight of regulators and the word "investigation" following the London Interbank Offered Rate (LIBOR) scandal that basically took over the month of July for the bank.
On July 2, Chairman Marcus Agius resigned his position, saying that, "the buck stops with me".
Barclays had been fined $453 million for rate fixing after emails were made public showing very clearly that the Barclays staff knew they were doing wrong.
The bank was fined for manipulating the LIBOR between 2005 and 2009. The AP says that the LIBOR, "is calculated daily by the British Bankers' Association, based on lending rate figures submitted by global banks." However, some members of Barclays' staff adjusted those figures to boost profits.
CEO Bob Diamond followed Agius out of the door on the same day, later facing a parliamentary inquiry in which he was accused of misleading.
Diamond told the committee, "A number of banks were posting rates that were significantly below ours that we didn't think were correct. I can't sit here and say no one in the industry didn't know about the problems with Libor. There was an issue out there and it should have been dealt with more broadly."
Committee Chairman Andrew Tyrie commented on inconsistencies between Diamond's statements and the written evidence that it holds.
"It will look to us, and frankly it will look to everybody listening, like another example of a complete lack of candor to parliament by the Chief Executive of Barclays," Tyrie said.
Diamond, writing to Tyrie, stated, "Having watched the committee's session today, I was dismayed that you and some of your fellow committee members appear to have suggested that I was less than candid with the committee last week. The comments made at today's hearing have had a terribly unfair impact on my reputation, which is of paramount concern to me."
The bank is under fresh investigation Friday, with the finance director being investigated by U.K. regulators. According to The Wall Street Journal, the bank has said that it put aside $450 million to cover the misselling of derivatives products to small businesses.
However, investors still reacted positively to the bank's first half earnings, against the odds. Barclays hit a 13 percent return on equity, with total income moving up to $24.25 billion. Profit before tax was up 13 percent to $6.62 billion.
Barclays remains on the hunt for a new CEO.
On Friday morning, Barclays traded at about $9.7, up roughly 4 percent.
Follow me @BCallwood.
Posted-In: Earnings News Topics Legal Management Global Markets Trading Ideas Best of Benzinga
View Comments and Join the Discussion!