Hey, Forget the McDonald's Juicy Dividend!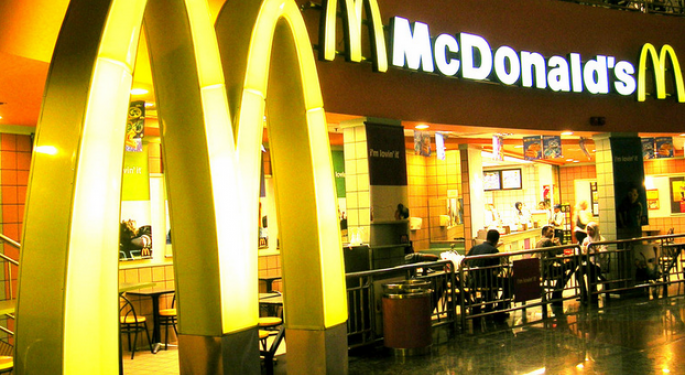 Mark this day down as one where a renegade portfolio manager (www.decodingwallst.com) with no inclination to ever book talk tells you to forget the "juicy" 3.1% dividend yield on McDonald's (MCD). Instead, place greater emphasis to the deteriorating fundamental story (notably sales) at McDonald's that is making the dividend yield juicier. Let me be further blunt. Sometime in August when earnings season is done you are likely to hear an abundance of investment folks pounding the table on McDonalds given its dividend payout, success with new innovative menu items (not sure if McBites are in the same league as the Steve Jobs created iPod), and "attractive" valuation relative to years gone by (stock trades at a decent discount to the 9-year mean P/E multiple, for example).
Remember these four reasons to avoid McDonald's, for the timing being:
• There is pervasiveness in corporate offices this earnings season to stress ex. currency financials due to the negative hit from the strong dollar. Don't have the wool pulled over your eyes. McDonald's "reported basis" results, specifically operating income and earnings per share, are at risk of underwhelming the Street until analyst's factor in more of top line currency pressure. Additionally, on a reported basis, McDonald's is a company logging low-single digit gains, or potentially slight declines, in operating earnings pending less blowing of currency headwinds.
• Decoding a CEO: To hear a CEO state that results were "solid" in a "slowing global economy" is to suggest that in a new leg down in global growth (which is certainly in play) performance could be "disappointing." Not exactly confidence inspiring.
• Slowing reported basis sales growth plus investment in everyday values and the store network is an equation for poor near-term profit trends.
• McDonald's has effectively warned on sales for the third quarter. Hard to invest in a still richly valued, slow growing dividend payer when it's flat out saying tis performance is worsening.

View Comments and Join the Discussion!
Posted-In: Earnings News Restaurants Markets Trading Ideas General