Electric Vehicles Are On Fire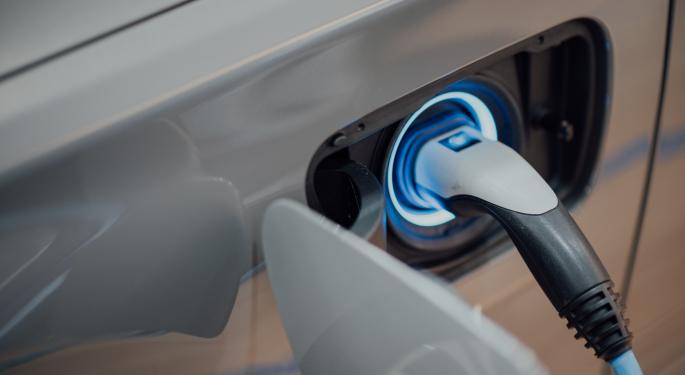 The incoming Biden administration is planning to pump $2 trillion into renewable energy infrastructure and EVs play a big role in a greener future. Shares of the largest EVs are still going up even after epic gains in 2020. Nio Inc's (NYSE: NIO) stock rose about 6 percent on Friday and it is now the world's fifth most valuable carmaker with market value of approximately $100 billion. Moreover, three of the top five most valuable automakers are EV makers, namely Tesla Inc (NASDAQ: TSLA), BYD (OTC: BYDDF) and NIO Limited.
Tesla has gained over 700% in a year, while Chinese Nio has soared over 1,300%. Larger EV firms are going up, Lordstown Motors Corp (NASDAQ: RIDE), Workhorse Group Inc (NASDAQ: WKHS) and CIIC Merger Group (NASDAQ: CIIC) which is merging with Arrival that is soon to be listed as ARVL on the NASDAQ are all up 9% on average. Arrival plans to have its electric buses in production by the end of this year with electric commercial vans to follow in 2022.
Small Caps
But small caps are rising as well with Electramecania Vehicles Corp (NASDAQ: SOLO), Greenpower Motor Company Inc (NASDAQ: GP), Kandi Technologies Group Inc (NASDAQ: KNDI) and Arcimoto Inc (NASDAQ: FUV) combined having a market cap of approximately $2.6 billion.
Worksport
The manufacturer of solar-powered tonneau covers for pickup trucks, Worksport Ltd (OTC: WKSP) just announced it raised well over $2 million from its Regulation A public offering. The offering can remain open until November 2021 but the company already achieved 50% of the target amount, with its first million being reported earlier this month. The capital raised is to be used for expeditious growth, R&D, inventory and brand development. Management is also considering acquisitions and partnerships to fuel additional growth. As a reminder, Worksport recently added another trademark protection for its TerraVis COR

mobile battery system under its belt. Although it is an extension of TerraVis solarsystem, it can be used independently from tonneau covers. Worksport is not only the first in the industry with its ground-breaking solar technology, but it has now also opened another door for consumers.
Rivian
Rivian Automotive LLC just scored another huge cash investment of $2.65 billion and is now valued at $27.6 billion. Being backed by Ford Motor Company (NYSE: F) who invested $500 million and supported by Amazon.com, Inc. (NASDAQ: AMZN) for which it is making electric vans, Rivian is on a roll as it plans to bring the first electric pickup truck to the market. Rivian has racked up billions of dollars in investments and its R1T electric pickup truck and R1S three-row SUV have already proved their impressive specs in testing road trips across multiple countries.
The EV sector is up about 17% year to date on average, adding about $220 billion in market value, which is roughly the market cap of Toyota Motor Corp (NYSE: TM). It doesn't seem to matter if companies are small or large, EV exposure is what investors want.
This article is not a press release and is contributed by a verified independent journalist for IAMNewswire. It should not be construed as investment advice at any time please read the full disclosure. IAM Newswire does not hold any position in the mentioned companies. Press Releases – If you are looking for full Press release distribution contact: press@iamnewswire.com Contributors – IAM Newswire accepts pitches. If you're interested in becoming an IAM journalist contact: contributors@iamnewswire.com
The post Electric Vehicles Are on Fire appeared first on IAM Newswire.
Photo by CHUTTERSNAP on Unsplash
View Comments and Join the Discussion!
Posted-In: ElectraMeccanica Vehicles Corporation Ford Motor Company IAM NewswireNews Penny Stocks Small Cap Markets Tech