Sports Experts Weigh In On Michael Avenatti's Nike Allegations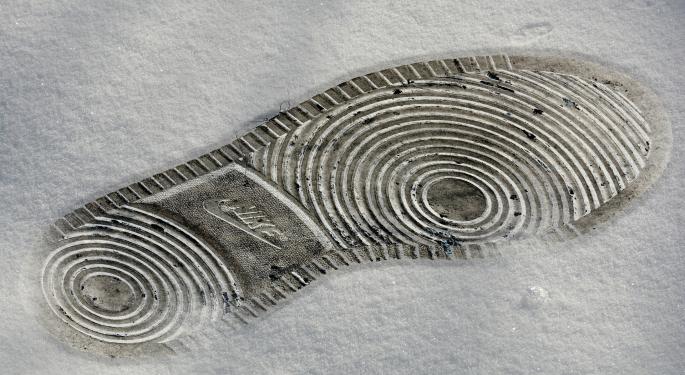 Michael Avenatti levying accusations against Nike Inc (NASDAQ: NKE) of breaking NCAA rules is surely one of the strangest stories we have seen this year — and it's only April.
Powell: 'He Must Have Some Proof'
Sports analyst Matt Powell of the NPD Group tells Benzinga he's presuming Stormy Daniels' former lawyer must have some information on the sportswear brand.
"I am going to assume that Avenatti has something or he wouldn't try to do what he did. He must have some proof Nike was involved in this recruiting scandal or he wouldn't try to get them to pay him. I guess we will know when it comes out in trial," Powell told Benzinga.
"In my opinion, the state of amateur basketball is horribly run. There are so many profiting off these young men who want to play basketball — whether it's through the coaches or through the programs, there is a lot of money flying around."
Heitner Says Damage To Nike Limited
Sports attorney Darren Heitner said he vehemently opposed the way Avenatti appears to have handled the situation.
"It was a deplorable way about airing the grievances. He's up against the wall; he doesn't care who he takes down. It is entirely unfair to levy these types of accusations against one current NBA player [Deandre Ayton]," Heitner said.
"This is his mantra, he decides to litigate the court of public opinion instead of the court of law, and the public opinion is not with him — he is trying to drag everyone down with him."
Heitner said that Nike is now somewhat insulated based on the filing of criminal charges by prosecutors, and added that the short-term damage is now done.
"Until there is an actual complaint against [Nike], I don't think there is much to worry about," he said.
"This is somebody who is trying to restore his reputation, but that doesn't mean his claims will be credible. As an advocate for athletes, it's very saddening."
Nike shares were up 0.14 percent at $85.40 at the close Friday.
Related Links:
Marketing Over Merchandise? This Shoe Expert Says, 'If I Were Nike, I Would Not Sign Zion Williamson'
What Broken Shoe? Nike Shares Rally, Brand Named Most Valuable After Zion Williamson Incident
View Comments and Join the Discussion!
Posted-In: Darren Heitner Matt Powell Michael Avenatti NBA NPD GroupSports Media General Best of Benzinga