EUR/USD Forecast: 3 Reasons For Losing Downtrend Support And Eyeing The Yearly Lows
EUR/USD extends its losses after losing downtrend support.
Italy and global trade, and the Fed are sources of concern.
On a busy day, the pair may enter oversold conditions.
EUR/USD is struggling below 1.1300, extending its losses. The US Dollar gained ground on Tuesday on two significant factors. The common currency is losing ground on one issue: Italy.
1) Trump tough on trade
The US may impose tariffs on cars as early as next week. The Administration will reportedly slap duties on all countries except Canada and Mexico. German car exporters are worried.
Moreover, trade talks with China are not going very smoothly. The Chinese ambassador to the US hinted that the Americans are tough in the negotiations and was not optimistic of achieving an understanding ahead of the summit between Trump Chinese President Xi Jinping on Saturday. Concerns support the US Dollar and the Japanese Yen.
Trump gave an interview to the Washington Post in which he lambasted Fed Chair Jerome Powell and blamed the Fed for the jitters in stocks. The President has been very sensitive to stock prices, but if he has someone else to blame, he may be willing to be even tougher on trade.
2) Fed on track to raise rates
The central bank will likely defend its independence from politicians and remain data-dependent. The first revision of US GDP later today will most probably serve as a reminder that the US economy is doing well. See: US GDP Preview: No revision to third quarter pace
More importantly, Fed Chair Jerome Powell will speak later in the day. His views have been mostly optimistic.
On Tuesday, no less than four FOMC members spoke out, and they did not stray from their well-known stances. Esther George was hawkish, James Bullard was dovish, and Raphael Bostic was cautiously optimistic. The most senior speaker was Vice Chair Richard Clarida, appointment by Trump earlier this year. He was undoubtedly on message: further rate hikes are coming.
3) Italy
The euro area's third-largest economy showed signs of a compromise, but the European Commission is not budging. A fresh report suggests that disciplinary action against Italy may happen before Christmas and not in January as earlier thought. Brussels is not content with Italy's willingness to trim the budget deficit from 2.4 to 2.2 percent. It wants 2 percent and different growth forecasts.
Italian PM Giuseppe Conte said that negotiations with the EU would "not be easy.". Matters are further complicated by some disagreements between Italy's coalition partners.
All in all, the tables have turned against EUR/USD even without considering the implications of a no-deal Brexit on the continent. See: A no-deal Brexit will sink the euro
EUR/USD Technical Analysis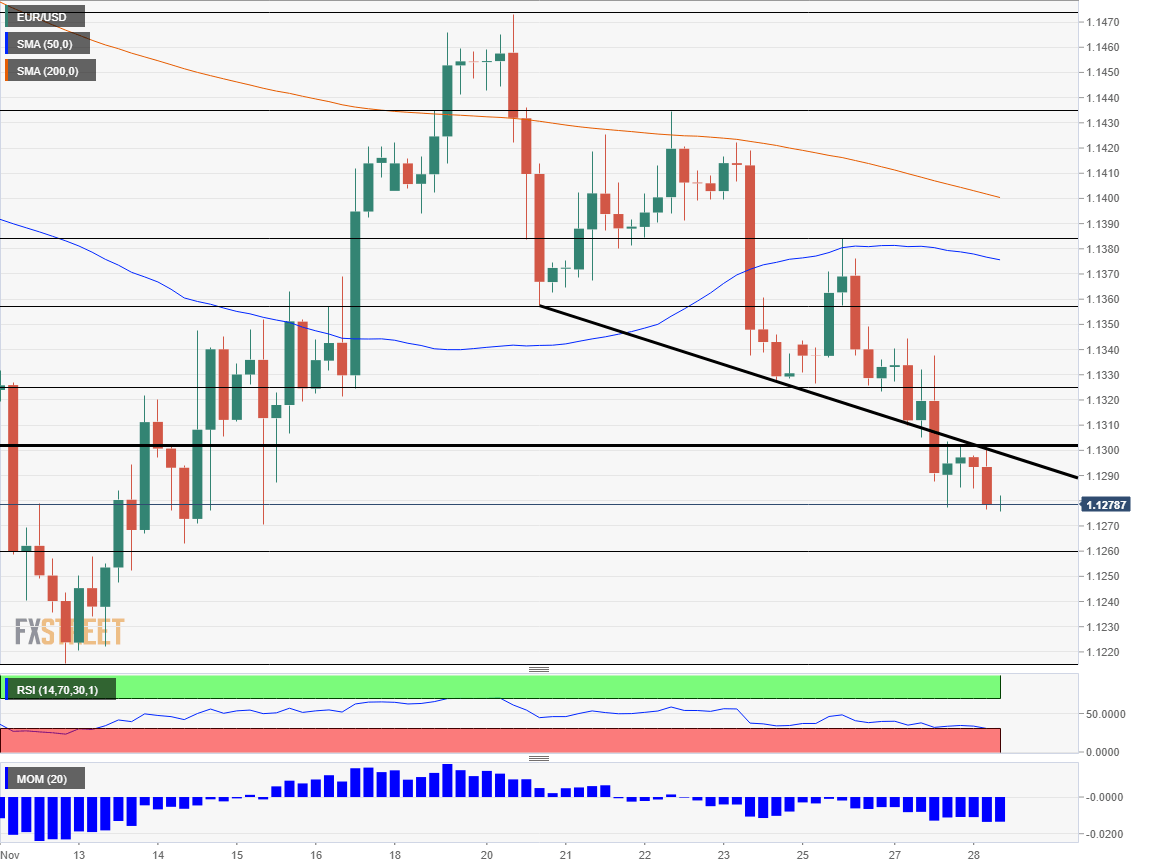 EUR/USD lost the downtrend support line that accompanied it for a week. Falling below a falling line is dovish enough, and the situation is exacerbated by the clear break below 1.1300, a round number and also a former double-bottom.
Bulls may find some solace in the fact that the pair may enter oversold conditions, as the Relative Strength Index on the four-hour chart is flirting with 30. Momentum remains to the downside.
1.1260 was a stepping stone on the way up in mid-November and is immediate support. 1.1215 was the trough this year and the lowest level since June 2017. It is a critical level and is now in sight. The next levels on the downside are 1.1110 and 1.10, dating back to early last year.
1.1300 switches to resistance and it is closely followed by 1.1325 that supported the pair late last week. 1.1355 was a swing low last week, and the 1.1375 was the peak just before the recent drop.
Posted-In: EUR/USD FXStreetNews Eurozone Forex Federal Reserve Markets
View Comments and Join the Discussion!