Data Dive, Trade Talks And Powell: Busy Post-Holiday Week On The Way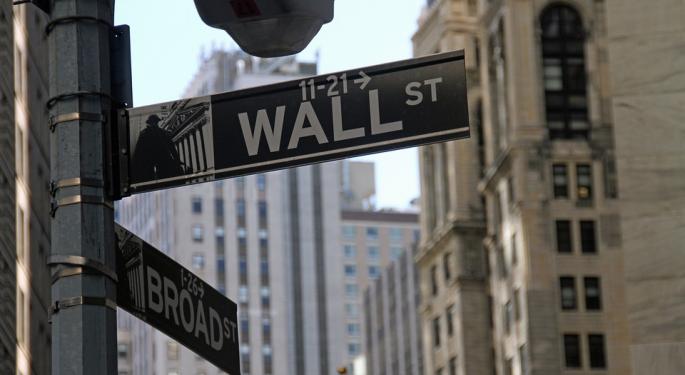 A packed week of economic data and Fed speakers culminates in key trade talks this weekend between the U.S. and Chinese presidents. Buckle your seat belts.
Volatility could ratchet up as the week advances and anticipation grows about what might happen on the sidelines of the G20 meeting that both presidents plan to attend. There hasn't been much optimism on trade lately, especially after Vice President Pence unleashed some tough language earlier this month. However, the Shanghai stock market had shown signs of stabilization over the last few weeks before diving again Friday. Investors might want to keep a closer eye than usual on that market in coming days because it could reflect any undercurrents in the trade debate.
The night to watch is probably Saturday, Dec. 1, when President Xi Jinping and President Donald Trump have a dinner planned. Both leaders are expected to invite cabinet members, but the White House trade advisor is reportedly not attending, so it's possible that little progress on trade will be made.
Ahead of that dinner and after dessert is served, consider monitoring the materials, info tech, and industrial sectors, even in pre-market trading next Sunday night. All three arguably have lots to gain if the two countries can iron out a plan before the end of the year, when tariffs are scheduled to ramp higher. The same two names we've seen rise and fall for months on this issue —Boeing Co. (NYSE: BA) and Caterpillar Inc. (NYSE: CAT)—might be good lamp posts reflecting sentiment as the week continues. Beaten-down shares of Apple Inc. (NASDAQ: AAPL) might also get a lift from any positive traction on trade.
Also, crude oil might reflect the trade situation to some extent. Crude prices hit 13-month lows below $51 a barrel in the U.S. late last week, and one possible factor behind that might be concern of a prolonged trade standoff slowing global economic growth.
Speaking of prolonged standoffs, media outlets reported a bit of progress on Brexit over the weekend as European Union leaders agreed to British Prime Minister Theresa May's plan. The British Parliament still has to approve it, however. We're not necessarily out of the woods on this long-term issue.
Inflation, GDP, New Homes Highlight Packed Data Week
Outside of trade negotiations, a full data calendar this week is likely to keep investors on their toes. The U.S. government's second estimate for Q3 gross domestic product (GDP) looms Wednesday. Last time out, the estimate was 3.5 percent, down from 4.2 percent the previous quarter. Analysts expect the second estimate to tick up a notch to 3.6 percent, according to Briefing.com.
Also this week comes the government's consumer confidence estimate, along with some inflation data as Personal Consumption Expenditure (PCE) prices bow Thursday. New home sales for November might put the slumping housing market and home building sector back in focus on Wednesday. We'll preview the data reports here as the week progresses.
Stocks appeared to have a positive bias going into Monday's open, with 1 percent pre-market gains for the major indices as some of the tech names clawed back from last week's losses. Europeans stocks rose overnight following a mixed performance out of Asia. Oil came back slightly and toyed with $51 a barrel.
Powell Back at the Podium Wednesday
Also, don't forget the Fed. Wednesday brings a speech from Fed Chair Jerome Powell at the Economic Club of New York, and Thursday afternoon will see Fed minutes released from the November meeting. There's been some relatively dovish language from Powell and other Fed speakers lately, so we'll see if that continues when Powell takes the microphone.
Some analysts say lack of inflation, along with sliding crude prices, could mean less pressure on the Fed to raise rates as much next year as the last "dot plot" from the Fed forecast. Analysts now expect on average around 1.5 interest rate hikes in 2019, and none likely until the second half of the year. The Fed's last dot plot signaled as many as three. We'll see if there's some reconciliation of that gap between Fed watchers and Fed members come Dec. 19, when the Fed concludes its final meeting of the year and issues a new dot plot. The futures market still puts odds of a December hike above 75 percent, but there's more and more talk in the analyst community about the possibility of an early 2019 "pause."
Another thing to consider keeping in mind is that the Fed continues to reduce its Treasury holdings by $50 billion a month, which also acts to tighten the money supply and can have an upward impact on borrowing costs. The question is whether so many rate hikes are needed next year if the Fed's contracting balance sheet is also taken into account. Some analysts say this could affect the Fed's thinking about policy in weeks and months ahead.
Dollar Back on Rise
Other factors to consider watching this week include the 10-year Treasury note yield, which was inching back down toward 3 percent on Friday, and the dollar index, which climbed back toward 97 (near its 2018 high) amid weakness in the euro. A rising dollar has arguably been one weight on stocks recently, but falling yields could provide a bit of a tailwind by reducing corporate and consumer borrowing costs. Any signs of progress on Brexit might boost the euro against the dollar, perhaps giving stocks a boost and also helping crude oil recover a bit.
Earnings are basically over, though December has a few notable names, including Nike Inc. (NYSE: NKE), scheduled to report. Average earnings per share growth for S&P 500 companies in Q3 reached 28.6 percent, according to S&P Capital IQ consensus. It's not too late to start looking ahead to Q4 earnings growth estimates, which the same firm pegs at 17.1 percent. Every sector other than utilities is expected to see Q4 earnings gains, but 2019 earnings estimates from analysts have been coming down lately, hurt by the weaker global economic climate, concerns about trade and Brexit, and falling crude prices. Tough comparisons might also be an issue, along with the fact that financial benefits from the 2017 tax cut will be coming out of the equation for many firms.
In one brighter development, some of the beaten-down homebuilder stocks bounced back last week, with shares of Toll Brothers Inc. (NYSE: TOL) rising 7 percent, D.R. Horton Inc. (NYSE: DHI) up 3 percent, and Lennar Corporation (NYSE: LEN) up 4 percent. Some of this could reflect lower expectations for more rate hikes next year, which could keep mortgage rates from rising much higher.
Crude remained in the doldrums as the old week ended, falling toward $50 a barrel in the U.S. amid rising stockpiles and continued heavy supply flows. The crude price might bear watching as a potential economic calling card, as well. Falling crude often reflects weaker demand, which tends to happen when major economies slow. That's could be why lower crude prices aren't necessarily a positive sign, even though people might enjoy those cheaper costs at the pump. Prices fell below $2 a gallon in parts of the U.S. over the weekend, according to gas prices website GasBuddy.
One overseas development that hasn't gotten as much attention is a stabilization lately in the Shanghai composite. It might not be much to write home about considering that the index is still down more than 20 percent year-to-date, but the index had climbed about 6 percent from its October lows before another 2.5 percent downward dive on Friday. Time will tell if Chinese stocks can quickly recover from Friday's weakness and resume the more stable recent performance. Arguably, any sign of progress in U.S./China trade relations might help, as would any sign of stabilization or improvement in China's economy. A lower than expected GDP figure reported in October probably didn't help. China's last quarterly GDP growth of 6.5 percent was the weakest since early 2009. Chinese consumers seem worried about the economy and might be taking a more cautious approach in their buying, one media report from the country said last week.
Sector Check
Now that holiday season is fully in swing and the end of the year is just over a month away, it might be interesting to look at which sectors are doing best and worst so far in 2018. Lowest on the leaderboard is the new communication services sector, down more than 13 percent as it gets slammed by weak Facebook Inc. (NASDAQ: FB) and AT&T Inc. (NYSE: T) performance. Materials is another sector that's low on the list, with many companies suffering from higher costs and tariff concerns. Energy is third-worst, and that seems self-explanatory if you look at crude's recent performance. Industrials and financials also are flagging.
The best performing sector by far this year is health care, up more than 8 percent. This could reflect some investors embracing a sector that's arguably a bit more shielded from international trade tensions and also sometimes seen as a potential defensive position in case of a slowing economy. It also tends to have a lot of dividend payers. Big pharma stocks like Merck & Co., Inc. (NYSE: MRK), Pfizer Inc. (NYSE: PFE), and Eli Lilly And Co. (NYSE: LLY) are all quietly having excellent years. Other sectors in the green so far are consumer discretionary, info tech, and utilities. However, info tech and consumer discretionary are the worst performers over the last three months, with each down double-digits.
Double Whammy on Crude
We've talked a little about the benefits of this crude collapse, specifically how it might benefit the transport sector and put a little extra money in holiday shoppers' wallets. However, there's also a double-negative associated with crude weakness that took U.S. oil futures down to near the $50 a barrel level Friday from $76 early last month. Lower oil prices are hurting the energy sector pretty badly from a stock market perspective, and another blow could come when companies in the U.S. oil patch start reporting Q4 earnings. That's because margins could compress when drillers receive $50 a barrel for crude rather than the $65 to $70 that had prevailed much of the year until the last few weeks.
It's unclear how low crude needs to get to make U.S. shale companies start to shut down some production, but it seems fair to say we might be close. In 2015 and 2016, U.S. production dropped significantly when prices spent months and months below $50. That said, some shale drillers apparently could make money even with prices down around $40, according to analyst reports. Also, consider keeping in mind that some of the logistical problems that had kept a lot of crude bottled up in the Permian region of Texas seem to be improving lately, which could mean even more supplies hitting the market. Energy is the third-weakest sector in the S&P 500 year-to-date, behind only communication services and materials.
Information from TDA is not intended to be investment advice or construed as a recommendation or endorsement of any particular investment or investment strategy, and is for illustrative purposes only. Be sure to understand all risks involved with each strategy, including commission costs, before attempting to place any trade.
View Comments and Join the Discussion!
Posted-In: G20 Summit TD AmeritradeNews Econ #s Federal Reserve Markets