Insider Buys Of The Week: FedEx, JPMorgan And More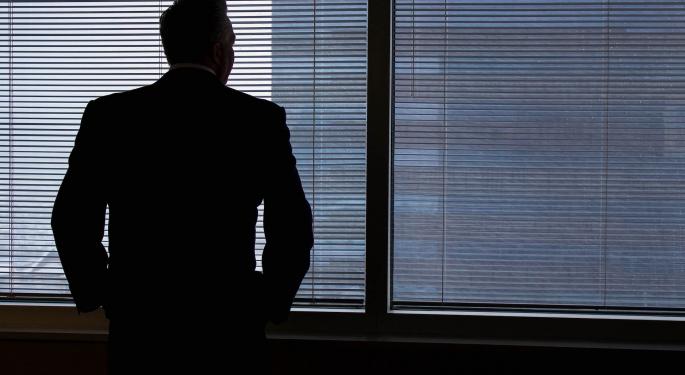 Insider buying can be an encouraging signal for potential investors.
Earnings reports and 52-week lows prompted some insider buying last week.
A CEO and some repeat purchasers were among those that stepped up.
Conventional wisdom says that insiders and 10 percent owners really only buy shares of a company for one reason -- they believe the stock price will rise and they want to profit from it. So insider buying can be an encouraging signal for potential investors, particularly during periods of uncertainty.
Here's a look at a few notable insider purchases reported in the past week.
BlackRock
One BlackRock, Inc. (NYSE: BLK) director has stepped up to the buy window again. This past week, that director picked up 2,000 shares at an average of $409.59 apiece. That totaled almost $820,000, and it raised his stake to less than 7,000 shares.
Jim Cramer recently recommended holding on to BlackRock shares even at 52-week lows. The stock ended Friday at $401.65, down more than 6 percent for the week and below the director's purchase price. The S&P 500 was essentially flat for the week. The consensus price target for BlackRock is $504.15 a share.
Texas Capital Bancshares
Texas Capital Bancshares Inc (NASDAQ: TCBI) saw its president and CEO, Keith Cargill, and another executive purchase a total of 5,000 shares of this Dallas-based bank late last week. At between $67.00 and $67.59 a share, the transactions totaled more than $336,700. Cargill's stake was listed as less than 90,900 shares.
A disappointing third-quarter report had shares down sharply last week. The stock closed Friday at $66.83 a share, which is a little less than the above-mentioned purchase prices. It has traded as low as $66.50 and as high as $103.05 in the past 52 weeks. The consensus price target was last seen at $90.29.
See Also: Musk Will Buy Another $20M In Tesla Stock — The Same Amount He Was Fined By The SEC
DISH Network
DISH Network Corp (NASDAQ: DISH) had an executive vice president purchase add another 10,000 shares of this pay-TV provider early last week. At $32.99 a share, the transaction totaled $329,900. The executive made similar purchases earlier this month, pursuant to a 10b5-1 trading plan, and the stake was last reported to be up to more than 1.22 million shares.
Dish's CEO recently told Bloomberg the company isn't interested in investing in content as rivals have done. Shares ended the week trading at $34.91 apiece. They've traded as low as $28.80 and as high as $52.53 in the past 52 weeks. The consensus price target, last seen at $51.45, is less than that high.
FedEx
A FedEx Corporation (NYSE: FDX) director initiated a stake last week. The 1,000 shares of this Memphis-based transportation giant acquired, at a per-share price of about $225.16, cost her more than $225,100. Note that the director is Progressive CEO Tricia Griffith.
FedEx recent expanded its footprint in the Asia-Pacific with an acquisition. Shares ended the week with a fractional grain, despite being down about 3 percent at one point. They were last seen trading at $219.80 apiece, so no quick pop for this director. The analysts' mean price target is way up at $289.11, though shares have traded only as high as $274.66 in the past year.
JPMorgan
A director at JPMorgan Chase & Co. (NYSE: JPM) also took a turn at the buy window as the week came to a close. That director picked up more than 1,100 shares at about $108.94 apiece. That totaled more than $125,200, and it nearly doubled her stake to more than 2,600.
The financial giant helped kick off the new earnings season with a positive surprise. The stock ended Friday at $107.91, after rising and falling along with the broader markets over the week. That was below the director's purchase price. Shares have traded as high as $119.33 in the past year, and the consensus price target is $122.63.
View Comments and Join the Discussion!
Posted-In: Keith Cargill Tricia GriffithNews Insider Trades Best of Benzinga