Strong Economy Should Continue For 'Many More Years,' Larry Kudlow Says In Detroit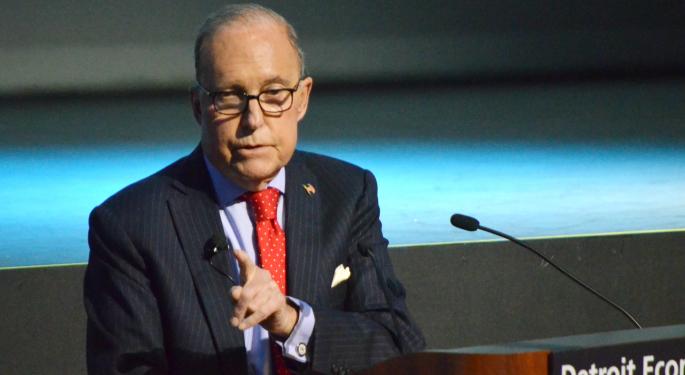 National Economic Council Director Larry Kudlow expressed confidence in the country's economic boom, took jabs at China's trade relationship with the U.S. and offered advice to the Motor City in remarks Thursday to the Detroit Economic Club.
Tax Cuts
"It's only a year into the tax cut, but the lower tax rate for companies will promote the kind of business investment we need to rebuild our economy," Kudlow said of the tax cuts signed by President Donald Trump late last year.
Lowering business taxes generates confidence and long-term investment that is needed in the economy, he said, arguing that the biggest beneficiaries of tax cut are middle-income and blue-collar workers.
Tariffs
China has not responded well to any U.S. requests surrounding trade and tariffs, Kudlow said. "We have tried to negotiate with China. Unfortunately, China has not responded positively to any of our asks. They are unfair and illegal traders [and] they have stolen our intellectual property, which is the backbone of our economy."
'Economic Boom'
Kudlow said he does not anticipate a recession anytime soon. The presidential adviser remains optimistic, and attributes the country's economic performance to a record low unemployment rate, tax cuts and improved trade regulations.
"Virtually everyone said it would be impossible to achieve. It's a very growth-y economy that is offering opportunities across the board. It is doing exactly the opposite of what our critics suggest. I believe this economic boom is going to go on for many more years."
The U.S. has been named the most competitive economy in the world, Kudlow said: "It's the first time we've had that position since 2008."
Detroit
Detroit would likely benefit from more tax breaks as an incentive for companies to relocate there, Kudlow said.
"If it pays to work in Detroit, people will come to work in Detroit."
The economic adviser suggested dropping capital gains taxes for up to 25 years or income taxes for five years to encourage development in the city.
Related Links:
Kudlow, Others Weigh In On Fed's Independence After Trump's 'Loco' Remark
Fed Governor Lael Brainard Talks Trade, Tax Cuts, Mortgage Rates At Detroit Economic Club
National Economic Council Director Larry Kudlow speaks to the Detroit Economic Club on Thursday, Oct. 18 at MotorCity Casino Hotel. Photo by Dustin Blitchok.
View Comments and Join the Discussion!
Posted-In: Detroit Economic ClubNews Futures Politics Events Top Stories Markets General Best of Benzinga