Fed Governor Lael Brainard Talks Trade, Tax Cuts, Mortgage Rates At Detroit Economic Club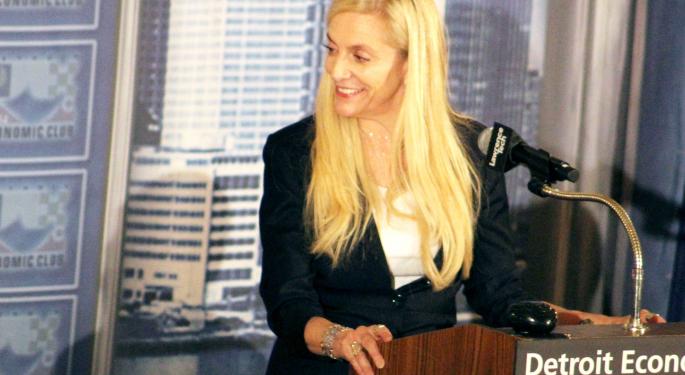 While trade disputes are a source of uncertainty, they're not yet making a substantial dent in economic figures, Federal Reserve Governor Lael Brainard said Wednesday.
The nugget came in remarks Brainard made to the Detroit Economic Club that touched on the Fed's benchmarks for the economy, tax cuts, the unemployment rate and the housing sector.
"The common theme is that for some particular sectors, we're seeing impacts of measures. But we're really not seeing a discernable [trade] impact in the aggregate numbers overall."
Financial Conditions 'Remain Quite Accommodating'
The neutral rate of interest remains an important economic indicator, Brainard said in the speech at Detroit's Masonic Temple.
"When we see legislation that increases the budget deficit, like tax cuts and spending, tailwinds can be generated that are expected to push up the short-run neutral rating," Brainard said. "When investors have an appetite for greater risk-taking, that similarly can be expected to provide tailwinds to the economy."
Conversely, the longer run equilibrium rate refers to the economy after tailwinds or headwinds have died down.
This is the sole neutral rate that Brainard reports, as it remains a relevant benchmark for addressing monetary policy, she said.
The rating is currently much lower than decades past, which perhaps reflects slower labor force growth, the Fed governor said.
"Last year, the unemployment rate returned to pre-crisis levels, with interest rates — after subtracting inflation — actually falling below zero. This year, unemployment rates continue to fall. If you look at financial conditions overall, taking into account equity valuations and lines of credit, they remain quite accommodating."
Brainard: No Immediate Housing Threat
In an audience Q&A session after her speech, Brainard said it's too early to judge the effect of the corporate tax cuts signed into law by President Donald Trump.
"It is early to be able to have enough data to explicitly connect particular measures to the outcomes we are seeing in the economy," Brainard said. "What we do know from the past in episodes where we've seen spending increases and tax cuts [is that] we have seen a contribution to demand, and a lot of that stimulus is still in the pipeline."
When asked about possible concerns regarding rising mortgage rates slowing down the economy, Brainard said she recognizes the effect of monetary policy in the cost of credit, but does not consider rising rates to be an immediate threat.
"In terms of the housing sector, we have seen some increase in mortgage rates, and that has been a very important sector in the economy generally."
Related Links:
Fed Leaves Interest Rates Unchanged: 'Labor Market Has Continued To Strengthen'
Daymond John Tells Detroiters How To Become 'Sharks'
Federal Reserve Governor Lael Brainard addresses the Detroit Economic Club on Wednesday, Sept. 12. Photo by Hannah Genig.
Posted-In: Detroit Economic Club Federal Reserve. tax cuts Lael Brainard President Donald Trump UnemploymentNews Econ #s Federal Reserve Best of Benzinga
View Comments and Join the Discussion!