Kudlow, Others Weigh In On Fed's Independence After Trump's 'Loco' Remark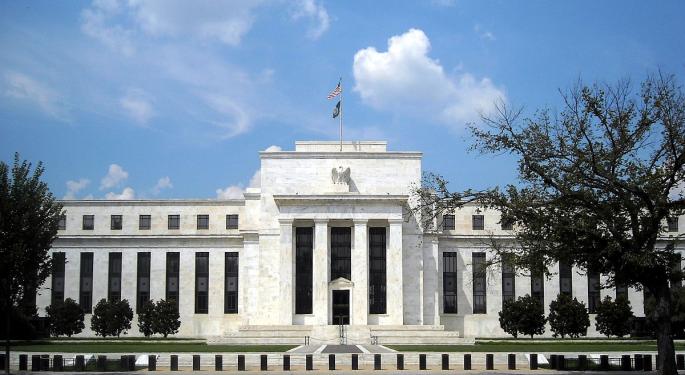 President Donald Trump said Wednesday the Federal Reserve is "going loco and there's no reason for them to do it."
On Thursday, White House National Economic Council Director Larry Kudlow emphasized the Fed's independence and said Trump is not dictating any of its policies from the White House.
What Happened
Trump may have his own personal views on Fed policy that he often shares with the public, Kudlow told CNBC in a Thursday interview. The president's comments Wednesday are "nothing new" and the Federal Reserve is "going to do what they are going to do," he said.
What's important to keep in mind is that the Fed has lifted its target rate seven times in the current cycle under both former Fed Chair Janet Yellen and current Chair Jay Powell, Kudlow said. Despite multiple interest rate raises, the Dow Jones Industrial Average remains "significantly" higher and the present weakness in stocks is a "normal correction" as part of a bull market, he said.
Sonnenfeldt: Focus On Strong Moats In Era Of 'Expensive' Capital
The Fed continues to operate under its normal independent course, but what is different now is the "new territory" of a sitting president commenting publicly on Fed policy, Tiger 21 Chairman Michael Sonnenfeldt told Fox Business News Thursday.
The environment remains an "interest rate story," but the narrative has shifted from "cheap capital" to a new period where "capital is expensive," he said. Companies that stand out with competitive moats and valuable intellectual properties will be favored in this new environment, he said.
For example, Facebook, Inc. (NASDAQ: FB) remains the one and only platform in the world that can "connect to 2 billion people," and Amazon.com, Inc. (NASDAQ: AMZN) is "still the only place you can put a shopping center on your desk," Sonnenfeldt said.
Summers: Fed In A Tough Spot
Fed Chair Powell is doing a good job in making the necessary but difficult decision of shifting more toward the "dovish side," former Treasury Secretary Larry Summers told CNBC Thursday. The key issue is Trump's "blatant" criticism of the independent Fed, which makes its policy shifts much harder, he said.
"No responsible central bank wants to look like it's bending to political pressure, and it will damage it's reputation and credibility if there is an appearance of bending to pressure," Summers said. "Actions like the president's are counterproductive."
Related Links:
These Stocks Do Well When Rates Rise
What Is The 'Fed Put' — And Is It Still In Place?
Photo by AgnosticPreachersKid/Wikimedia.
View Comments and Join the Discussion!
Posted-In: CNBC Donald Trump Jay Powell Larry KudlowPolitics Federal Reserve Media General Best of Benzinga