Air Of Cautious Optimism To Start Day On Positive China Talk, Easing Price Fears
A sense of cautious optimism greets the new day on Wall Street amid chatter about possible renewed trade talks between the U.S. and China and a fresh set of benign inflation data. Meanwhile, investors are likely to keep a close eye on developments in the Carolinas, where Hurricane Florence looms just off the coast.
There's nothing in stone, but some media outlets this morning reported that the Trump administration's proposed new tariffs on China might get pushed back until after the election in November. If confirmed, it would potentially push one major negative overhang out of the picture for a while, and conceivably help shares of some of the giant multinational companies. Nothing is guaranteed, so it's important not to get too optimistic right away. Still, the administration said trade talks might resume, and that seemed to give the market some positive energy.
Meanwhile, a new set of inflation data hit the wires early in the day, with the U.S. Consumer Price Index (CPI) rising 0.2 percent and core CPI up just 0.1 percent in August. The headline number was in line with Wall Street analysts' expectations, while the core number came in lower than expected. Overall, CPI is now up 2.7 percent year-over-year, down from 2.9 percent a month ago. This follows yesterday's report of an unexpected drop in August producer prices. Taken together, the inflation data this week doesn't seem to raise much alarm about prices, and might help ease concerns about economic overheating.
In other developments early Thursday, the European Central Bank (ECB) meeting ended with no change to rock bottom interest rates, and the Bank of England also kept rates unchanged. Turkey, on the other hand, jacked up interest rates in a move that appeared to support its currency. This comes after Turkey's lira weakness put fear into markets around the world a month ago. The dollar moved a bit lower against other currencies in the early going.
The ECB is expected to wind down its "quantitative easing" stimulus plan by the end of the year, but the European economy is growing much more slowly than the U.S. economy. The real story at ECB meetings tends to be ECB President Mario Draghi's press conference, which might be worth monitoring to see if Draghi gives any hints about when rates might start rising and what risks he sees to the EU economy.
Fed speakers also step to the microphones today, so investors might want to consider checking for their thoughts, too. Atlanta Fed President Raphael Bostic and Dallas Fed President Robert Kaplan both have speeches scheduled.
Apple Introductions
Apple Inc. (NASDAQ: AAPL) served up the lunch special on Wednesday at its midday event, introducing iPhone XS and XS Max with extended battery life as well as a special model equipped with dual-Sim cards just for China. Prices for the XS and XS Max are $999 and $1,099, respectively. The company also introduced an updated watch.
However, the product announcements didn't appear to do much for the stock, which treaded water most of the day and finished a bit lower. It could be one of those "buy the rumor, sell the fact" situations, because AAPL shares rallied most of the last two weeks since around the time investors learned of Wednesday's event. Shares did move a bit higher Thursday morning in pre-market trading.
Positive Trade Talk Puts Charge Into Multinationals
Speaking of China, some of the major industrial stocks like Caterpillar Inc. (NYSE: CAT) and Boeing Co. (NYSE: BA) appeared to get a lift Wednesday from media reports that the U.S. was reaching out to Beijing for more trade talks. It seems like lately if BA and CAT shares are up on any given day, investors can find a positive headline on China trade, and Wednesday was a case in point. The two multinationals have become kind of canaries in the coal mine for the long simmering trade dispute between the two countries.
Another way to consider checking on the China situation is to monitor the Dow Jones Industrial Average ($DJI) vs. the Russell 2000 (RUT) index of small-cap stocks. On a day like Wednesday, when the $DJI was up and the RUT is down, it's sometimes a sign that there's positive news on the trade front (see Fig. 1 below). When trade relations get stuck, it's often RUT that benefits, in part because small-cap companies often have less exposure to international markets.
Social Media Struggles
Social media stocks, already getting socked around a lot this year, took another punch Wednesday. The divergence between struggling social media shares like Facebook, Inc. (NASDAQ: FB) and Twitter Inc. (NYSE: TWTR) vs. strong tech-space performers like AAPL and Microsoft Corporation (NASDAQ: MSFT) continues to be a trend, with social media shares weighed down in part by privacy concerns.
Some analysts say subscriber-focused tech stocks like Netflix, Inc. (NASDAQ: NFLX) and Adobe Systems Incorporated (NASDAQ: ADBE) might be seen as having cleaner business models and facing less regulatory scrutiny, which could be playing into the divergence. On the other hand, it could be argued there hasn't really been a sea change at companies like FB and TWTR, and some analysts think they'll be able to weather the privacy issues and move forward. Again, time will tell.
On the whole, tech and financial stocks led the retreat Wednesday, with more weakness in chip makers continuing the recent skid. An analyst downgrade of Micron Technology, Inc. (NASDAQ: MU) helped set the tone in tech.
Yesterday's surprising drop in August producer prices might help ease some of the inflation concerns that cropped up after wages rose 2.9 percent in August. However, inflation came back into the picture, at least from a news sense, when the CFO of 3M Co. (NYSE: MMM) said Wednesday that the manufacturer might take a 10-cent a share impact this year from higher raw materials costs. Shares of MMM fell more than 2 percent, and the remarks might have given the entire stock market a bit of a shake-up. We're only a few weeks from Q3 earnings, and at that point investors could get a better sense of how materials costs are affecting many key firms. Inflation could continue to spark nerves on the Street as earnings approach.
Though August producer prices fell month-over-month, they were still up 2.8 percent year-over-year. The data don't seem likely to change minds at the Fed about another rate hike, at least judging from the futures market reaction. CME futures still price in a 95 percent chance of rates going up when the Fed meets later this month. Fed Governor Lael Brainard told the Detroit Economic Club this week that the strength of the domestic economy will allow for rate hikes both this year and next, according to TheStreet.com.
Light on News, But Positive Tone Remains
Generally, there doesn't seem to be any great big news to trade on this week, so it's likely the markets will primarily be moving on headlines, which means it might be up one hour and then down the next. Things have been a bit soft since the markets posted new all-time highs for some indices late last month, but this sort of selling isn't too surprising in what's been a remarkable year. Some sectors, like tech, might be experiencing a little profit taking.
However, it's important for investors to understand the difference between a natural sell-off that can often happen at times when the market has been driving higher, and a sell-off driven by real change in the market. At this point, there doesn't seem to be a major change of tone, and the U.S. economy continues to look healthy.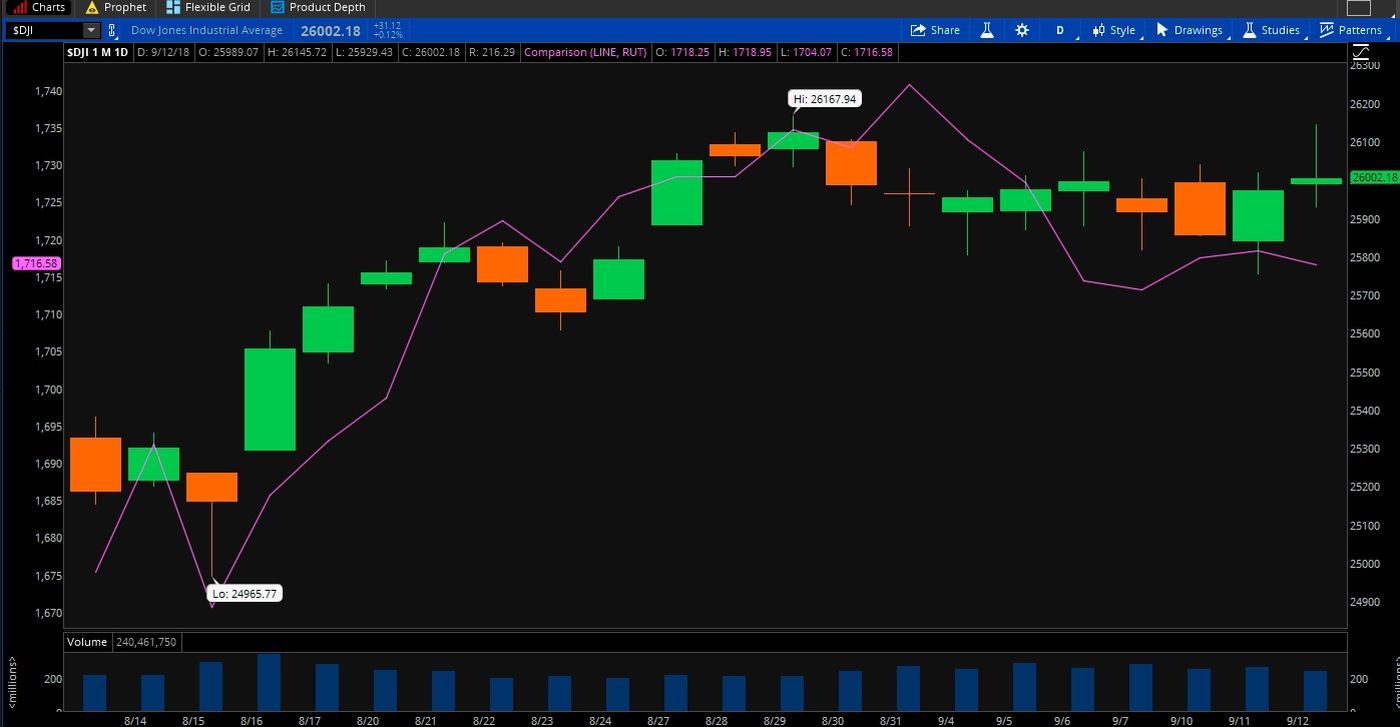 FIGURE 1: Goliath Beats David: The big-name stocks in the Dow Jones Industrial Average ($DJI) out-performed small-caps in the Russell 2000 (purple line) on Wednesday as hopes grew for more U.S. trade talks with China. The $DJI was the best-performing major U.S. index for the session, but RUT remains near recent all-time highs. Data Sources: S&P Dow Jones Indices, FTSE Russell. Chart source: The thinkorswim® platform from TD Ameritrade. For illustrative purposes only. Past performance does not guarantee future results.
Storm Center
Though you never want to underplay the potential devastation and human toll of what the media are calling a "monster" hurricane, the fact is this one is a bit different from last year's storms and ultimately might have less of an economic impact outside of the stricken zones. For one thing, as of Wednesday, Hurricane Florence was tracking toward South Carolina, rather than the Gulf Coast. The Carolinas are less populated than the Gulf, so the potential impact on factors like employment and retail sales might be a bit less. Recall that last year, employment in September barely grew, mainly because of the storm. A payroll impact seems less likely this time, at least on a national level, though some impact can't be ruled out. Also, Florence isn't headed into any major oil drilling regions, unlike Harvey last year.
China's Market Approaches 2016 Low
Another storm is raging, but it's in the markets rather than on the seas. The benchmark Chinese Shanghai Composite index was down about 20 percent year-to-date through Wednesday, and this week (before a 1 percent bounce Thursday) touched levels last seen back in early 2016 when the entire world was gripped by concerns about China's economy. The Shanghai Composite traded at around 2656 Wednesday, putting it in range of the lows just under 2640 that it hit in late January and early February 2016. At that time, the S&P 500 (SPX) was also under pressure, bottoming at 1810 on Feb. 8, 2016. The paths diverge from there, with the Shanghai Composite now roughly flat since that time and the SPX up nearly 60 percent. For investors who rode the SPX higher over the last two-and-a-half years, it might seem comforting to look at those gains, but the divergence could also be a warning sign. The U.S. economy doesn't exist in a vacuum, so weakness in China and other emerging markets might be flashing a warning light to U.S. investors.
Smokin!
One company's woes can be another company's or set of companies' gains. That appeared to be the case Wednesday when tobacco stocks flamed to life soon after the U.S. Food and Drug Administration (FDA) sent a letter to e-cigarette manufacturers warning them to make plans to reduce teen use or have their products pulled. Shares of tobacco companies, including Philip Morris International, Inc. (NYSE: PM), British American Tobacco (NYSE: BTI), and Altria Group Inc. (NYSE: MO) were among the apparent beneficiaries of the FDA's notification, perhaps amid ideas that what's bad for e-cigarettes might be good for the old fashioned kind. Though the three big tobacco names rose in the mid-single digits Wednesday and some experienced their best session in a decade, they've had a tough year. Combined, their shares are down 29 percent year-to-date, and have struggled for years amid lower smoking rates.
Information from TDA is not intended to be investment advice or construed as a recommendation or endorsement of any particular investment or investment strategy, and is for illustrative purposes only. Be sure to understand all risks involved with each strategy, including commission costs, before attempting to place any trade.
View Comments and Join the Discussion!
Posted-In: ECB Meeting European Central Bank Hurricane Florence TD AmeritradeNews Markets