UK GDP Preview: Forecast Of Q2 GDP Pickup Set To Ease Pressure Off Sterling
The UK first quarter GDP at 0.2 percent quarterly increase was the adverse weather-related blip disregarded by policymakers when raising the Bank rate to 0.75 percent last week.
Second quarter GDP is expected to dare much better with UK GDP rising 0.4 percent Q/Q.
The Bank of England was upbeat about the UK economy saying it currently has a very limited degree of slack.
The economic growth rate in line with expectations and recent reports of EU preparing Brexit concession for UK Prime Minister are both set to ease pressure on Sterling.
The UK second-quarter Gross Domestic Product (GDP) growth rate is expected to see the first quarter's rate double while rising 0.4 percent over the quarter, the Office for National Statistics is scheduled to report on Friday, August 10 at 8:30 GMT. When compared to a year ago, the UK Q2 GDP is expected to increase by 1.3 percent, up from 1.2 percent growth rate in the first three months of this year.
The return of the UK GDP growth rate to a rising trajectory from near zero growth previously in combination with recent reports of the European Union preparing the set of Brexit concessions for the UK Prime Minister Theresa May are both set to ease the selling pressure off Sterling after falling as low as 1.2841 earlier on Thursday.
While the broad-based growth is settling in, the UK economy still remains positions well below the average of the growth rate estimated for major advanced economies as Brexit uncertainties weigh on spending and investment decisions of businesses.
The early estimates of the UK GDP from the National Institue of Economic and Social Research (NIESR) has recently announced that their GDP Tracker was pointing to a growth of 0.4 percent in the second quarter of 2018 and 0.5 percent in the third quarter this year.
The UK growth is likely to have picked up to 0.4 percent in the second-quarter while remaining close to its potential output after an unexpected slowdown in the first quarter to 0.2 percent Q/Q GDP growth rate.
The Bank of England policymakers were also upbeat on the UK economy while saying the growth is expected to remain modest by historical standards, but higher compared to the beginning of this year.
"Although modest by historical standards, the projected pace of GDP growth over the forecast is slightly faster than the diminished rate of supply growth, which averages around 1.5 percent per year. The MPC continues to judge that the UK economy currently has a very limited degree of slack," the Bank of England August Inflation Report says.
Advanced economies GDP forecast from World Economic Outlook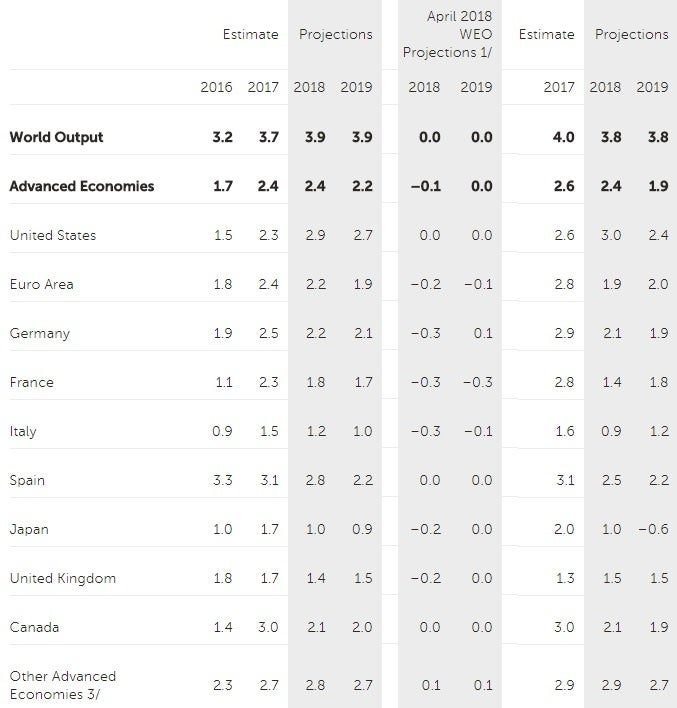 Source: IMF
View Comments and Join the Discussion!