RBNZ Preview: Inflation Ticking Up, Outlook For A Rate Hike In Late 2019 Unaltered
The Reserve Bank of New Zealand (RBNZ) is widely expected to keep the Official Cash Rate (OCR) unchanged at 1.75 percent this Thursday.
Inflation in New Zealand increased 1.5 percent as NZ Dollar easer and oil prices increased in the June quarter but still remains within the inflation target of 1-3 percent.
With the unemployment rate ticking up and business confidence lower, the outlook for monetary policy still points to the end of 2019 rate hike.
The Reserve Bank of New Zealand is expected to keep the Official cash rate (OCR) unchanged at 1.75 percent on its monetary policy meeting on Wednesday, August 8. At the first glance, the New Zealand economy is slowing down and inflation is accelerating higher, although still firmly within the inflation target of 1-3 percent. The RBNZ is expected to reiterate its recent neutral message.
The RBNZ is expected to express the flexibility while delivering it monetary policy outlook in regards to inflation. The consumer prices accelerated to 1.5 percent over the year in June quarter affected mainly by temporary factors including minimum wage increases, tax changes, and higher oil prices. With temporary factors behind the recent inflation development, the RBNZ is expected to stress that the long-term inflation expectations appear to be anchored, and "overlook" the recent uptick.
The RBNZ might acknowledge that the economic environment is shifting. The shift concerns a bit stronger inflation outlook compared to May Monetary Policy Statement (MPS) as the New Zealand Dollar is slightly lower on the trade-weighted basis and the oil prices are higher.
The New Zealand economy appears to be at the maximum employment, but the outlook is clouded by the downside risks associated with falling business confidence and the outlook for investment intentions. The housing market in New Zealand is cooling down a little faster than the RBNZ might have expected, and with this, the consumer spending has been on the weaker side as well.
The August MPS from RBNZ is expected to remain to send the balanced message of possible rate hike chances still near the end of 2019, rather than sooner. This should be broadly in line with the message from May MPS still buying the RBNZ enough time to possibly alter the monetary conditions if necessary.
New Zealand inflation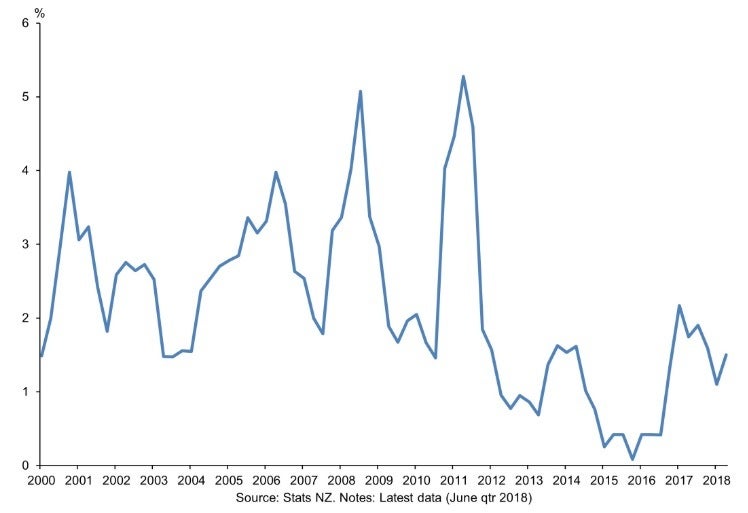 View Comments and Join the Discussion!