Ford, Ekso Partner On New 'Exoskeletons' To Protect Factory Workers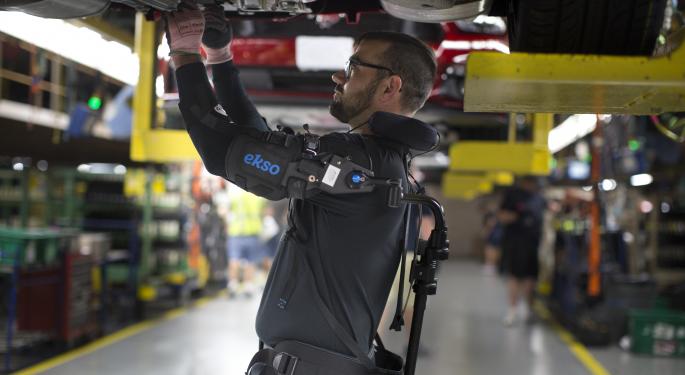 In partnership with Ekso Bionics Holdings Inc (NASDAQ: EKSO), Ford Motor Company (NYSE: F) is equipping many in its global workforce with exoskeleton wearable technology to assist in the performance of repetitive, overhead movements.
What Happened
The technology provides lift assistance to the arms to help reduce fatigue and injury risk.
"Building vehicles is physically a tough job," Bruce Hettle, Ford group vice president of Manufacturing and Labor Affairs, said in a press release. "We care about our employees and are trying to help them do their jobs with the least amount of wear and tear on their bodies possible."
Why It's Important
The Ford partnership was, in itself, big for Ekso. Ford ordered vests for all its North American plants, as well as many others in Asia Pacific, Europe and South America.
But the investment also lends critical validation that may inspire additional manufacturers to equip its workers with Ekso technology.
"At Ekso, our mission is to augment human capability with wearable technology and robotics that help people rethink current physical limitations and achieve the remarkable," Ekso CEO Jack Peurach said in a statement. "Advancing our collaboration with a global leader like Ford, represents a major step forward in achieving our mission as our EksoVest is deployed around the world to enhance the well-being of its workforce."
What's Next
Ford has not yet employed the technology in all its global plants, and it's unclear whether it intends to do so.
Ekso shares popped nearly 20 percent on the news, while Ford remained relatively stable.
Related Links:
Ford Spins Off Autonomous Vehicle Company, Plans $4B Investment
Ford Motor Buys Michigan Central Station: 'It's Time To Remake This Into A Place Of Possibility Again'
Posted-In: Bruce Hettle Jack PeurachNews Contracts Tech Best of Benzinga
View Comments and Join the Discussion!