Insider Buys Of The Week: AbbVie, Energen, NuStar And More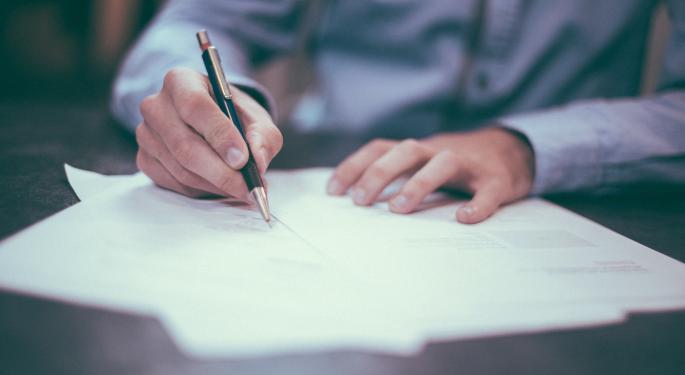 Insider buying can be an encouraging signal for potential investors.
An activist investor took the next step in acquiring his target.
Also, a couple of regular buyers returned to the buy windows this week.
Conventional wisdom says that insiders and 10-percent owners really only buy shares of a company for one reason — they believe the stock price will rise and they want to profit. So insider buying can be an encouraging signal for potential investors, particularly during periods of uncertainty.
Here's a look at some notable insider purchases reported in the past week.
Energen
Energen Corporation (NYSE: EGN) saw renowned activist investor Carl Icahn increase his stake this past week. The approximately 1.47 million shares of this Alabama-based energy company Icahn acquired, at a per-share price of $67.70 to $71.32, cost him about $103.50 million. That brought his stake to more than 4.69 million shares, or more than 4 percent.
Icahn has previously stated an interest in acquiring Energen, which he considers undervalued. Its shares popped more than 8 percent in the past week. After hitting a 52-week high of $74.07 on Friday, they most recently traded at $72.82 — a small, quick gain for Icahn. The analyst's mean price target is $79.27.
DDR
A DDR Corp (NYSE: DDR) director added to his stake yet again. At prices that ranged from $17.63 to $18, the total of almost 1.36 million shares reportedly acquired in the past week cost this frequent buyer more than $24.36 million. The stake was reported to be up to about 31.99 million.
This real estate investment trust is set to spin off some assets into a separate company this coming week. The stock ended last week barely any higher, closing Friday at $17.90 each, still within the director's most recent purchase price range. The share price has traded as high as $21.74 (split adjusted) in the past year, but the consensus price target is $16.63.
See Also: Ray Dalio's Bridgewater Associates Reorganizes With Partnership Model
NuStar Energy
A NuStar Energy L.P. (NYSE: NS) director scooped up more than 413,000 units of this San Antonio–based master limited partnership. At $24.17 each, the purchase totaled about $10 million and increased the stake to just shy of 3.9 million units. The common units represent limited partner interests in NuStar.
Like other MLPs, NuStar is looking to merge with its general partner. Its units were trading at $2.65 on Friday's close, after slipping about 7 percent last week. That was below the director's purchase price. The units have traded as high as $47.99 each in the past year, but the consensus price target was last seen at just $24.22.
Lexicon Pharmaceuticals
At Lexicon Pharmaceuticals, Inc. (NASDAQ: LXRX), 10-percent owner Invus Public Equities purchased another 205,100 or so shares of this biopharmaceutical company last week. The share prices for these purchases ranged from $12.22 to $13.08, and the total for the transactions came to more than $5.24 million. The total stake was listed as more than 3.15 million shares.
Lexicon announced positive trial results for a diabetes treatment at the beginning of last week. Yet the shares retreated more than 7 percent and ended most recently at $12, so the timing of the latest buys were not terribly lucky. The stock has traded as high as $17.29 in the past 52 weeks, but the mean price target is still $23.
AbbVie
One AbbVie Inc (NYSE: ABBV) director stepped up to the buy window this past week and picked up 5,400 shares. At between $91.86 and $92.09 each, that totaled more than $496,200. Note that another director purchased more than 1,000 shares earlier in the month.
AbbVie extended its collaboration with a biotech and made a $10-million milestone payment to another collaborator this past week. Its shares ended the past week at $92.65, down fractionally for the week but just above the director's purchase price range. The S&P 500 was essentially flat last week. The stock's consensus price target is $113.62.
View Comments and Join the Discussion!
Posted-In: AbbVie DDR Energen Lexicon Pharmaceuticals NuStar EnergyNews Insider Trades Best of Benzinga