April Auto Sales Fall; Fiat Chrysler's Jeep Is 'Back In The Game'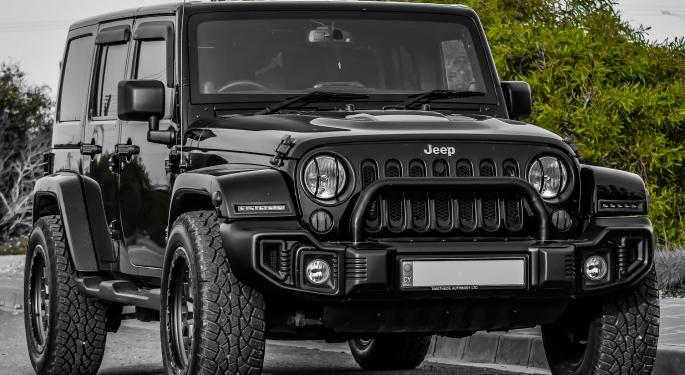 With the exception of a Jeep-driven Fiat Chrysler Automobiles NV (NYSE: FCAU), just about every U.S. automaker reported year-over-year sales declines.
But this April's two fewer selling days lent a "solid excuse," according to Karl Brauer, executive publisher for Autotrader and Kelley Blue Book.
"Most automakers were within 5 percent of last year's numbers, with fleet often making the difference between positive or negative growth," Brauer said in a press release. "This suggests some manufacturers remain willing to lean on fleet to stay in positive territory while others are letting natural market demand determine their fate."
Absent General Motors Company (NYSE: GM), which no longer reports monthly sales, Ford Motor Company (NYSE: F) led the domestic market with 204,651 units, followed by Toyota Motor Corp (ADR) (NYSE: TM) (192,348), Fiat Chrysler (184,149) and Honda Motor Co Ltd (ADR) (NYSE: HMC) (125,701).
Ford
Against Cox Automotive's forecast of 7.2-percent decline, Ford posted a 4.7-percent decline on a 2.6-percent drop in retail and 8.6-percent in fleet. Management attributed the latter to "order timing."
Trucks, alone, saw a marginal increase (just 0.9 percent), while SUVs and cars fell 4.6 percent and 15 percent, respectively. The F-Series had its best April since 2000 and achieved its 12th straight month of year-over-year growth.
"Ford's results demonstrate the importance of fresh products," Michelle Krebs, Autotrader executive analyst, said in a press release. "Sales of the Lincoln Navigator more than doubled. Sales of the aged Escape dropped double digits. A new Escape and Explorer, coming soon, can't arrive soon enough."
Lincoln sales saw a 12.1-percent decline alongside Ford-branded vehicles' 4.3 percent.
Nonetheless, management reported average transaction prices of $36,300, allegedly $4,000 more than the industry rate.
"Ford continues to pursue quality of sales over quantity, with a strong average transaction price in the face of weak sales figures, particularly on the car side, which could be a direct result of the recent announcement to discontinue Taurus, Fusion, Fiesta, and most Focus models," Rebecca Lindland, executive analyst at Kelley Blue Book, wrote in a release.
Fiat Chrysler
Fiat Chrysler's 5-percent increase shattered Cox estimates of a 0.7-percent decline. The beat was largely carried by Jeep, which set a new April record on a 20-percent year-over-year pop.
"Jeep is back in the game," Krebs said. "The brand's painful transition of its products in 2017 is paying off big time this year, with the Jeep Wrangler – setting a monthly sales record – leading the charge."
Dodge also reported an increase of 4 percent, while Ram fell 9 percent, Chrysler 18 percent and Fiat 45 percent.
"[A]ll is not positive: the Chrysler 300 outsold the Fiat and Alfa Romeo brands combined," Lindland said. "Granted, Alfa is on the rise, but will there need to be a day of reckoning for Fiat soon?"
Toyota
Toyota's 4.7-percent decline fell short of Cox's estimated 3.9-percent decline. When adjusted for two fewer selling days, sales were actually up 3.2 percent on a daily rate basis.
Toyota division fell 5.1 percent and Lexus 2.1 percent on a volume basis, but the two increased 2.8 percent and 6 percent, respectively, in daily selling rates.
Honda
Cox had expected a 6.1-percent dip in American Honda, but sales ultimately waned 9.2 percent. Cars fell 14.4 percent and trucks 3.9 percent, while Honda brand dropped 8.4 percent and Acura 15.9 percent.
General Motors
GM has officially transitioned to quarterly reports, but Cox Automotive estimated April sales missed forecasts of a 0.2-percent increase.
"With the total market coming in slightly below our estimate and GM's scaling back some of its incentives programs, Cox Automotive is now estimating that overall GM sales were down slightly versus April 2017," the release read.
Related Links:
Study: Tesla The Most Trusted Company In Autonomous Development Race, Despite Crash Investigations
Posted-In: AutoTrader Cox Automotive Karl Brauer Kelley Blue BookAnalyst Color News Retail Sales Top Stories Best of Benzinga
View Comments and Join the Discussion!