US GDP Revision Preview: First Quarter Growth Seen Slightly Higher Than Originally Estimated
This article originaly appeared on FXStreet.
The US first-quarter GDP is expected to be revised upward to 2.4 percent over the quarter annualized after 2.3 percent preliminary estimate.
The combination of strong GDP growth, solid US labor market, and core PCE price index firmly above 2 percent is seen keeping the Federal Reserve firmly anchored on its path of gradual interest rate normalization with June rate hike being a sure shot.
The US first-quarter GDP is expected to see the US economy rising 2.4 percent over the annualized quarter, compared to 2.3 percent originally reported, the Bureau of the Economic Analysis (BEA) is expected to report on Wednesday.
While the first estimate of the US GDP saw a muted market reaction, the first revision of the US GDP growth is likely to stir the markets only if it really surprised on the upside or on the downside, as the market consensus is already priced-in with the US Dollar being lifted by the expectations of continuous interest rate normalization.
Compared to the fourth quarter, even with the 2.4 percent annualized GDP growth rate, the US economy is a slowing down from the 2.9 percent expansion in the final quarter of 2017.
When changing the metrics of the US first-quarter GDP and comparing the first quarter of 2018 with the first quarter of 2017, the GDP growth rate picked up to 2.9 percent y/y from 2.6 percent y/y increase in the final quarter of 2017 and 2 percent y/y growth rate in the first quarter of r 1 of 2017 grew 2017.
The US economy has been boosted by the US tax legislation implemented by the US President Donald Trump in late 2017 Congressional voting. Lowering the taxes in the US is expected to have a boosting effect on investment, especially that of equipment and structures.
The corporate tax rate reduction is expected to have boosted the investment in equipment that rose 4.7 percent annualized rate during the first quarter compared to 11.6 percent in final quarter of 2017, according to BEA. Nonresidential structures grew at an annualized rate of 12.3 percent in the first quarter, which is nearly twice as fast as 6.3 percent annualized growth rate in the previous quarter.
Along with the US GDP report, the personal consumption expenditure (PCE) price index will be published and that is a very important piece of macro data because it represents Federal Reserve's preferred gauge of inflation. Excluding food and energy prices, the PCE price index increased 2.5 percent, compared with an increase of 1.9 percent in the previous quarter, confirming that the inflation is reappearing on the horizon and confirm the Fed's willingness to continue hiking rates.
US quarterly GDP growth rate annualized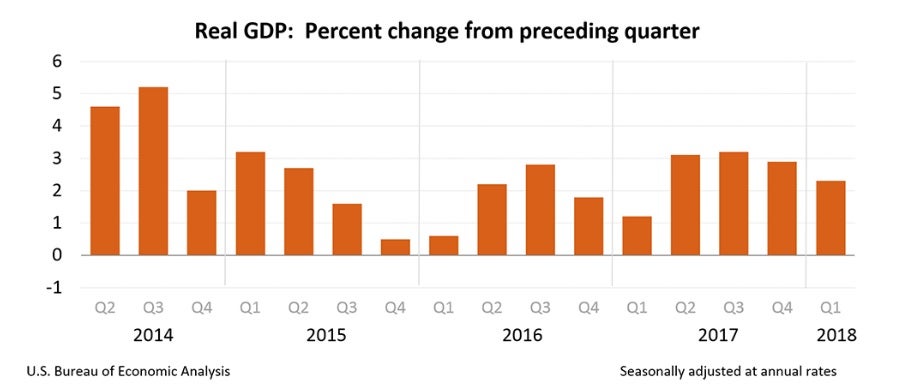 View Comments and Join the Discussion!