Marc Chaikin: It's A Stock Picker's Market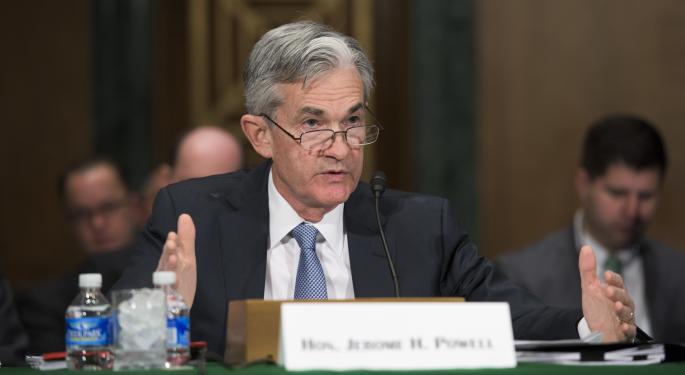 To almost nobody's surprise, the Federal Reserve opted to raise interest rates 0.25 percent on Wednesday, bringing the Federal Funds Rate between 1.5-1.75 percent for the time being.
The Fed also indicated three more rate hikes in 2018, three in 2019, and two in 2020, showing that they believe the economy is on a nice steady path for growth.
But, as we all know, the economy is not the same as the stock market. In a time of relative stability in the overall economy, the U.S. equities market is at its most volatile in two years. The CBOE Volatility Index (VIX) has spent much of 2018 between 16-33, a range it reached only a handful of times last year.
That's great news for traders who make a living off trading volatility, but not so great for investors who can't take heat. It requires more stock-picking ability, according to Marc Chaikin of Chaikin Analytics.
"I'm bullish on the market, but you've got to put on your stock selection hat to make money because that easy money that we made last year when we didn't have any pullbacks is no longer there," he said on Benzinga's PreMarket Prep.
Chaikin pointed to three sectors he's most bullish on in this rising rate environment.
Financials
"I like the banks, I think that's the place to be in a rising interest rate environment. A regulation rollback is obviously helpful," Chaikin said, referring to the repeal of Dodd-Frank that would raise the threshold for banks to be considered considered too big to fail to $250 billion in assets. "I think what the banks are doing is basically treading water here until interest rates go up a little more."
Chaikin also said he likes brokers and other specialty financial firms like Evercore Inc (NYSE: EVR). That stock has outperformed the S&P 500 by 4 percent over the last year.
Technology
Despite the recent pressure led by Facebook Inc (NASDAQ: FB), Chaikin still likes the tech sector to lead. Specifically, he pointed to stocks like Micron Technology Inc (NYSE: MU), which is rated as "Very Bullish by his Chaikin Power Pulse. The stock, Chaikin said, has "defied gravity."
"People are starting to believe that semiconductors are not a cyclical industry, they're a growth industry," he said.
Healthcare
Chaikin noted the common market idiom "sell in May and go away" does not apply to the healthcare sector, which has historically outperformed in the spring and summer months.
He highlighted stocks like AbbVie Inc (NYSE: ABBV) and Express Scripts Holdings Co (NASDAQ: EXPR), which was recently bought by Cigna Corporation (NYSE: CI) for $67 billion.
"Whatever you think about the market, whether it's 'sell in May and go away' or whether it's going to keep going, healthcare is a sector you want to keep looking at."
Overall Chaikin remains bullish on the market through 2018.
"I think the market is just fine. I still hold to 2800-3000 for the year. You've got great earnings, big revenue spikes, lots of cash on the corporate level for buybacks and M&A activity, and there's no signs of a recession," he said.
Listen to the full interview with Chaikin at 15:10 in the podcast below.
PreMarket Prep is a daily trading show hosted by prop trader Dennis Dick and former floor trader Joel Elconin. You can watch PreMarket Prep live every day from 8-9 a.m. ET here. The replay can be found on Benzinga's YouTube channel, and the podcast is on iTunes, Soundcloud and Stitcher.
Chaikin Analytics is a content partner of Benzinga
View Comments and Join the Discussion!
Posted-In: Chaikin Analytics Marc ChaikinNews Top Stories Federal Reserve Markets Best of Benzinga