An Eventful February Took Its Toll On TD Ameritrade's Investor Index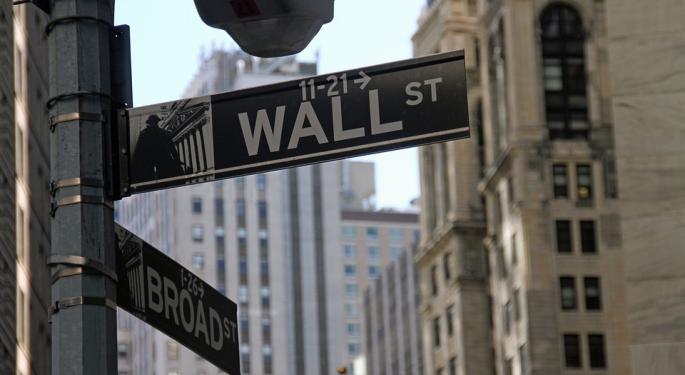 After nearly two solid years of plotting a strong upward trajectory, TD Ameritrade's investor Movement Index took its first decisive downturn in February.
The index — which measures sentiment among TDA investors based on holdings, trading activity and other trader behavior — fell by 23.6 percent over the course of the month, a drop of nearly two full points to 5.95.
Despite the volatility and rocky returns, TDA clients saw light at the end of the tunnel, remaining net buyers of equity for the 12th month in a row.
Investors Bought The Dip In Tech
Among the stocks that drew the most buying action during the volatile month were those that sustained the biggest drop.
Tech remained a popular industry for TDA investors, with Apple Inc (NASDAQ: AAPL), Microsoft Corporation (NASDAQ: MSFT) and Amazon.com, Inc. (NASDAQ: AMZN) taking top spots in new or increased positions for TDA investors. This activity occurred in a month that saw the Nasdaq composite, of which those three companies make up about 25 percent, fall by more than 8 percent to a three-month low. The index, and those stocks, did make up the loss in short order. All three stocks are now trading above or within a few points of their all-time highs.
Among the other heavily acquired tech names in the month were NVIDIA Corporation (NASDAQ: NVDA) and Alibaba Group holdings Ltd. (NYSE: BABA), which both showed strong revenue in their quarterly earnings reports.
Industrial Underdogs?
Tech wasn't the only comeback story to occur last month, as TDA investors lined up to incorporate some big manufacturing, defense and automotive names to their portfolios. Notably, these included stocks on a sustained downtrend like Ford Motor Company (NYSE: F), which reported a drop in Febuary car sales of about 7 percent, and General Electric Company (NYSE: GE), which has continued unveiling unpleasant surprises to investors in the form of dividend and other cost cuts.
Defense and aeronautics company Boeing Co (NYSE: BA) also joins the list of industrial stocks that garnered attention from TDA clients. However, unlike Ford and GE, Boeing weathered a stormy February with news of new orders, including an informal agreement with the government for two new additions to the Air Force One fleet.
Prescription To Sell
Biotech names topped the chart for those stocks that saw the most selling pressure from TDA investors. There was a trend toward profit taking, particularly in Bristol-Myers Squibb Co (NYSE: BMY), which reached a new all-time high of $67.40 mid-way through the month after announcing a partnership with Nektar Therapeutics (NASDAQ: NKTR) that net Bristol-Meyers $1.8 billion in cash and equity.
Other biotech firms that experienced a sell-off include Gilead Sciences, Inc. (NASDAQ: GILD), which saw a new 52-week high after it gained FDA approval of its HIV-1 treatment Biktarvy, as well as Bioverativ Inc (NASDAQ: BIV) and Juno Therapeutics (NASDAQ: JUNO), which both saw a massive price jump late in January after each company announced an acquisition agreement with Sanofi SA (ADR) (NYSE: SNY) and Celgene Corporation (NASDAQ: CELG), respectively
Among other names that TDA clients dropped from their portfolios were Facebook Inc (NASDAQ: FB) and Snap Inc (NYSE: SNAP), which both had disappointing user metrics, and ConocoPhillips (NYSE: COP) and Target Corporation (NYSE: TGT).
Click here to check out the full February report as well as previous months' IMX.
View Comments and Join the Discussion!
Posted-In: IMX TD Ameritrade TD Ameritrade Investor Movement IndexNews Top Stories Markets Best of Benzinga