AI Development In Automotive Is 'Full Steam Ahead,' Nvidia Exec Says In Detroit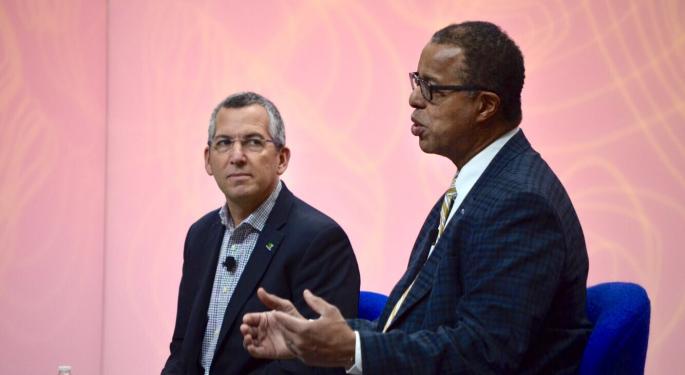 Artificial intelligence is transforming industries from health care to finance, but it could cause the greatest disruption in transportation.
What AI Can Do
The most common understanding of AI's auto potential is its use for on-road vehicle awareness. But the applications extend far beyond basic autonomy.
Companies are leveraging software data inside vehicles to detect personal driving patterns and music and appropriately prepare for transport and training cameras to detect driver unresponsiveness and trigger vehicle responses.
"I think we'll see AI in guardian angel mode," Danny Shapiro, senior director of automotive at NVIDIA Corporation (NASDAQ: NVDA), said Sunday during a CNET Roadshow panel at the North American International Auto Show in Detroit.
AI is being shaped to advise the most fuel-efficient routes, enhance or obviate mapping systems, support self-maintenance with awareness of refueling needs and support automakers' mobility segment — which are considered critical revenue streams for AI departments — by alerting them to clients' pickup and riding preferences.
"Getting that business model right is going to involve lots of AI in lots of different places," said Ken Washington, CTO and vice president of research and advanced engineering at Ford Motor Company (NYSE: F).
What's The Holdup?
But there are delays in application.
For one, the hardware is cumbersome. AI can work with multiple drivetrains but must be supported by some sort of battery, and the computer strength required to power AVs currently takes a trunk full of PCs, which Nvidia's Shapiro said is not practical.
"[The] ower requirements to propel our autonomous vehicles over the next two or three years are going to be significant," Ford's Washington said, adding that Dearborn is handling the demands by designing its first-generation autonomous vehicles with hybrid powertrains.
Nvidia is working to solve the hardware issue with its latest Drive technology, which supports 30 trillion operations per second on 30-watt consumptions — the equivalent of 160 CPU servers. While currently supporting Level 3 and 4 technology, Shapiro said the firm is developing similar solutions for level 5, which requires a couple hundred watts.
Shapiro also expressed skepticism of the timeline for supportive vehicle-to-vehicle communication.
"Because it's so far off, we're not going to wait for it," he said.
Washington said Ford isn't waiting for it either and is moving forward with AI-AV development independent of the eventual supplementary technology, but the firm is designing for a future of vehicle-to-smart technology communication.
What's Going On In The Space
Washington said he's seeing unique trends in AI from the likes of NVIDIA and chipmakers generating faster and more capable GPUs, as well as task-specific computing for AI software modules.
Simulation is also trending as AI technology undergoes testing and validation. Shapiro said he foresees a lot of work in the simulation space in 2018, particularly in the application of radar and LiDAR data. Although Washington said there's no substitute for on-road tests.
Altogether, AI is currently unbound. "Today we're seeing full-steam ahead," Shapiro said.
And there's no telling where it could go, said Ford's Washington.
"My experience in working in research and technology innovation for 30 years has taught me to never say never when it comes to gate-changing technology in innovation."
Related Links:
Nvidia To Partner With Volkswagen, Uber For Self-Driving Car Technology
Bill Ford Says Detroit And Silicon Valley Are Frenemies, Thinks There's 'Lack Of Clarity' In Automaker Valuations
Photo: Danny Shapiro, senior director of automotive at Nvidia, listens as Ken Washington, CTO and vice president of advanced research and engineering at Ford Motor Co., speaks during a panel Sunday at the North American International Auto Show. Photo by Dustin Blitchok.
View Comments and Join the Discussion!
Posted-In: AI artificial intelligence Danny Shapiro Ken Washington North American International Auto ShowNews Tech Best of Benzinga