Here Are The 5 Most Bought And Sold Stocks Of TD Ameritrade Clients In 2017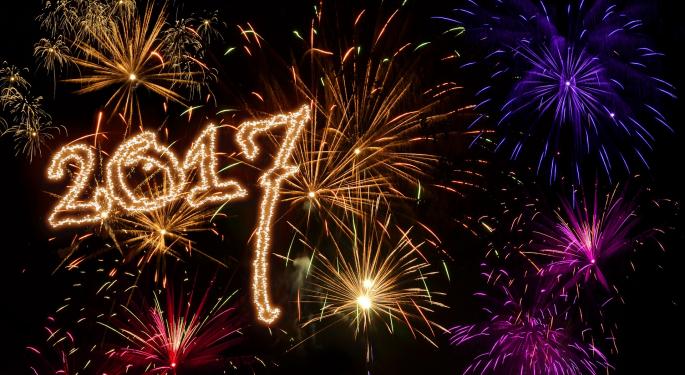 2017 was a record year for the market. The Dow Jones Industrial Average made record highs 71 times. The S&P 500 increased every month for the first time ever. By most metrics, it was an amazing year for nearly every segment of the economy and nearly every developed market.
Here were the most bought and sold stocks during the year according to TD Ameritrade, which tracks investor activity through its monthly Investor Movement Index.
Most Bought
NVIDIA Corporation (NASDAQ: NVDA)
The popular semiconductor has now increased from $32 to $223 since the start of 2016, a move of almost 600 percent. The wide adaptation of its chips, from personal computers to self-driving cars, to smart home devices, has made them the clear leader in the space.
Alibaba Group Holding Ltd (NYSE: BABA)
The "Amazon of China" nearly doubled in 2017, going from $89 per share to $176. That was in part due to the continued success of Singles Day, as global sales on the Nov. 11 holiday topped $25 billion for the first time.
Amazon.com, Inc. (NASDAQ: AMZN)
Amazon had such a good year that Jeff Bezos became the richest man in the world—twice! The first instance came on July 27 after the stock surged ahead of its Q2 earnings report, and the second came on Oct. 27 after its strong Q3 earnings report.
AT&T Inc (NYSE: T)
AT&T actually finished 2017 down about 8 percent, but that apparently didn't stop TD Ameritrade clients from buying the stock. Wall Street is anxiously awaiting word on whether the Department of Justice will approve the company's acquisition of Time Warner Inc (NYSE: TWX) in 2018.
General Electric Company (NYSE: GE)
If anyone had a disastrous 2017, it was General Electric. The stock fell 45 percent last year on a slew of negative headlines, including a slashed dividend and missed guidance estimates. TD Ameritrade clients apparently used this as a buying opportunity.
Most Sold
Apple Inc (NASDAQ: AAPL)
Apple shares continued to rise in 2017 (47 percent), a year that saw two new iPhones launch. While the success of the iPhone 8 and iPhone X can't be ignored, many on Wall Street are still waiting for Apple to develop another key product with mass global appeal.
Facebook, Inc. (NASDAQ: FB)
Facebook shares fell about 4 percent Friday' after Mark Zuckerberg announced changes to the News Feed would emphasize posts from friends over brands. But TDA clients had already pinpointed the stock as one to take profits in, making it one of the most popular sells of 2017 despite a 52 percent increase in price.
Walt Disney Co (NYSE: DIS)
Despite finishing the year with the splash purchase of most of Twenty-First Century Fox Inc's (NYSE: FOXA) assets, 2017 was more of the same for Disney. The House Of Mouse was buoyed by another successful "Star Wars" run, but the company has yet to figure out a way to quell Wall Street's concerns over lack of growth at ESPN. The stock closed the year up a mere 2.8 percent.
Nike Inc (NYSE: NKE)
Nike was another popular sell according to TD Ameritrade, as investors appear to be taking their profits in a stock that closed the year up 19 percent despite a lack of earnings and sales growth.
ConocoPhillips (NYSE: COP)
Rising oil prices were the primary driver in ConocoPhillips' 10 percent 2017 gain, and investors appear to have used that as their queue to get out. We'll see if they can build on their two straight quarters of massive earnings beats when they report Q4 earnings on Feb. 1.
View Comments and Join the Discussion!
Posted-In: IMX TD AmeritradeNews Markets Trading Ideas Best of Benzinga