Jim Chanos Talks The Short-Seller Strategy, Detroit's Bright Future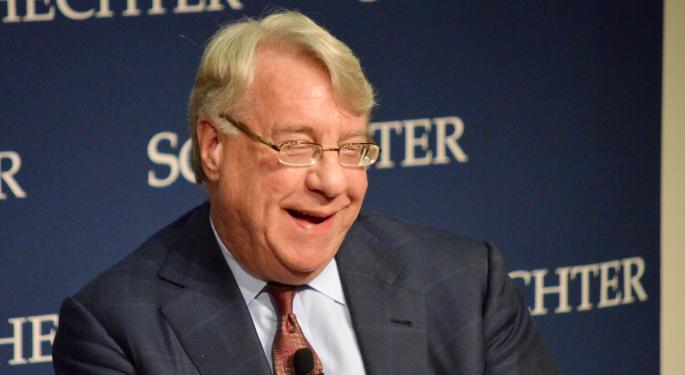 Short sellers are often characterized as pessimistic, "glass-half-empty" kind of guys. But Jim Chanos doesn't see it that way. In fact, the way he views his job is almost patriotic.
"I like to say that short sellers are the ultimate capitalists, because for capitalism to work, you have to allocate capital correctly and you also have to be careful that you don't misallocate it or be subject to fraud," the founder and managing partner of hedge fund Kynikos said Wednesday during a talk in Detroit, Michigan. "Short sellers are the only real-time market detectives out there."
Chanos sat down with Quicken Loans Chairman Dan Gilbert to talk the art of short selling and his insight into to the U.S. economy.
How To Trade Like Chanos
Kynikos is "long America" but hedges by shorting "nefarious" business models and rent seekers.
Through the latter method, Chanos helped expose fraud at companies like Enron while profiting off financial disasters such as Conseco, Tyco International and Sunbeam. He expects the recent bull market to draw out more such opportunities.
"The fraud cycle follows the financial cycle with a lag, so that as bull markets progress, people's sense of disbelief drops and they get more and more willing to chase returns and chase too-good-to-be-true ideas," he said. "Most frauds at their core are ponzi schemes in effect, and when the market turns down, when people pull back, they pull their money in, they want redemption, and that's when the Madoffs of the world and others have problems."
That's his philosophy. As for his methods, Chanos prefers a "bottoms-up" approach to finding trades — studying individual players for greater industry trends. Enron led to other energy-related plays, Valeant Pharmaceuticals Intl Inc (NYSE: VRX) led to biotech rent seekers, and a look at China's real estate market inspired a short of the entire economy.
He doesn't try to time the markets ("I think it's nearly always impossible"). He doesn't converse with execs who could compromise trades spilling insider information. He doesn't listen to market noise, and he keeps a healthy sense of his limited foresight.
"Predicting the future is kind of a coin flip."
Quicken Loans Chairman Dan Gilbert, left, and short seller Jim Chanos, the president of Kynikos Associates, speak during a fireside chat hosted by Schechter Wealth Wednesday, Dec. 13 in downtown Detroit. Photo by Dustin Blitchok.
The State Of Global Markets
His job requires that kind of humility, but it also takes a good deal of confidence in his research, which has led to some major successes. Chanos' most recent assessments revealed bountiful targets in the domestic markets.
Kynikos had been aggressively bearish on China in the early 2010s, but the firm has since refocused.
"In the past few years, we've reduced our China shorts in our global fund to the lowest it's been," Chanos said. "We're seeing most of our opportunities in the United States on the short side."
The thesis is partly anchored in the challenged health sector. The corrosion of the Affordable Care Act, which was one of the industry's "greatest windfalls" ever, could drive lower prices and less usage.
"I'm worried the U.S. health care economy, which is one of the largest sectors, for the first time ever is going to be facing deflation going forward," he said.
The concept extends to insurers and it extends to pharmaceuticals, such as the Kynikos-shorted Mallinckrodt PLC (NYSE: MNK).
"As the dollars get tighter, as the pie doesn't expand but shrinks, we're going to be looking for more and more bad actors like this," Chanos said. "Over the past 20 years of health care, providers found more and more innovative ways to get paid, and I think going forward, the payers are going to find more and more innovative ways not to pay for this stuff."
A Shout-Out To The Motor City
But other industries are expected to rise. Speaking to a Detroit crowd, Chanos praised traditional automakers for their increasing "nimbleness" and leadership in autonomy.
"It's not Silicon Valley, it's here," the notable Tesla Inc (NASDAQ: TSLA) critic said. "Tesla has sold a great story about this, but the actual innovation is happening here [in Detroit] and in Germany."
Chanos considers Tesla struggling in a capital-intensive business and shooting warning flares with a quiet exodus of senior executives, accounting concerns and shows of "unbelievably bad corporate governance."
"He's an icon for this bull market," Chanos said of CEO Elon Musk. "Every bull market has its poster children for the bull market both good and bad. I believe Tesla is one of the bad ones… He sells you on a dream. When the dream becomes a bit mundane, he sells you on the next dream."
"I think Tesla's heading for a brick wall. He's going to hit the parachute before the shareholders do."
Related Link: Digesting Delivering Alpha 2017: The Top Picks You Need To Know
Kynikos Associates President Jim Chanos — known for shorting Enron before its collapse — speaks in downtown Detroit on Wednesday, Dec. 13. Photo by Dustin Blitchok.
View Comments and Join the Discussion!
Posted-In: Dan GilbertNews Short Sellers Short Ideas Events Top Stories Media Trading Ideas Best of Benzinga