Truck, Van Demand Drive November Auto Sales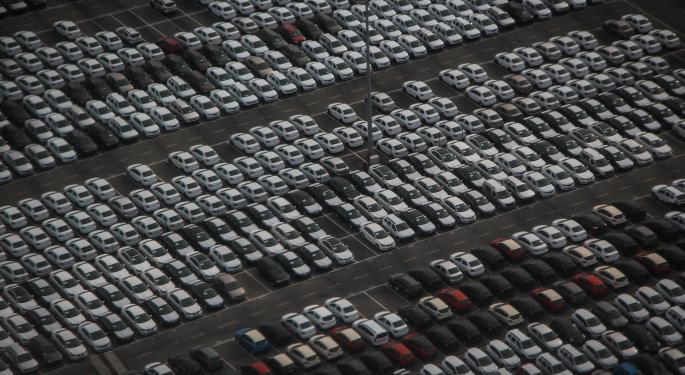 Just two of five major auto manufacturers posted November beats, signaling a continued industry decline off 2016's record sales.
"Stronger-than-forecast November vehicle sales are due to a healthy economy, a confident consumer who is ready to buy and targeted incentives that help close the deals," AutoTrader.com senior analyst Michelle Krebs said. "The industry should enjoy the party now and through year-end, because we believe there will be a hangover in January as automakers stole sales from the future, especially because of lease pull-ahead programs."
Krebs expects continued drops in 2018 as off-lease vehicles flood the used-car market. But automakers see things differently.
"U.S. economic growth has stepped up and we expect the momentum will carry over to 2018," General Motors Company (NYSE: GM) Chief Economist Mustafa Mohatarem said in a press release. "Employment continues to grow at a solid pace, wage growth will accelerate and consumer confidence just hit a 17-year high, so industry sales should remain strong."
For the moment, though, industry players will celebrate, for the most part, better-than-expected November sales.
GM reported 245,387 deliveries, Ford Motor Company (NYSE: F) 210,771, Toyota Motor Corp (ADR) (NYSE: TM) 191,617, Fiat Chrysler Automobiles NV (NYSE: FCAU) 154,919 and Honda Motor Co Ltd (ADR) (NYSE: HMC) 133,156.
3 Ford Segments See Best Performance In Years
Ford sales rose 6.7 percent year-over-year driven by strong truck and van demand. The automaker posted its best November F-Series sales since 2001 and van sales since 1984.
"Ford did a lot of adjusting of its incentive programs throughout November, sweetening the pot on a number of leftover 2017 models that helped boost sales," Krebs said.
SUVs gained 13.4 percent on the release of the new Expedition; the Edge popped 22.5 percent; and the Explorer rose 24.8 percent for its best November in 13 years. Smaller passenger vehicles did equally well, with the Focus up 44.9 percent and the Lincoln MKX up 6.9 percent.
Fleet sales (54,707) saw the greatest boom at 25.9 percent. Retail sales (156,064) spiked a modest 1.3 percent.
GM Unit Sales Fall As Average Price Peaks
Despite far outselling peers, GM sales fell 3 percent on flat retail and a 13-percent drop in fleet. More positively, average transaction prices breached $37,000 for the first time — $4,500 more than the industry average.
Chevrolet had its best retail November since 2004 led by strength in SUVs, trucks and passenger cars, and the Bolt, GM's core electric vehicle, had its best month ever.
"Buick and Cadillac were down, largely because, with only a couple of exceptions, they simply don't have the vehicles the market wants — they have more car models than utilities," Krebs said. "Chevrolet was the bright spot with the lowest sales decline as it focused on retail instead of fleet business, though Chevrolet's good performance may have been at the expense of GMC's."
The company is on track to end the year with lower inventory than it had in 2016, despite reporting record levels this summer.
"More vehicles are sold in December than any other month and we are very well-positioned because we have momentum in so many segments, but especially in crossovers," Kurt McNeil, U.S. vice president of Sales Operations, said in a press release. "When we close the books on 2017, GM will show very healthy inventory levels, significantly lower daily rental sales for the third year in row, and the best year in our history for crossover deliveries by far."
FCA Fades In 66% Of Segments
FCA retail sales popped 2 percent while fleet sales dropped 25 percent for an overall 4-percent decrease. It is worth noting, though, that the reduction in rental segment sales was intentional.
Chrysler sales spiked 14 percent and Alfa Romeo 6,161 percent on new releases, but all other segments declined. Fiat fell 28 percent, Dodge 15 percent, Ram 5 percent and Jeep 2 percent.
"FCA was helped in November by a healthier Jeep," Krebs said. "Jeep sales, while down 2 percent, were particularly strong considering it cut fleet sales by 75 percent this month."
The Pacifica minivan and Jeep Compass posted November records with year-over-year increases of 51 percent and 34 percent, respectively. Meanwhile, the Grand Cherokee saw its best November sales in 14 years.
Toyota Sets 4 November Records
Total Toyota sales dropped 3 percent, with the Toyota division down 2.4 percent and Lexus down 6.7 percent.
The drop came in spite of a best-ever November for the Camry, RAV4, NX and 4Runner, the last of which rose 17 percent year-over-year. The RAV4 and NX units posted 11th and ninth consecutive monthly records.
Light trucks also saw best-ever November sales across the TMNA, Toyota and Lexus brands.
Honda Celebrates Best November
Honda had its best November with an 8.3-percent rise. The truck segment, in particular, grew 14.9 percent year-over-year across Honda and Acura brands for record November sales.
The Honda division posted a November record on an 8.2-percent annual rise, with both the Civic and Pilot breaking previous monthly bests. Acura jumped 9.5 percent, bolstered by its RDX and TLX.
By some estimates, the best is yet to come, Krebs said.
"Honda has a lot to look forward to as its brand new Accord, being heaped with critical praise, has yet to hit the market in big numbers."
How The Markets Responded
General Motors closed down marginally.
Ford closed up marginally.
Fiat Chrysler closed about even.
Honda closed about even.
Toyota closed down 1.3 percent.
Related Links:
Auto Sales Ramp Up In September Buoyed By Labor Day Boost
Posted-In: automotive Kurt McNeil Michelle Krebs Mustafa MohataremNews Retail Sales Top Stories Best of Benzinga
View Comments and Join the Discussion!