Volatile Night As Tax Reform Efforts Hit Snag, Taking Edge Off Yesterday's Rally
The stall last night in Republican tax reform efforts scared the market a bit and appeared to take the edge off many of the positive feelings generated Thursday. Stocks fell sharply in pre-market futures trading, though they clawed back a significant portion of that by morning and even turned positive at one point amid renewed hopes for a tax deal.
There's plenty going on beyond Capitol Hill, but the primary story on Wall Street continues to be tax reform. Hopes for a Senate vote sent the market spinning to dizzying heights yesterday. Now it's unclear if senators can get the votes they need, and stocks that went up the hill yesterday tumbled back down in pre-market action before shaking off a good portion of those losses.
The Senate convenes at 10 a.m. ET today, and we might see some intraday volatility as the bill is discussed. The VIX topped 11 by early Friday after spending much of the week below 10. Additionally, European and Asian stocks had mostly lower showings.
Still, what a way to end the month Thursday, with the Dow Jones Industrial Average ($DJI) piercing 24,000 for the first time on a gain of more than 300 points. Though the rally got most of its fuel from a possible tax cut, positive economic data so far this week also likely played a role. With all the focus on tax reform, don't forget the 3.3% gross domestic product (GDP) growth in Q3, 17-year highs in consumer confidence, and another solid reading on Chicago PMI.
Additional data due Friday include auto sales, construction spending, and the ISM manufacturing index. Also, stay on the lookout for Fed speakers. Dallas Fed President Robert Kaplan and St. Louis Fed President James Bullard are both scheduled to make remarks today.
Other factors driving the market include what appears to be a great start to holiday shopping season along with the testimony to Congress earlier this week by Fed Chair nominee Jerome Powell. Hearing that Powell intends to continue the current monetary policy and transparency from the Fed, along with his statement that regulations on banks are already "tough enough" got the financial sector off to the races.
Financials haven't looked back much since, rising another 0.55% on Thursday. But they were far down on the day's leader board from a sector basis. Energy wore the green jacket, rising 1.55% on the day OPEC decided to extend current production cuts an additional nine months through the end of 2018. Before the meeting, that hadn't been assured, so the decision might have relieved some of the energy bulls who had worried more supply might hit the market.
Whatever ends up happening with tax reform, this rally looks like one for the books. The DJIA rose in November for the eighth month in a row, the longest stretch of monthly gains for the index since 1995. The streak of monthly gains for the S&P 500 Index (SPX) also stands at eight, its longest since 2007. The Russell 2000 (RUT) continues to recover from last month's struggles, and also closed at a new record high.
There was a lot of noise earlier this week about a possible sector shakeup of sorts after info tech took a dive on Wednesday. While it's too early to dismiss the possibility of some sort of sector shuffle considering info tech's lofty gains so far this year, Wednesday's softness didn't carry over into Thursday and info tech rose nearly 1%. On the other hand, tech stocks looked a little shaky in pre-market futures trading early Friday. It's possible they could come under more selling pressure.
Speaking of pressure, the bond market finally saw some Wednesday and Thursday, sending the 10-year yield back above 2.4% for the first time in a while. Yields fell back below 2.4% early Friday amid the tax reform-related pressure on stock futures. However, if the Senate does regroup and pass the bill, it might be interesting to see if sellers re-appear in bonds.
Oil prices shook off the OPEC decision to close slightly lower Thursday, but got a slight bump early Friday. In another oil-related item to ponder over the weekend, bullish speculative bets for higher oil prices are near record levels in the futures market, according to The Wall Street Journal. Sometimes when you see speculators build up big positions like this, it's the sign of a market that might be near a top. Past isn't necessarily prologue, however.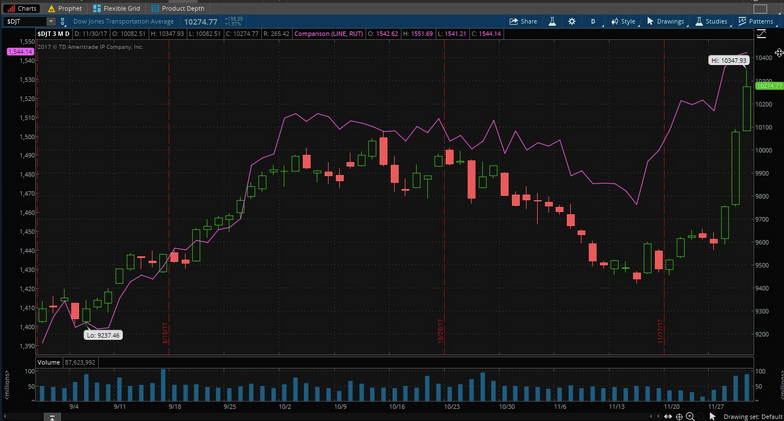 FIGURE 1: TRANSPORTS ZOOM TO NEW HIGHS.Though the Dow Jones Industrial Average ($DJI) tends to grab the headlines, its sister index, the Dow Jones Transportation Average (plotted here over the last three months), also deserves some attention. It climbed nearly 2% Thursday to new all-time highs, and often is seen as a derivative of the broader economy. Also, the small-cap Russell 2000 (RUT), represented here by the purple line, keeps making new highs. This chart helps point out the broad-based nature of the current rally. Data sources: Dow Jones, FTSE Russell. Chart source: The thinkorswim® platform from TD Ameritrade. For illustrative purposes only. Past performance does not guarantee future results.
Crude Corner
Yesterday's OPEC decision raised the chances of lower supplies continuing into next year, potentially putting more of a solid floor under the market. While higher prices tend to help the energy sector, they're also a bit concerning because they can sometimes put a brake on the broader economy. They've already more than doubled from the lows of early 2016 near $26 a barrel, but remain at about half their peak price from earlier this decade above $110.
Oil prices are hard to predict, but the $50 to $60 area is an interesting one because it's roughly in the middle of the long-term range and also represents a level that, at the high end, Saudi Arabia has said it wants to see prices remain near. It also constitutes a level at which U.S. gasoline prices seem relatively affordable, in the $2.50 a gallon region, also near the long-term inflation-adjusted average. The crude futures level to watch is $60, a price the front-month U.S. contract hasn't broken since mid-2015. If it rises above that, it's possible there could be some short-covering that helps boost prices further.
Euro Check
Looking abroad, the euro continues to trade just below $1.20, about the middle of its long-term range. Some of the recent weakness in the dollar might actually reflect strength in the euro more than any internal issues, some analysts said. The next European Central Bank (ECB) meeting takes place in mid-December, at which point investors might get further insight into the ECB's stimulus plans after it recently decided to slow the pace of its bond buying. This week, the ECB warned in a report that higher interest rates might trigger concerns about debt repayment, but also cited the region's strengthening economy, Bloomberg reported.
Ageless Wonder
You aren't likely to hear much argument from many analysts that this rally has been going on a while and pullbacks can occur. However, as CFRA analyst Sam Stovall pointed out this week, "Bull markets don't die of old age, they die of fright, and are most afraid of recession." Stovall's own monitoring of the economy doesn't imply an impending recession, and he has indicated that he sees real gross domestic product (GDP) rising 2.9% in 2018 vs. 2.3% anticipated for 2017. He has also projected double-digit earnings per share gains in the year ahead. Stovall has remained optimistic in part due to strong consumer confidence and producer sentiment readings, which he said "are showing remarkable strength into year-end."
Information from TDA is not intended to be investment advice or construed as a recommendation or endorsement of any particular investment or investment strategy, and is for illustrative purposes only. Be sure to understand all risks involved with each strategy, including commission costs, before attempting to place any trade.
Posted-In: JJ KinhanhNews Bonds Eurozone Commodities Treasuries Federal Reserve Markets
View Comments and Join the Discussion!