Black Friday And Cyber Monday…Did They Matter for Retailers?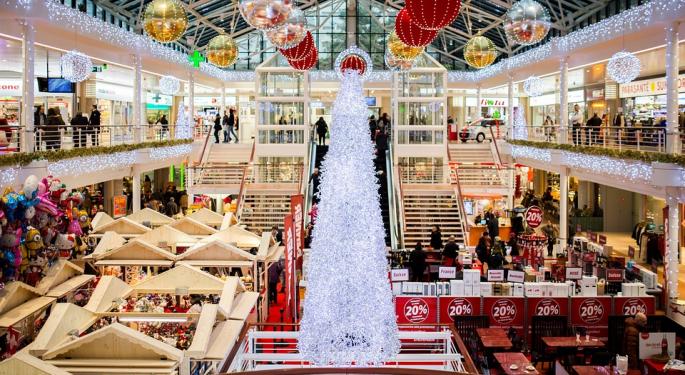 The origin of the term Black Friday has been somewhat obscured over time. It was originally used to mark the gold crash that happened on September 29 in 1869—and other dark days of steep declines in financial markets.
Then in the early 1950's, M.J. Martin used the term in Factory Management and Maintenance to describe the challenging day after Thanksgiving when many workers called in sick, putting factory managers in a bind at a time they needed all hands on deck.
Around the same time, the term became widely used by the Philadelphia police to describe the day when hordes of shoppers and football goers would descend on the city for the Army-Navy game, resulting in long, hectic shifts for Philadelphia's finest. At some point, retailers were able to move away from the day's negative connotations and spin it in a positive light, and Black Friday became the widely used name for the day after Thanksgiving.
Cyber Monday, on the other hand, is a newer concept that came to be in 2005, coined by Ellen Davis and Scott Silverman of the National Retail Federation and Shop.org, respectively. "The name Cyber Monday grew out of the observation that millions of otherwise productive working Americans, fresh off a Thanksgiving weekend of window shopping, were returning to high-speed Internet connections at work Monday and buying what they liked," The New York Times reported in late 2005.
Over time, these days turned into weeks (months?) of sales. But now that year-round discounting has become more widespread, and we can order just about anything with a few clicks on fast internet connections, do these hyped up shopping days really matter?
What Drives Holiday Shoppers
According to the National Retail Federation (NRF), more than 174 million Americans shopped in stores and online between Thanksgiving and Cyber Monday this year. In NRF's Annual October Holiday Consumer Survey, conducted by Prosper Insights and Analytics, 73% of consumers said sales and discounts are the most important factor in their decision to shop at a particular retailer. 61% responded that both quality and selection are important factors, and 50% said free shipping and shipping promotions are important factors.
In that same survey, 94% said they plan to take advantage of free shipping over the holidays, 49% said they plan to buy online and pick up in store, and only 19% said they plan to take advantage of expedited shipping. And quite a few people just go shopping over Thanksgiving weekend because it's tradition (26% of respondents) or it's something to do (23% of respondents).
But a lot of the things consumers identified as being important to their holiday shopping are often offered outside of the holidays. Some retailers have shown that with the right discounts and offers, people will open their wallets no matter the time of the year. Just yesterday, Amazon announced sales on 2017 Prime Day were surpassed only by Cyber Monday this year. And overseas in China, Singles Day takes the cake when it comes to big shopping days. Earlier in November, Alibaba reported that $25 billion worth of merchandise was sold by retailers on its ecommerce platform on Singles Day this year, which falls on November 11, or 11/11.
Gift Giving and Holiday Shopping is Still Big Business
The NRF reported that the average spent by those shopping between Thanksgiving Day and Cyber Monday was $335.47, with $250.78 of that being spent on gifts. On key holiday shopping days this year, online sales continued to grow and broke last year's records by a wide margin (see image below).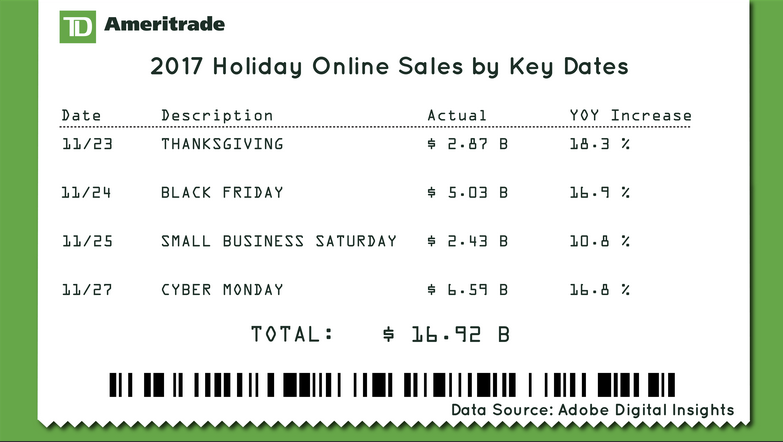 Although, in the grand scheme of holiday shopping, the $17.19 billion in online sales that Adobe Digital Insights reported on these key dates is sort of a drop in the bucket when you look at their total online sales estimates and the National Retail Federation's total retail sales estimates for the entire 2017 holiday season (shown in the image below).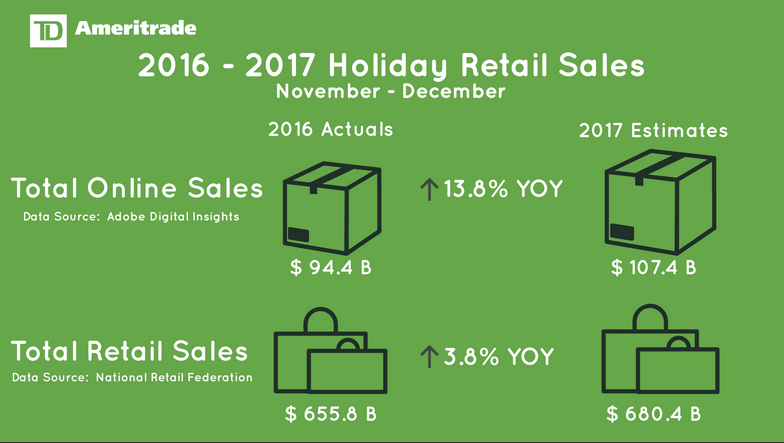 The Holiday Season is What's Important, Black Friday and Cyber Monday Are Just a Part
"Black Friday and Cyber Monday sales generate a lot of headlines, but they're just one part of the overall holiday season that is a very important time for retailers," said JJ Kinahan, Chief Market Strategist at TD Ameritrade. "Since this is the last quarter before a lot of these companies close out their fiscal year, it's sort of the last opportunity for management to hit their annual goals. When the time comes for retailers to report earnings after the holidays, investors might be willing to overlook an earnings miss due to one-off expenses, but if revenue growth is stalling or declining, and it doesn't look like management has a solid plan to address it, investors could lose confidence."
And for some retailers, the holiday season could weigh more heavily on their fourth-quarter results. Different types of retailers depend more heavily on the holiday season than others. In 2015, these types of retailers generated the highest percentage of their annual sales during the November-December holiday season, according to data from the U.S. Census Bureau:
Jewelry stores: 27.4% of annual sales
Department stores including leased departments: 24.2% of annual sales
Sporting goods, hobby, book and music stores: 23.2% of annual sales
Discount department stores: 23% of annual sales
Electronic shopping and mail-order retailers: 22.5% of annual sales
That same data shows these types of retailers generated the smallest percentage of their annual sales during the holiday season in 2015:
Building materials and garden equipment and supplies stores: 16.2% of annual sales
Food and beverage stores: 17.4% of annual sales
Health and personal care stores: 17.9% of annual sales
Furniture and home furnishings stores: 19.1% of annual sales
Warehouse clubs and superstores: 19.2% of annual sales
Black Friday and Cyber Monday, in and of themselves, aren't necessarily important days for retailers in the grand scheme of their overall revenue, but they do kickoff a stretch that can be critically important to a large portion of the retail sector as they approach the end of their fiscal year.
Information from TDA is not intended to be investment advice or construed as a recommendation or endorsement of any particular investment or investment strategy, and is for illustrative purposes only. Be sure to understand all risks involved with each strategy, including commission costs, before attempting to place any trade.
Posted-In: Black Friday Cyber Monday JJ Kinahan The Ticker TapeNews Retail Sales Markets General
View Comments and Join the Discussion!