Gold Is Losing Some Glitter As Demand Wilts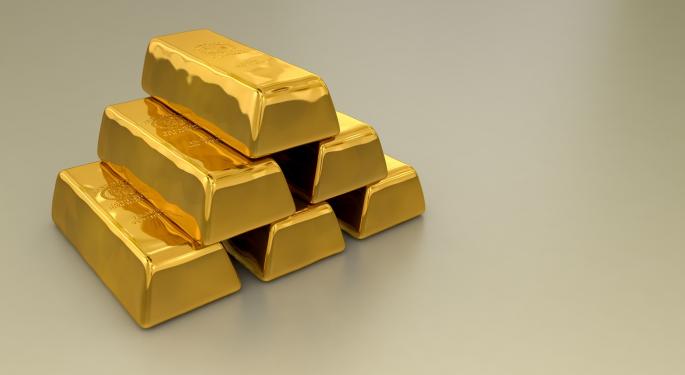 Gold and the corresponding exchange traded funds are encountering some fourth-quarter lethargy. Slack in demand is one reason why the once-soaring commodity is retreating in the latter stages of 2017.
Over the past month, the SPDR Gold Shares (NYSE: GLD), the world's largest ETF backed by physical gold holdings, is lower by 2.2 percent, bringing its fourth-quarter loss to 1.5 percent. The iShares Gold Trust (NYSE: IAU) is displaying similar fourth-quarter numbers. Those declines come after bullion demand slumped in the third quarter.
"The third quarter saw a 9 percent year-on-year drop in gold demand to 915 tonnes," according to the World Gold Council. "Year-to-date demand was down by 12 percent. ETFs had another quarter of positive inflows, but at 18.9t, they fell far short of the 144.3t influx in Q3 2016. A softer quarter in the jewelry sector (negative 3 percent) accounted for 17t of the year-over-year decline. Demand from other sectors firmed: central banks bought a healthy 111t of gold (positive 25 percent percent year-over-year) while bar and coin investment strengthened by 17 percent (to 222.3t), albeit from a low base."
Fourth-Quarter Blues
Some factors are weighing on gold this quarter. For example, the U.S. Dollar Index is higher by 1.3 percent since the start of the fourth quarter. Gold is denominated in dollars, meaning the yellow metal often has an inverse relationship to the greenback.
It's widely expected that the Federal Reserve will raise interest rates at its December meeting. Higher interest rates can weigh on gold demand because bullion does not pay dividends or interest. Fortunately for gold bugs, supply continues to decline.
"Mine production fell 1 pecent year-over-year in Q3, which was also the fifth consecutive quarter of net de-hedging. Recycling activity (negative 6 percent) continued to normalize after jumping in 2016," according to the WGC.
Departures
While data indicate gold ETFs added new assets in the third quarter, that scenario is reversing a bit in the fourth quarter. GLD has lost $865.4 million since the start of the current quarter, outflows exceeded by just two other ETFs. IAU has seen a fourth-quarter inflow of almost $301 million.
"Jewelry volumes continue to languish below longer-term average levels. Indian weakness was the main reason for the year-over-year decline," said the WGC. In India, "the new tax regime deterred consumers, as did anti-money laundering measures governing jewelry retail transactions."
Related Links:
Disclosure: The author owns shares of IAU.
Posted-In: ishares World Gold CouncilSpecialty ETFs Commodities Top Stories Markets ETFs Best of Benzinga
View Comments and Join the Discussion!