Dynavax Awaits FDA Verdict On Hepatitis B Vaccine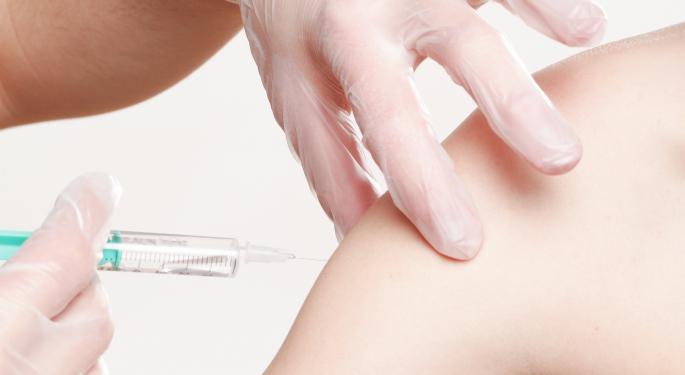 Undaunted by two earlier FDA snubs, Dynavax Technologies Corporation (NASDAQ: DVAX) is trying again with its hepatitis B vaccine, Heplisav.
Will it successfully scale the hurdle the third time? Investors are waiting for an answer, as the FDA is set to give its verdict on the Biologic License Application, or BLA, filing for the vaccine on Nov. 10.
Heplisav is being evaluated to treat hepatitis B in adult patients 18 and older.
Editor's note: On Thursday at 4:45 p.m., the FDA approved HEPLISAV-B for prevention of Hep B in adults
The Tumultuous Road Traversed So Far
Heplisav was red-lighted twice in the past. A Complete Response Letter, or CRL, was issued for the original BLA filing Feb. 25, 2013. Later, after a refiling, the FDA again issued a CRL on Nov. 14, 2016, soliciting incremental information on issues related to both efficacy and safety.
Dynavax filed a resubmission for a second time in February 2017 and was anticipating an Aug. 10, 2017 PDUFA action date. The company's hopes were dashed yet again, as a FDA committee reviewing the application made some comments on the design of the proposed post-marketing study following its July 28 meeting This is despite the committee voting 12-1 in support of the vaccine's safety data.
The federal watchdog agency sought additional information on Dynavax's post-marketing study, giving the drugmaker a three-month window to respond.
The updated PDUFA date is now set for no later than Nov. 10, 2017.
See also: Attention Biotech Investors: Here Are November PDUFA Catalysts On The Horizon
Persistence Not Without Reason
The vaccine is an important product for Dynavax, given its potential. At present, the standard-of-care for the hepatitis B virus is GlaxoSmithKline plc (ADR) (NYSE: GSK)'s Energix-B.
This vaccine fetched GlaxoSmithKline sales of 210 million pounds or roughly $275 million for the three month-period ending Sept. 30, 2017. If the numbers are extrapolated for the year, GlaxoSmithKline stands to bank $1.1 billion from the vaccine.
The Phase 3 data presented by Dynavax at the 19th NFID's Annual Conference On Vaccine Research in 2016 showed that its vaccine was superior to Energix with respect to safety and immunogenicity.
The study was a head-to-head comparison of Heplisav with Energix.
"Results of the trial demonstrated that both co-primary endpoints were met. HEPLISAV-B provided a statistically significant higher rate of protection with fewer doses than Engerix-B with a similar safety profile," a release from Dynavax said at the time.
Heplisav B's November PDUFA date is likely to yield positive results — although as the date approaches, speculation concerning the company's ability to market this vaccine has increased, Cathy Reese of Empire Asset Management Company said in a Sept. 13 note.
Stock On a Tear This Year
Despite the uncertainty surrounding its lead vaccine candidate, Dynavax shares have soared around 456 percent year-to-date. The shares rallied sharply after the FDA Committee vote in late July and saw only a modest pullback when approval did not materialize in August.
Given the strong run up so far, there is risk in the face of the binary event. If an approval is not forthcoming, traders may dump the stock. Alternatively, if the FDA gives its nod, there could still be some profit taking, given that a positive decision has already been discounted by the stock.
Related Link:
Posted-In: dynavax glaxosmithklineNews Health Care FDA Trading Ideas General Best of Benzinga
View Comments and Join the Discussion!