Ford Rekindles Love Affair With SUVs, But Has It Learned The Lessons Of The Recession?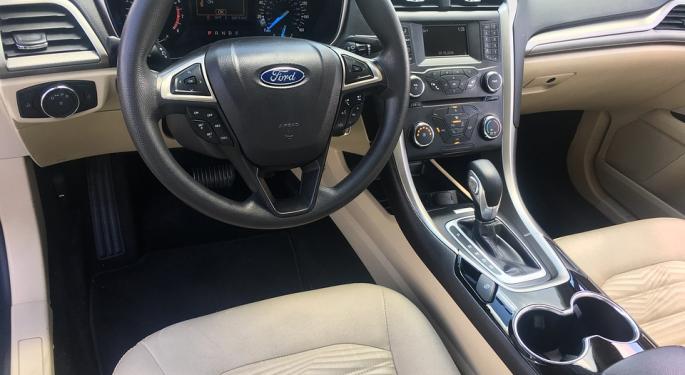 Ford Motor Company (NYSE: F) revealed Tuesday its vision for the future of the company - indeed, for the future of how humans will interact with vehicles in general. It's a conversation the company is keen to be a part of, along with other old school automakers like General Motors Company (NYSE: GM), which also unveiled details of its strategic choices this week.
Delving through the presentation, nestled amid the renderings of futuristic landscapes and charts extolling the expected spike in engineering efficiencies, Ford explains its plans to re-allocate $7 billion in capital from the production of cars, to SUVs and trucks.
SUVs: The Once, And Future King Of The Road
It was nearly a decade ago since the "Big Three" auto companies — Ford, GM and Fiat Chrysler Automobiles (NYSE: FCAU) — appeared on Capitol Hill requesting billions in emergency loans from the government to help them stay afloat.
A number of factors contributed to the Big Three's woes, but one of the most often cited was their misguided devotion to the SUV.
It seemed like a good idea at the time — after all, SUVs were inexpensive to build, and gas was cheap and plentiful. Single-digit miles per gallon yields were overlooked by a consumer with disposable income and either little understanding or little concern for the environmental implications.
Then gas prices soared, household budgets tightened and suddenly companies like Ford — which had based its competitive strategy around truck and SUV production — were confronted by a market of drivers who suddenly preferred a Toyota Motor Corporation (NYSE: TM) Prius to a Ford Expedition.
Part of the automakers' pitch to Congress to secure bailout funds in 2008 was that they'd seen the light and were now committed to making smaller, more fuel-efficient vehicles.
Related Link: Auto Sales Ramp Up In September Buoyed By Labor Day Boost
So, What Changed?
Like a jilted lover, Ford just can't seem to quit the SUV market. In recent years, Ford began to reconcile with the bigger vehicles, as did the consumer, prodded primarily by the lowest gas prices seen in many years. Though it may have hit a number of speed bumps, the economy also improved, and car buyers slowly began to cozy up to trucks and SUVs once again. From 2012 to 2017, cars fell from 50 percent to 37 percent of U.S. auto sales.
Ford is once again willing to place a bet on sustained low oil prices and buyers' willingness to shell out for the more expensive (and more profitable) vehicles. Described as an area "where Ford can win," the SUVs and trucks in question will include redesigned versions of the Navigator and Expedition.
What's Different Now?
For starters, the gas guzzler perception doesn't really fit the new breed of SUV rolled out by Ford and its peers. The stigma has been gradually reduced as improvements to engines and other systems have made these road generals more comparable in fuel efficiency to smaller cars. For example, the fuel economy of its flagship F-150 truck increased 19 percent from 2014 to 2017.
Gas prices, also, have remained subdued for a while, and that's likely to continue. Though there's no one-to-one correlation between oil and gas prices, the two do move in tandem, and even oil execs don't see oil prices gushing higher any time soon. This summer, Bloomberg reported Royal Dutch Shell (NYSE: RDS-A) CEO Ben van Beurden said crude prices could be "lower forever."
And perhaps most importantly this time around, Ford isn't foregoing investment in hybrid and electric vehicles in lieu of SUVs and trucks, as it did in the 1990s and early 2000s.
In Tuesday's presentation, Ford described an acceleration in its pure electric vehicle portfolio, and among the vehicles at the heart of its capital reallocation is the EcoSport, which Ford has been rumored in the past to be working on a hybrid version of.
Still, the company is aware it's dipping its toes back into parlous waters. Among the risk factors itemized in its Tuesday release, Ford mentioned the hazard of a "market shift away from sales of larger, more profitable vehicles beyond Ford's current planning assumption."
Related Link: Is GM Finally Getting The Props It Deserves?
View Comments and Join the Discussion!
Posted-In: auto sales gas prices Jim HackettEducation Travel Top Stories Tech General Best of Benzinga