Hyperloop One Picks Its First Ten Potential Routes Around The World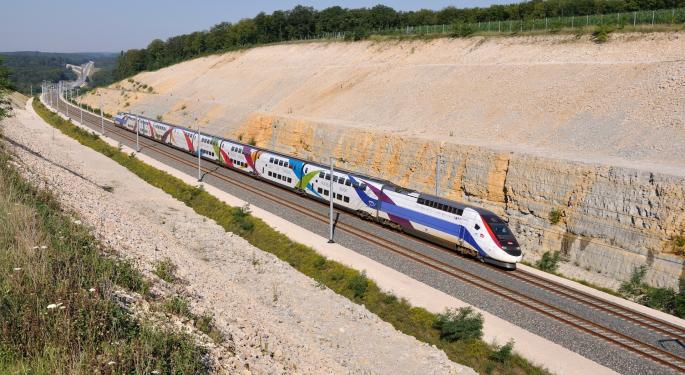 Elon Musk's high-speed tunnel-based transport system Hyperloop One doesn't appear to be slowing down any time soon. The company has announced 10 winners of a competition to find its first sites across the world, with projects set to get the go ahead across five countries, including the US, UK, Canada, Mexico, and India.
The ten potential routes for Hyperloop One's first trials were selected from a list of over 2,500 original submissions that were made as part of the company's Global Challenge that first opened in May 2016.
What is Hyperloop?
Hyperloop is the name of the premiere project from Hyperloop One, a company founded by Elon Musk from his original idea in 2012. Hyperloop's promise is to develop transport speeds that are able to match the current rise in communication speeds, and could eventually lead to a transport solution capable of travelling at speeds up to 760mph, without even leaving the ground.
There's no denying that Hyperloop is an ambitious concept, with the new mode of transport said to take advantage of pod-like vehicles that would travel along rails within reduced-pressure tubes. The technology, which is being pushed by Musk, would take advantage of bilinear induction motors and air compressors to ride on an air cushion – which is promised to be capable of reaching speeds up to 760mph.
As aforementioned, the company behind Hyperloop, Hyperloop One was founded by Elon Musk from his original concept in 2012, and now has over 500 employees working on the high-speed mode of transport. Musk is best known as the co-founder of electric car maker Tesla and founder of aerospace services company SpaceX – both of which he remains actively involved with – however, Musk isn't currently involved with the development of Hyperloop One, which is a commercial project.
What routes will Hyperloop run?
Hyperloop One has proposed a total of 10 possible routes that it will use to trial run the high-speed transport system. Four of those routes will run within the United States, including; Cheyenne to Denver-Pueblo, Chicago to Columbus-Pittsburgh, Miami to Orlando, and Dallas to Houston.
That being said, Hyperloop will also be an international effort. The second most successful team coming out of Hyperloop One's Global Challenge represents the United Kingdom, with proposed routes from Edinburgh to London, and Glasgow to Liverpool to get the go ahead in the country.
As aforementioned, teams from Canada, Mexico, and India were also successful in bidding to trial the Hyperloop concept – with a proposed route in Canada running from Toronto to Montreal, along with Mexico City to Guadalajara in Mexico. India, meanwhile, could see routes from Bengaluru to Chennai, and Mumbai to Chennai.
As is clear from all of the aforementioned winners, a key goal of Hyperloop One is to provide high-speed travel between major population points.
The process of submitting an entry wasn't as simple as just proposing a route suggestion, with submissions having to include the potential backing and regulatory body support of the competing country. At the same time, as it stands, each of the aforementioned routes is currently just on a shortlist, with Hyperloop One expected to choose the best possible route for their first test of the Hyperloop system.
When is Hyperloop expected to launch?
The confirmation of its first ten potential routes is undeniably an exciting development for Hyperloop One – taking them one step closer to a fully operational Hyperloop system that is able to travel at those aforementioned speeds of 760mph.
Hyperloop One says that it hopes to have a fully operational system in action in one of the ten aforementioned routes by 2020. That's been labelled as an incredibly ambitious goal, especially considering the lengthy amount of time it's expected to take to implement Hyperloop and negotiate with government bodies. At the same time, the cost of Hyperloop is expected to run into the billions, meaning it runs the risk of never actually leaving the ground.
That said, both Elon Musk and Hyperloop One remain dedicated to the idea of developing the high-speed transport network. As previously mentioned, Hyperloop One already has over 500 full-time employees working on the project, whilst also relying on the engineers who build the future for additional support.
Musk's SpaceX has recently hosted its latest Hyperloop pod competition, allowing those engineers to earn the opportunity to run their pods inside the near-mile long vacuum tube built by SpaceX for testing Hyperloop technology. Over 20 teams from different universities participated in the competition, which was sponsored by not only Musk's SpaceX, but other major tech players like HP and Air Bus.
Hyperloop remains – much like Elon Musk's other projects – incredibly ambitious. However, the selection of ten potential routes across the globe shows that Hyperloop One is getting serious about taking its technology mainstream. Will we be able to travel at speeds of up to 760mph by 2020? It remains to be seen.
The preceding article is from one of our external contributors. It does not represent the opinion of Benzinga and has not been edited.
View Comments and Join the Discussion!