Boeing Gets Going On Air Force One That Trump Said Was Too Expensive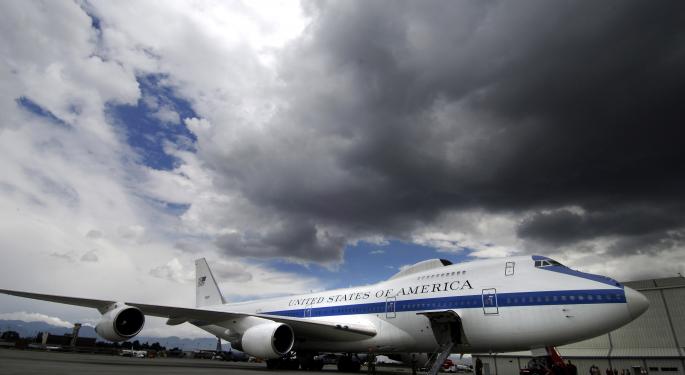 President Donald Trump, who berated Boeing Co (NYSE: BA) in December over the cost of the next-generation Air Force One, is closer to getting the aircraft whether he knows it or not.
The U.S. Defense Department said Wednesday that Boeing has been awarded $600 million to begin preliminary work on the presidential aircraft, including a communications system, electrical power upgrades, a medical facility, an executive interior, a self-defense system and autonomous ground operations capabilities.
As president-elect, Trump famously said on Twitter Inc (NYSE: TWTR) that the aircraft, meant to replace the current, 30-year-old jet, was too expensive.
"Boeing is building a brand new 747 Air Force One for future presidents, but costs are out of control, more than $4 billion. Cancel order!" he tweeted.
2 For The Price Of One
It was unclear if the president was aware if the order — actually $3.73 billion over 12 years, including maintenance — was for two aircraft. One flies while another is kept maintained as a backup.
Since his tweet, however, Trump has been preoccupied with hurricanes, nuclear tests by North Korea, controversial comments about white supremacists, a failed healthcare plan, immigration imbroglios, intra-party feuds, administration turnover and ongoing investigations into Trump's ties to Russia and whether his camp colluded with the Kremlin to smear Hillary Clinton.
Related Link: How Trump Has Alienated The World
_________
Image Credit: By USAF photo/Tech. Sgt. Jerry Morrison - Public Domain, via Wikimedia Commons
View Comments and Join the Discussion!
Posted-In: News Futures Contracts Politics Travel Markets Tech Media Best of Benzinga