Hurricane-Related Transit Destruction Could Lead To Price Hikes, Busted Contracts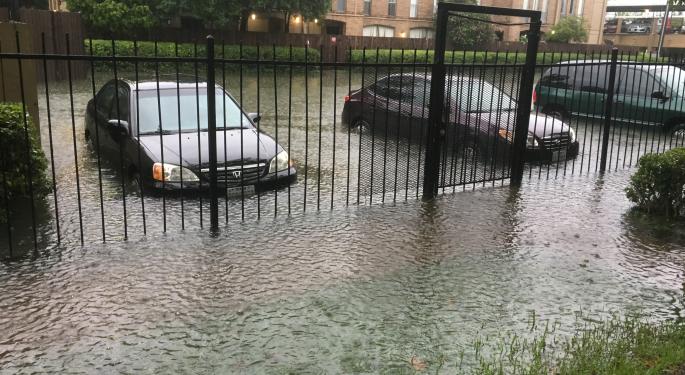 Hurricanes Harvey and Irma body slammed two of the biggest export-import hubs in the world, and the impact on prices and shipping costs will be felt for months in places far removed from the scenes of destruction.
The impact on ports — Houston alone is the world's sixth-largest — rail lines and trucking routes means that the hurricanes will likely set off price increases on a wide range of products and the materials used to manufacture them.
"As transportation providers begin to recover from the immediate disruption and delays caused by the hurricanes, the greater domino effect of the hurricanes on supply chains will begin to appear," Suzie Trigg, a Dallas corporate lawyer, wrote in the journal Material Handling and Logistics.
Get Used To The Term 'Force Majeure'
The reach of the storms is already being felt. Pittsburgh-based Covestro already has declared force majeure, an often contentious lifeline used by a company when it's unable to deliver contracted products because of a disaster or other unforeseen event.
Though its customers for polyols, caustic sodas, acids and pre-polymers used in the automotive and construction industries are nationwide, Covestro's two plants are in the heartland where those products are produced: the petrochemical hotbed of East Texas.
Though ports were beginning to reopen in the affected areas on Wednesday, supply chain managers expected an echo effect from the transport disruptions.
Related Link: The 12 Deadliest Hurricanes In U.S. History
Supply Managers Gloomy
A member survey by the Institute for Supply Management, conducted just after Harvey and prior to Irma, found that 94 percent expected a negative impact on the pricing of input materials and 75 percent expected a negative impact on supplier deliveries.
"The human and corporate impact[s] are significant," Institute CEO Thomas W. Derry said in the report. "Indeed, the results of our (survey) indicate ongoing challenges for U.S. companies with pricing, supplier deliveries, and certain commodities because of the storm."
Dozens of commodities and raw materials will be affected by the hurricanes, from food to plastics, the survey said.
The current status of roads, terminals, power outages and ports are listed in detail at the National Electrical Manufacturers Association, the American Logistics Aid Network and the American Journal of Transportation.
Then There's Oil
Price hikes are being felt most obviously at the pump. Hurricane Harvey shut down 34 percent, of U.S. crude oil refining capacity, then Irma cut off the state of Florida completely by shutting various ports, fuel storage terminals and pipelines throughout the state and Caribbean.
The two major waterborne delivery ports are Tampa on the Gulf Coast and Port Everglades on the Atlantic Coast. Roughly half the gas stations in much of Florida are empty and local reports said tanker trucks — navigating rubble strew routes — were getting police escorts.
Reuters said oil prices rose on Wednesday after the International Energy Agency said a global surplus of crude was starting to shrink. U.S. gasoline and distillate stocks fell sharply as Harvey shut nearly a quarter of the nation's capacity with major Gulf Coast refineries only starting to come back.
But gas prices are only part of an equation in which the world trades through an intricate, interwoven web of supply chains, the epic disruption of which often leaves effects too subtle to see until the cash register spits out a receipt months from now.
Related Link: Hurricane Investment Prep: Timber ETFs
____________
Image Credit: Hurricane Harvey, flooding in Houston, By R. Crap Mariner from Houston, USA [CC BY 2.0 (http://creativecommons.org/licenses/by/2.0)], via Wikimedia Commons
Posted-In: News Futures Commodities Politics Psychology Topics Events Markets Best of Benzinga
View Comments and Join the Discussion!