Poll: Americans Still Feel More Threatened By ISIS Than North Korea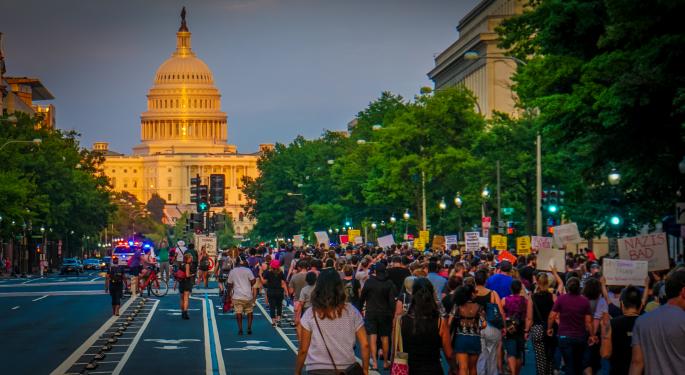 Late Thursday evening in Barcelona, Spain, a van hurtled through a crowd, reportedly killing 13 people* and injuring dozens others. According to the Associated Press, Catalan police said shortly after the event: "We confirm the terrorist attack. The protocol for terrorist attacks has been activated."
U.S. Secretary of State Rex Tillerson responded by saying the event "has the hallmarks of what appears to be yet another terrorist attack," and President Donald Trump tweeted: "The United States condemns the terror attack in Barcelona, Spain, and will do whatever is necessary to help. Be tough & strong, we love you!"
Minutes before Tillerson's comments, Catalan police said they had arrested a man and were "treating him as a terrorist." While the name of the arrested man has yet to be released, private Spanish news agency, Europa Press, said earlier the police were searching for Driss Oukabir, who was "suspected of having rented a van connected to the attack." Additionally, a passport of a Moroccan individual was "found at the scene of the attack," according to Barcelona's TV3.
The Barcelona crisis is just the latest in a series of domestic and foreign terrorist attacks.
A Storm Brewing
Geopolitical tensions brewed in the horizon last week when North Korea sent out a threat to strike the U.S. Pacific territory of Guam with missiles. This elicited a sharp reaction from Trump, who warned that any threat to the U.S. would be met with "fire and fury."
The S&P 500 fell about 1.5 percent over two sessions since the two nations exchanged tirades. Most risky bets took a beating even as safe havens rallied. However, since then, the two nations have toned down their aggression, with North Korea backing down on its threat, and the U.S. welcoming the changed stance.
North Korea: A Worry, But Not As Much as ISIS
Against these new political tensions with North Korea, a CNN poll of 1,017 respondents between Aug. 3 and Aug. 6 showed that Americans consider North Korea as a credible threat, according to Statista. However, ISIS is still considered a more serious threat than North Korea.
Hard data showed that 64 percent of those surveyed said ISIS poses a very serious threat to the U.S. This compares to 62 percent, who see North Korea as a serious threat.
Iran and China seem to be less feared, with the percentage of the Americans considering both nations to be serious threats at 33 percent and 20 percent, respectively.
The percentage of people considering North Korea as a moderately serious threat stands at 23 percent, the same as that for ISIS, but less than the 38 percent for Iran and 36 percent for China.
Source: Statista
The tally of those considering North Korea as a no threat stands at 5 percent compared to 4 percent for ISIS, 8 percent for Iran and 19 percent for China.
See also: Poll: Here's What Americans Want Done About North Korea
South Korean's Toned Down Animosity Toward Its Neighbor
Meanwhile, sentiments of South Koreans toward their belligerent neighbor has improved over time. A survey by the Institute for Peace and Unification Studies showed that when South Koreans were asked "What is North Korea to us, South Korea, the percentage of people who said North Korea is a country they should work together with, improved to 43.7 percent in 2016 from 35.2 percent in 2015.
Source: Statista
The percentage of South Koreans who feel North Korea is a cause of alarm fell to 21.6 percent in 2016 from 23.1 percent in 2015. About 14.8 percent of the people said North Korea is an enemy that threatens their safety in 2016 compared to 14.8 percent in 2015.
Meanwhile, 8.2 percent felt North Korea is a rival they are competing with, in 2016 compared to 7.9 percent in 2015.
Terrorism At Home
While Trump was quick to condemn the actions in Barcelona as abhorrent, he was not so fast of tongue to say the same after a similar event took place on domestic soil this past weekend when a young counter-protestor was killed by a car driven by a white supremacist. Trump's delayed condemnations, particularly juxtaposed with his responses justifying the delay in the days that followed, have spurred debates about the president's perspectives and the distinctions between domestic and foreign terrorism.
Regardless, the administration is apparently losing the support of its base, and the markets Thursday are reacting both viscerally to the Barcelona attack and to waning support of Trump.
At time of publication, iShares MSCI Spain Capped ETF (NYSE: EWP) had slumped 1.62 percent to $33.44. SPDR S&P 500 ETF Trust (NYSE: SPY) was down roughly 1 percent on the day, as was the Dow Jones Industrial Average, having dropped 183.5 points an hour before the closing bell.
*At time of publication.
Rebecca Sheppard contributed to this report
_______
Image Credit: "Charlottesville Candlelight Vigil" By Ted Eytan from Washington, DC, USA [CC BY-SA 2.0 (http://creativecommons.org/licenses/by-sa/2.0)], via Wikimedia Commons
View Comments and Join the Discussion!
Posted-In: News Emerging Markets Eurozone Futures Politics Global Markets Movers Best of Benzinga