Move Over Verizon, T-Mobile Is The New Top Mobile Network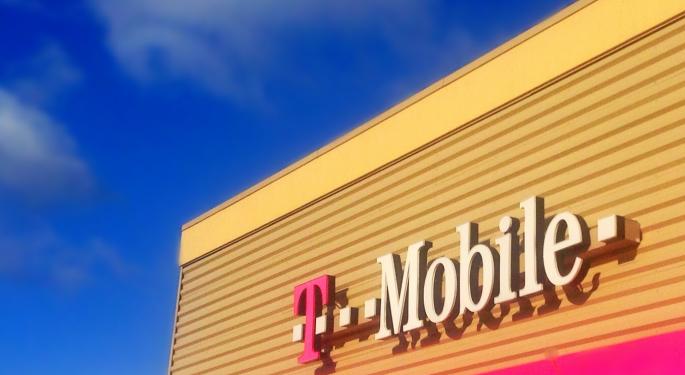 For years, it seemed like the battle for U.S. mobile network supremacy was a two-horse race between Verizon Communications Inc. (NYSE: VZ) and AT&T Inc. (NYSE: T). However, the latest State of Mobile Networks report from OpenSignal shows a clear king of U.S. mobile networks. It's not AT&T, and it's not Verizon.
Instead, T-Mobile US Inc (NASDAQ: TMUS) outperformed the 4G and 3G networks of Verizon, AT&T and Sprint Corp (NYSE: S) across the board, sweeping the competition in terms of latency, download speed and coverage.
Related Link: AT&T Boosting Wireless Service at Golf's Next Major Tournament
The OpenSignal app data includes 5 billion measurements taken by 172,919 U.S. mobile devices from March 31 to June 29. The data clearly shows that new unlimited data plans from Verizon and AT&T have weighed on their network speeds.
Bogged Down By Data
"Our measured average speeds on Verizon and AT&T's networks have clearly dropped, almost certainly a result of new unlimited customers ramping up their data usage," OpenSignal wrote in its report.
T-Mobile was the clear victor in terms of download speed, averaging 17.45 Mbps. Verizon (14.91 Mbps) was a distant second followed by AT&T (12.92 Mbps) and Sprint (9.76 Mbps).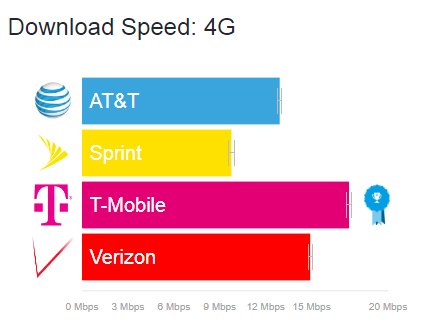 When You Need It, Where You Need It
But while T-Mobile's 4G network has gotten faster, it also eclipsed a major coverage milestone for the first time. T-Mobile devices averaged 90.91 percent nationwide availability, marking the first time any network has topped the 90 percent mark. Verizon fell just shy of 90 percent at 89.79. AT&T (83.08 percent) and Sprint (81.63 percent) demonstrated the lowest 4G coverage.
Finally, T-Mobile also came out on top with the lowest latency of all the networks. Latency is a measure of how long it takes for data to make a round-trip through the network. T-Mobile's 4G network latency averaged just 62.84 ms, topping AT&T (63.81 ms), Verizon (67.38 ms) and Sprint (70.1 ms).
Stock Market-Approved
T-Mobile's share price has mirrored its improving network status. In the past three years, T-Mobile's stock is up 90.7 percent. In that time, Sprint shares are up 16.7 percent AT&T stock is up 8.4 percent, and Verizon stock is down 2.7 percent.
Image: Mike Mozart, Flickr
View Comments and Join the Discussion!
Posted-In: OpenSignalNews Tech Best of Benzinga