Model 3 Vs. Chevy Bolt: A Line-By-Line Comparison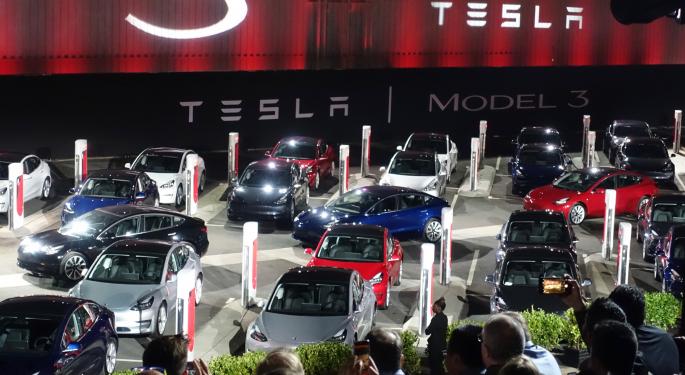 Tesla Inc (NASDAQ: TSLA) enthusiasts have finally gotten the affordability, driving range and autonomous technology they wanted in a car with the Model 3. Unfortunately, it appears they will not be able to have their cake and eat it too when it comes to price.
On Friday, Tesla held a Model 3 launch event to turn over the Model 3 keys to the first batch of buyers. But for Tesla investors, the most important part of the event was critical details on pricing and vehicle specifications.
Rival General Motors Company (NYSE: GM) launched the Chevy Bolt back in December of last year, and the car has been warmly received by critics. The Bolt was named Motor Trend's Car of the Year and won Car of the Year at the Detroit Auto Show as well.
Here's a look at how the Model 3 and the Chevy Bolt compare on several key issues, according to Consumer Reports.
Price
The base model Model 3 beats out the Chevy Bolt on price, including destination fee. The base model Bolt costs $37,495, while the base model Model 3 costs just $36,200. Of course, if Model 3 drivers want the high-powered battery, Premium Upgrades Package and Enhanced Autopilot autonomous capabilities, the Model 3 price jumps to $57,700.
Driving Range
One of the biggest concerns about an affordable electric vehicle is its driving range. The EPA estimates that the Chevy Bolt can get 238 miles per single charge. Tesla claims the base model Model 3 can get 220 miles on a single charge, a range that has yet to be verified by the EPA. Model 3 buyers who are unsatisfied with the 220-mile range can upgrade to a long-range 301-mile battery, but that upgrade doesn't come cheap. Consumer reports estimates a total cost of $45,200 for the Model 3 with the long-range battery upgrade, making it roughly $8,000 more expensive than the Bolt.
Delivery
This category, at least, is an easy one. Buyers looking for a Chevy Bolt can go out and purchase a car today and drive it home. Tesla said new buyers who want a Model 3 will have to waitup to 18 months to get their cars.
Power
According to Consumer Reports, the Chevy Bolt can go from 0 to 60 mph in 6.5 seconds. Tesla reports the Model 3 can do it in 5.6 seconds with the standard battery.
Speed
The Chevy Bolt's top speed is reportedly 93 mph, while Tesla says the standard battery Model 3 can achieve speeds of up to 130 mph.
Charge Time
GM says the Bolt can achieve 4 miles of charge range per hour when plugged into a home outlet. Tesla estimates the Model 3 can achieve 3 miles of charge range per hour on a home outlet. That means it would take the Chevy Bolt roughly 59.5 hours to fully charge its battery to its 238-mile range. The model 3 would take roughly 73.3 hours to fully charge on a home outlet.
Autonomous Driving
The biggest differentiator between the technology of the two vehicles is their autonomous driving capabilities. Tesla says the Model 3 is equipped with tech that will eventually allow it to match speeds to traffic conditions, stay within a driving lane, change lanes when necessary, exit a freeway and park itself. Down the line, the Model 3 will be able to navigate trips from start to finish without any human control whatsoever, Tesla said.
Related Link: It's OK To Stay On The Sidelines With Popular Stocks
Once again, these features are not included in the base Model 3 price. The full self-driving features will cost buyers an extra $8,000.
Earlier this year, GM said it has already mass-produced 130 self-driving Chevy Bolts, but they are still in the testing phase.
And The Winner Is ...
Unfortunately for Tesla and GM investors, it's simply too early to declare an overall winner between the two vehicles. While the base Model 3 is slightly less expensive than the Bolt, it is also a bare-bones model lacking many of the key features that differentiate Tesla from its peers. At the base price, the Bolt seems to have a slightly longer driving range, but the Model 3 has more power. Bolt buyers can get their cars immediately, while Model 3 buyers will have to wait up to 18 months to receive theirs. With GM already testing their next-generation driverless Bolt fleet, a lot can change in the auto industry in 18 months.
The fully-upgraded Model 3 tops the Chevy Bolt across the board in terms of power, driving range and technology. However, at a price of $57,700, it's roughly $20,000 more expensive than the Chevy Bolt and closer to the price of the luxury Model S, which starts at $69,200.
At Time Of Publication
Tesla shares were down 3.64 percent at $322.86.
General Motors were up 0.59 percent at $35.98.
__________
Image Credit:By Steve Jurvetson - https://www.flickr.com/photos/jurvetson/36251519855/, CC BY 2.0, via Wikimedia Commons
Posted-In: News Education Travel Events Top Stories Movers Trading Ideas General Best of Benzinga
View Comments and Join the Discussion!