The Company That Owns The Only Collection Of Titanic Artifacts Is Getting Set To Auction It Off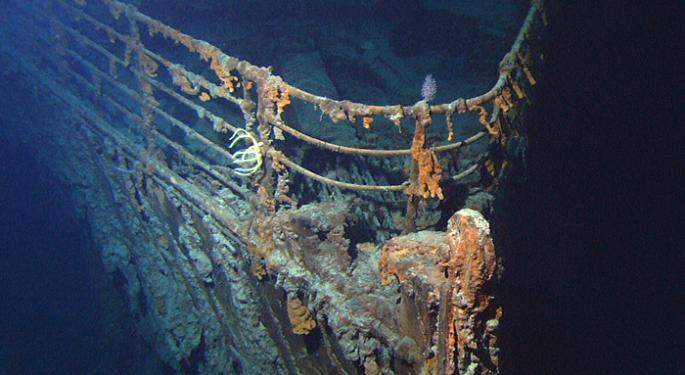 The following commentary is originally from GeoInvesting, an independent research firm. The commentary is a look into content typically sent to premium members.
Premier Exhibitions, Inc. (OTC: PRXIQ) announced on July 25 the receipt of multiple letters of intent to submit a stalking horse bid in an auction of the company's unique Titanic Artifact Collection. The assets were appraised at $218 million in 2014 and are truly unique in that, according to the company, they are the only artifacts ever recovered from the wreck of the Titanic. The current market cap of the company is $61 million and its net debt ~$40million. The company has been in Chapter 11 bankruptcy since 2015.
What Does This Mean?
First of all, a letter of intent is not binding and thus, no stalking horse bid had been officially submitted.
The company and the bankruptcy court have to approve and qualify that bidders have the financial ability to submit bids. The bidding procedure and the stalking horse bid contract are subject to approval by a bankruptcy court to ensure a fair process and minimize the chances of certain stakeholders being exploited.
Collecting letters of intent for a stalking horse bid is a normal step in the process, but we want to point out that there is a residual risk that no bid substantiates. It is equally as important to understand what a "stalking horse" bid is, and what it means to the process.
"Stalking horse" means a potential buyer puts in a high bid to start an auction, and typically gets a break-up fee if somebody else ends up putting in a higher bid and winning the auctioned assets. Much like a "reserve" price in online bidding, the incentive for the seller is to ensure that the assets are sold for a certain price, or higher.
Basically, there is a leading bidder who puts a foundation on the price. A stalking horse bid, once submitted, is binding. As the leading bidder, the "stalking horse" gets to influence the asset purchase agreement with the debtor. This includes variables like what assets are sold, what liabilities are assumed, as well as legal terms.
It also allows the stalking horse bidder to start the due diligence process in advance of other potentially interested parties – in situations where time constraint is a big factor this can be a huge advantage. In effect, a stalking horse bid means that the bidder ensures that the assets won't be sold off on the cheap.
Receiving interest to submit a stalking horse bid is also a good sign because it shows that people are interested in the company's assets. It also means that the sales process is moving forward. Even though time frames differ and there is no fixed timeline, it is not unreasonable to assume that an asset sale will consummate within five months after receiving the letter of intent to submit a stalking horse bid.
We want to caution our readers that an asset sale and cash receipt is only as good as the confidence the market puts in management to distribute the cash to shareholders. There is a risk that management, once the company receives a lot of cash, starts investing in money-losing businesses instead of distributing it to shareholders.
In addition, when dealing with assets for which there are truly no comparable and a limited market, the appraisal of the goods and the potential illiquidity of a marketplace to transact such goods must always be considered a risk and, and as such, must be scrutinized closely.
Posted-In: contributor contributors GeoInvestingNews Short Sellers General Best of Benzinga
View Comments and Join the Discussion!