Feds Bust Reputed Bitcoin Baron In $4 Billion Scheme To Launder Drug Money, Ransomware, Bribes And Identity Theft Scams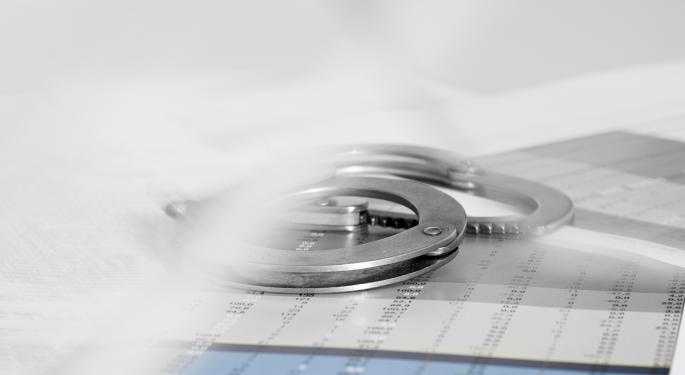 A Russian criminal mastermind used his bitcoin currency exchange to launder $4 billion from a vast network of interlocking syndicates engaged in public corruption, identity theft, ransomware extortion, dark web drug deals and a raft of other global cybercrimes, federal prosecutors allege.
A grand jury in California on Wednesday unsealed a 21-count indictment against Alexander Vinnik, the reputed kingpin of BTC-e, an exchange used to trade the digital currency since 2011, the U.S. Justice Department said.
Vinnik, 37, was arrested in a small seaside village in northern Greece on Tuesday, Reuters reported, quoting police there as saying that Vinnik was a "an internationally sought 'mastermind' of a crime organization."
The U.S. Treasury Department immediately assessed BTC-e a $110 million fine for operating illegally without proper safeguards. The fraud and other felony charges against Vinnik, if convicted, could put him away for life.
"Just as new computer technologies continue to change the way we engage each other and experience the world, so too will criminals subvert these new technologies to serve their own nefarious purposes," U.S. Attorney Brian J. Stretch said in a statement.
Crackdown On Russian Criminals Coincides With Trump Probe
Vinnik's bust is the latest in a series of U.S. operations against Russian cyber criminals in Europe and the United States, where officials said Vinnik did substantial business. Last week, the Justice Department moved to shut down the so-called "dark web" marketplaces AlphaBay and Hansa Market, which dealt with black market goods.
They also come in the wake of computer hacks that U.S. intelligence agencies said were sanctioned by Russia in order to influence the election of President Donald Trump and discredit his opponent, Hillary Clinton.
A special prosecutor, former FBI director Robert Mueller, is investigating Trump's inner circle, several of whom had met with Russian figures before the election and during the presidential transition. Mueller is probing whether Trump's team colluded with the Kremlin.
The Mueller squad is also looking into the Trump family's global holdings. The president has refused to release his tax returns and fired former FBI chief James Comey, who had been leading the Russian investigation.
Bitcoin Not So Anonymous Any More
There have been two major outbreaks of ransomware this year, with pseudonymous hackers demanding bitcoin as ransom in exchange for code to unfreeze computer systems infected with malware.
The underlying tech for bitcoin is called blockchain, a digital record of transactions that is distributed and verified by a network of computers. It's borderless, open source, decentralized peer-to-peer network that users think are immune to government intrusion. Users exchange "keys" — long strings of letters and numbers — to send bitcoins to accounts or exchanges like the one purportedly run by Vinnik.
Bitcoin's Ties To Bulgaria And Beyond
In their statement, the feds said BTC-e is located in Bulgaria but organized or otherwise subject to the laws of Cyprus. The exchange allegedly maintains a base of operations in the Seychelles Islands and its web domains are registered to shell companies in, among other places, Singapore, the British Virgin Islands, France and New Zealand.
"BTC-e was noted for its role in numerous ransomware and other cyber-criminal activity; its take-down is a significant accomplishment, and should serve as a reminder of our global reach in combating transnational cybercrime," Michael D'Ambrosio, special agent in charge of the U.S. Secret Service's Criminal Investigative Division, said in the statement.
Related Link: Blame Game: The Definitive Guide To Who's To Blame For Ransomware Attack
View Comments and Join the Discussion!
Posted-In: News Eurozone Politics Forex Psychology Events Markets Tech Best of Benzinga