Hollywood Seeks Salvation At San Diego Comic-Con In Midst Of Summer's Box Office Slump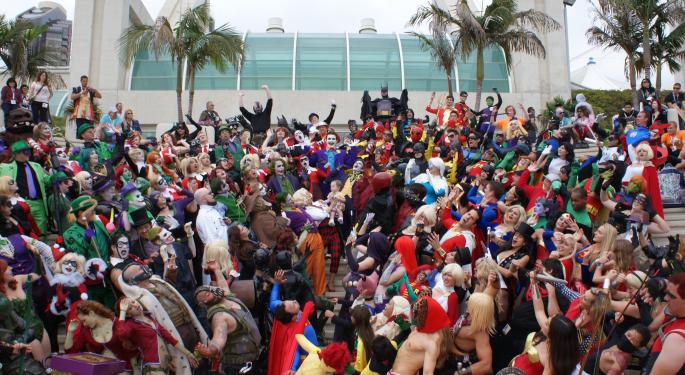 It started with a group of guys who liked comic books and blew up into the biggest pop culture marketing opportunity of the year, filling all 11 acres of the San Diego Convention Center and sprawling outside into infinity and beyond.
The 47th annual San Diego Comic-Con is being held while one of its prime engines - the film industry - is in a summer slump. Box office receipts are off 7.7 percent between May and July 9 compared with the same period last year. It's been the second down summer in a row.
Heroes For Hire
The only sure bets are movies about the characters who began the whole comic-con phenomenon: superheroes.
In a summer of box office bombs, the most reliable hits turned out to be:
"With studios fighting an uphill battle this summer with most franchise films and sequels being met with indifference by audiences, the one bright spot has been the superhero films that have this year consistently driven big dollars to the multiplexes, and critics wild," Paul Dergarabedian, senior media analyst at comScore, Inc., tells Benzinga.
See Also: 'Wonder Woman' Woos Hollywood With Remarkable Legs
The Real Money Is In Marketing
The "con," as it's called, kicked off on Wednesday and runs through the weekend. Fans enamored with cosplay - elaborate costumes of their favorite characters - are almost as colorful as the stars who show up, some just dutifully, to hype their upcoming projects.
And some actors are so into it they can't break character. During the 2013 convention, actor Tom Hiddleston came dressed and made up as Loki, the Norse god of mischief, whom he played in "The Avengers" and "Thor" movies.
It also makes loads of money, pumping $150 million into the local economy.
Deadline, which obtained last year's tax filings of the non-profit group that runs it, showed program revenues of $19.5 million last year, up 14 percent from $17.1 million a year earlier.
Buzz You Can't Buy
But the real value is pure vibe, that priceless word of mouth that can build anticipation for a movie, television show or other pop-culture product. The geeks and nerds who proudly wave their freak flag can just as easily break a movie. Just ask Scarlett Johansson and her epic fail "Ghost in the Shell."
"The influencers that keep studios and production companies on their toes are the true fans who are in attendance at Comic-Con....they are passionate, vocal and above all influential," Dergarabedian said.
"This makes Comic-Con more important than ever before since the opinions expressed en masse here, can have a ripple effect on the content and how that content is embraced in the general marketplace."
Image credit: Pat Loika, Flickr
Posted-In: Comic ConNews Movers & Shakers Psychology Events Exclusives Media General Best of Benzinga
View Comments and Join the Discussion!