The Future Of Communication? Gfycat Cashes In On Our GIF Obsession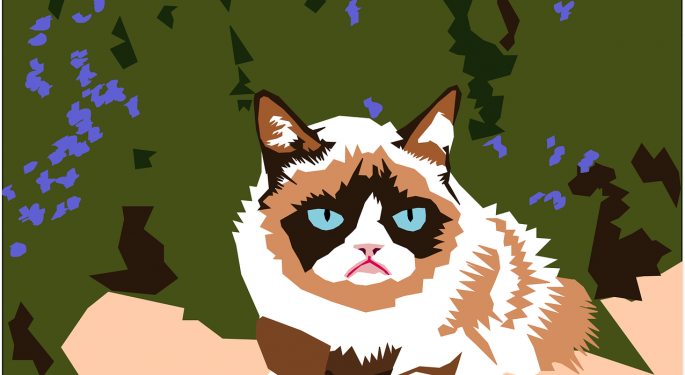 Constant connectivity and the emergence of smartphones has forever changed the way people consume content.
Attention spans aren't what they used to be.
It's this reason that creates a preference for quick engaging content, and has led to the rise to the proliferation of GIFs for communication. GIFs have become a preferred method to the more engaging and playful social media age and also now being used as a viral marketing tool.
"We saw a big trend change in terms of how people consume content. You pull your phone 85 times a day to either text or look at something quickly and move on," Gfycat founder Richard Rabbat told Benzinga.
Gfycat has simplified the process to create GIFs, allowing users to cut seconds of videos that they're interested in and enabled them to share GIFs widely.
Related Links: The GIF Turns 30
Viral Marketing
GIFs are commonly used to make regular conversation more exciting, instead of delivering simple affirmations like 'yes' or 'no' in an emphatic and more friendly way when it might otherwise be monotonous.
The rise in prevalence of GIFs has made them useful for viral marketing campaigns. Major movie studios Lionsgate and Universal are using GIFs to create viral marketing campaigns of movie trailers to create awareness of upcoming releases in a highly visible and sharable format.
Publishers are also utilizing GIFs in articles to draw interest. According to Rabbat, a GIF in an article can be the difference between someone pressing the back button on their browser and consuming that content.
"The content is automatically playing," Rabbat said. "The motion attracts the eyes immediately so you engage with the rest of the content. Publishers are doing it across the industry."
Creating Your Own
Gfycat simplified the process of creating your own GIFs and in turn has become one of the fastest growing sites on the web, with over 400 million page views per month since launching three years ago. With over 80 million users, the website - which hovers in the 60 to 70 most visited websites in the United States - is made up entirely of user-generated content.
"The reddit community really loved the work we were doing. It grew virally through different subreddits to the point where makers and creators were telling others to use Gfycat," said Rabbat.
The site grew so quickly that it led to a $10 million seed round with Alsop Louie Partners.
Growing Phenomenon
While 50 percent of the website's traffic come from the U.S., the phenomenon is growing to Western Europe and Asian markets. Rabbat said it's very similar to what happened with the rise of use of stickers throughout messaging in Asia.
"Because we simplified the 30-year-old process to create GIFs, people started using it quite effectively," Rabbat said. "We thought there was an opportunity to improve on the basic technology to create GIFs to deliver them in very high quality and reduce the friction for everybody."
View Comments and Join the Discussion!
Posted-In: gfycat GIFPsychology Top Stories Exclusives Tech Interview General Best of Benzinga