The GIF Turns 30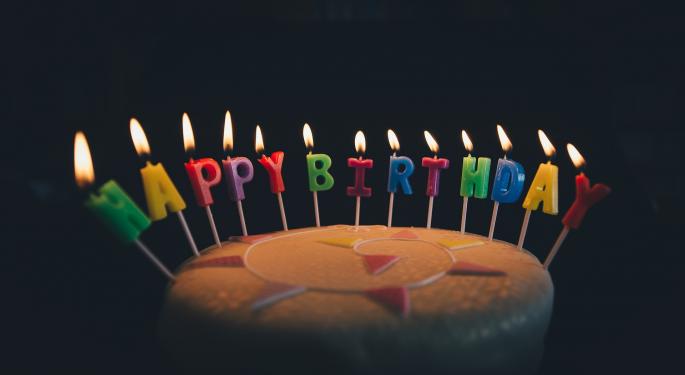 Even the most casual internet user has enjoyed the fun and humor of one of the most beloved file extensions in history: the GIF. The graphical interchange format was introduced by Compuserve on June 15, 1987, 30 years ago this month. To celebrate the birthday of the GIF, Benzinga took a look back at the history of the GIF and remembered some of our favorite GIFS of the past three decades.
The original purpose of the GIF format was to compress animations by utilizing time delays. According to the original developers of the GIF, the acronym is pronounced with a soft G sound, as in giraffe. The pronunciation of GIF has been a hotly contested controversy throughout its existence. Even after the original developers confirmed that it is pronounced the same way popular peanut butter brand Jif pronounces its same, some GIF lovers insist that since the G comes from the word "graphical" is should be pronounced with the same hard G.
Related Link: Happy Birthday, Bull Market - Here Are The Biggest Winners And Losers Over The Past 8 Years
"I think the first GIF was a picture of a plane," Compuserve team member Steve Wilhite said in a 2012 interview. "It was a long time ago."
After humble beginnings, the popularity of the GIF exploded along with the spread of the internet. Most early internet users' first experience with GIFs was likely animated website error messages or "under construction" signs for websites that were not yet up and running.
One of the first viral GIF files in history was "Dancing Baby," which came out in 1996.
Once the world realized the entertainment value in GIFs, the GIF world expanded to include art, political commentary, movie references, celebrity sightings, crazy animal behavior, outlandish reactions and pretty much anything else you can think of.
Happy birthday, GIF. Here's a few of our favorites:
View Comments and Join the Discussion!
Posted-In: GIF Steve WilhiteNews Events Tech General Best of Benzinga